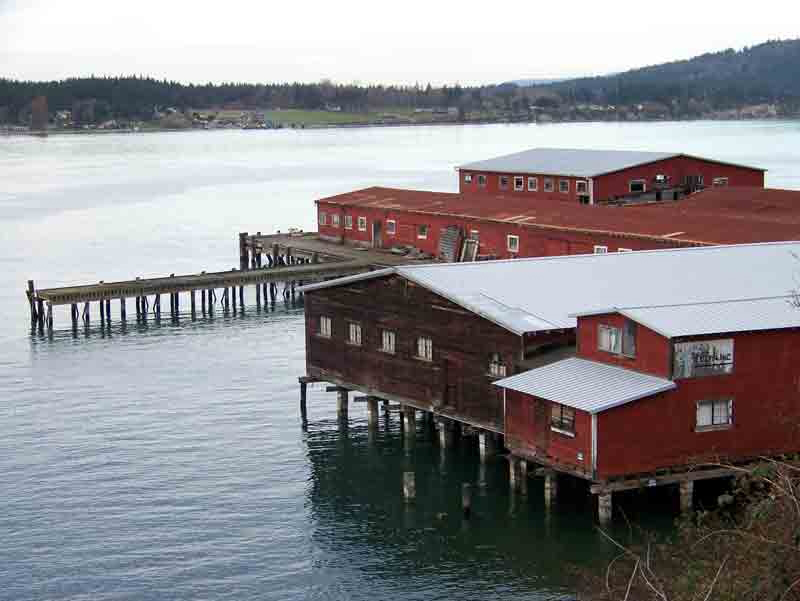 Sebastian-Stuart Cannery - Anacortes, WA (photo by Tim Wittman)
CANNERY ROW
by Tim Wittman ©2010
Sung by Tim Wittman
Pam Hobson (vocal harmony), Greg Hobson (upright bass)

Chorus: I come from the land of Cannery Row
Where the wind blows soft to the sea.
Where the sea birds sing
And the cedar trees cling
To my heart and a song of the sea.

Back in the day the kids would play
Where fish and fishermen gather.
Gulls reel and cry over nets piled high
As they watch for a silv'ry prize.
Boats plow home while tenders groan
On lines anchored fast in the ocean.
Ride at anchor low, full of fish below
Setting sun on an incoming tide.

Chorus

At the dock there waits
Sweet Cannery Kate,
She worked on the line as a slimer.
With skin so fair and auburn hair
Sun and sea shone bright in her eyes.
A sight to behold to young and old
Rubber boots and her cannery apron.
She was every man's wish
Smelled of fresh caught fish
Touched my heart right through to my soul.

Chorus

Spent the summer in love
With the moon above
Sailing off to wherever we fancy.
And steal a kiss from my little miss
As the sun sinks low in the sky.
How could I know that love would grow
My love for the fisherman's daughter?
That some day we'd share
Our laughter where
My heart sings a song of the sea!
Chorus
I spent so much of my youth growing up on the waterfront docks of Anacortes, a small town located in the Pacific Northwest region of Washington State and the San Juan Islands. It could be any fishing village, east coast or west, where people make their living harvesting from the sea. Cannery Row was a place for a boy and a young man who dreamed of fulfilling the dream of raising a family, making a living doing what others have done for generations, and all that time loving the sea. Most of those canneries remain, although many are no longer running. But when I walk the streets and waterfront docks, I can still see and hear the sights and sounds of a bygone era. Cannery row creates images, draws upon experiences, and touches on humor. There really was a Cannery Kate, a line job called a "slimer," and everything smelled like fresh fish! Tim Wittman