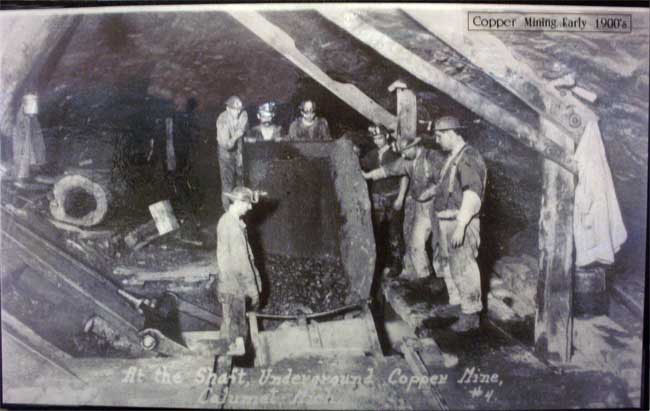 Copper Mine - Early 1900s

THE COPPER MOUNTAIN RAISE
by Paddy Graber, ca. 1952
Sung by Paddy Graber
Transcribed from Paddy's home-made tape recording



This song by Paddy Graber of Vancouver, B.C. was written about
the Copper Mountain Mine near Princeton, B.C. from his own
and other workers' recollections. The incident in the song
happened in 1950 or 1951. This song is also recorded on
"Now it's Called Princeton: Songs & Poems of BC's Upper Similkameen"
by Jon Bartlett
When driving in the tunnel, or raising from a stope,
In wet and dust and gas, boys, workin' like a dope.
She was breaking to the nuts, boys, making 8 feet every time,
But the bonus I was making was just a goddamn crime.
To set up in a raise, boys, drag a stopper 90 feet,
Hook in air and water, think I've got it beat.
Grabbed a 3-foot starter to drill into the face -
Some cowboy blasts a bootleg, knocks the air out every place.
Bob Douglas come a-running, likewise old Ed Foy,
Jack Ross and young Don Pringle set out to find the boy.
They found him in the ore shaft as Klapproth jumped about
A-cussing and a-swearing, "Get that volloping muck out!"
We put him in an ore tub and trammed him to the shaft -
To kill himself for Granby, he must be bloody daft!
To make an extra dollar, he lost his goddamned head
And used a case of powder when one stick would do instead.
I went back to my raise, boys, and climbed up on the dock.
I just got nicely started when down came tons of rock.
I tried to grab a bullprick but grabbed a brace instead -
Down came the steel and stopper, around my bloody head!
I went to see the boss, to say I'd pull the pin -
To work at Copper Mountain, by Christ, a man can't win!
They stopped my board and lodgings and commissary too,
And when they stopped my bonus, I had nothing when I was through,
I've tried Sheep Creek and Mascot, Pioneer and Bralorne too,
I've worked the Aisla Mt and Gold Quartz of Cariboo.
So come all you hard rock miners, a warning take by me,
Stay away from Copper Mountain or any mine in this BC.
They'll rook you and they'll bleed you, take everything you save,
And when they've got the last drop, they'll stick you in a grave,
Or some Holy Joe on skid road will try to save your soul -
'Cause if you're a hard rock miner, boys, you're always in the hole!
"Paddy Graber, who worked at Copper Mountain in the early 1950's, collated this song from his own and other workers' recollections. Copper Mountain, southwest of Princeton, was at that time an underground mine, owned by Granby Mining Company. The song is full of mining jargon, and describes a miner's tasks in drilling. First, a stoper, a drill, is dragged to the mining face and set up on the dock, a platform for drilling, held in place with bullpricks, used steels or drills. Hoses for compressed air, which ran the drill and water, to hold down the dust, are hooked in. Drills come in three-, five- and eight-feet lengths, and the miner begins to drill with a three-foot starter. Breaking to the nuts describes a successful blast, when an eight-foot depth of the face breaks away. A miner is left with a bootleg when it doesn't entirely break. The miner in the song decides to pull the pin (quit) and finds that after all the deductions he has nothing left."
"Of the other mines mentioned, Sheep Creek is in the Kootenays, Mascot at Hedley, Pioneer and Bralorne in the Bridge River country, and Aisla and Gold Quartz, in the Wells/Barkerville area. When we sang the song for Harry Day and Evelyn McCallum, they chuckled as they recognized the names of Bob Douglas, the mine superintendent, Jack Ross and Don Pringle, mining engineers, Ed Foy, a mine foreman, and Henry Klapproth, a shiftboss."
From the liner notes "Now it's Called Princeton: Songs & Poems of BC's Upper Similkameen" CD, Jon Bartlett.