Friday-Sunday, Sept. 11 - 13, 2015
AMERICAN BANJO CAMP
Fort Flagler State Park Nordland, Washington
Spend a weekend away from the toil and cares of everyday life, with nothing to do but learn about the 5-string banjo or fiddle or guitar or some other instrument from world-famous teachers, play in jams, eat delicious food, and possibly even sleep! ABC is a camp for adults of all ages (students under 18 may attend if accompanied by a parent). There you can study old-time or bluegrass banjo with world-class instructors. Contact Information.


Sunday, Sept. 13, 2015, 2-3 pm
PNWFS/Everett Public Library Free Concert
J. W. MCCLURE
Strains of folk, country, vintage jazz and humor resonate in master singer/songwriter/guitarist JW McClure's songs. His performances arc deftly between poetry and punchline, delivered with country-blues fingerpicking arrangements and an ageless voice. "...one of the absolute premier songwriters and singers in the story country mold ever out of the Northwest." Chris Lunn-Ancient Victorys. Free concert, Everett Public Library, 2702 Hoyt Ave, Everett, WA, 425-257-8000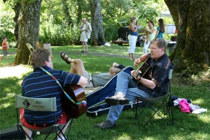 Wednesday, Sept. 30 - Sunday, Oct. 4
BLUES IN THE GORGE
Menucha Retreat and Conference Center, Corbett, OR
Immerse yourself in music for five days with five of the best blues and fingerstyle guitarists around! With Pat Donohue, Josh White, Jr., Mary Flower, Scott Ainslie, and Eleanor Ellis. Co-Sponsored by the Cascade Blues Association.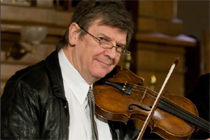 Saturday, Oct. 3, 7:30 pm
Seattle Folklore Society
KEVIN BURKE
Kevin Burke's fiddle playing has been at the forefront of traditional music for over 30 years. Burke is an immensely engaging performer whose name is synonymous with Irish fiddle music around the world. He has been established as a first class musician ever since his work in the early 1970s and has earned international acclaim in both Europe and America as a solo performer, a teacher and as a member of some of folk music's foremost groups including Celtic Fiddle Festival, and Patrick Street. $16 ($2 discount members,students, seniors / $8 youth, day of show $2 more) - tickets. Seattle Folklore Society, Phinney Center, 6532 Phinney Ave N, Seattle.


Friday, Oct. 9, 2015, 7:30-9:30 pm
Pacific Northwest Folklore Society Coffeehouse Concert
ROSALYNN DE ROOS & ERIC VERLINDE
Rosalynn De Roos is a multi-instrumentalist, collaborator, bandleader of ChoroLoco and festival producer. Rosalynn graduated from Cornish College of the Arts in clarinet performance. Since graduation Rosalynn has traversed the wondrous world of Brazilian music, exploring and expressing in musical styles of: Forró, Xote, Baião, Chorinho, Samba and Maxixe. She attempts to define the esoteric genre called Choro: vintage Brazilian jazz born out of Rio de Janeiro circa 1920s. Watch a video. Rosalynn will be joined by pianist Eric Verlinde who has excited audiences worldwide with his energetic and passionate performances. He is in high demand and is constantly performing, refining the sound and creating new music. His different groups create music that is pure, creative, spontaneous, superbly structured and melodic. $10 donation. 7:30-9:30pm, Couth Buzzard Books Espresso Buono Cafe, 8310 Greenwood Ave N, Seattle, 436-2960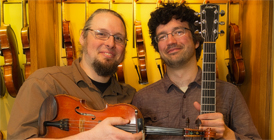 Saturday, Oct. 17, 7:30 pm
Seattle Folklore Society
YANN FALQUET & PASCAL GEMME
Expect exultant singing and raucous Quebecois foot percussion as fiddler Pascal Gemme and guitarist Yann Falquet come our way, packing a vast combined repertoire of French Canadian fiddle tunes and folk songs. Gemme, whose grandfather and godfather were fiddlers, learned his craft from the great old Quebecois fiddlers. Falquet's formal training is in jazz but his long-time love of the roots music of French Canada, Brittain, Scandinavia, and Ireland results in a playing style unique to Canadian traditional music. Yann and Pascal return to the duo format to explore a more intimate approach to their music. $16 ($2 discount members,students, seniors / $8 youth, day of show $2 more) - tickets. Seattle Folklore Society, Phinney Center, 6532 Phinney Ave N, Seattle.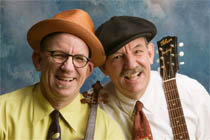 CANOTE BROTHERS
Double up with laughter when these identical twin musicians take the stage. With fiddle, banjo, ukuleles and genetically matched voices, Greg and Jere Canote bring back fun, vintage American music - including forgotten fiddle tunes, swing classics and quirky novelty songs. Seattle fans may remember the Canote Brothers as the affable side-kicks on KUOW's Sandy Bradley's Potluck for 13 years. Watch a video.

Sunday, Nov. 8, 2-3 pm
PNWFS/Everett Public Library Free Concert
Free concert, Everett Public Library, 2702 Hoyt Ave, Everett, WA

Friday, Nov. 13, 7:30-9:30 pm
Pacific Northwest Folklore Society Coffeehouse Concert
Couth Buzzard Books
$10 donation. Couth Buzzard Books Espresso Buono Cafe, 8310 Greenwood Ave N, Seattle, 436-2960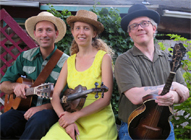 Friday, Dec. 11, 2015, 7:30-9:30 pm
Pacific Northwest Folklore Society Coffeehouse Concert
QUICKDRAW
Emerging from the acoustic string band tradition, Quickdraw String Band plays a repertoire of Old-Time, Early Bluegrass, Country Blues, and Ragtime. Experienced and hard working, they have been performing around Whatcom County off and on for the past twelve years. Their energetic approach and innovative interpretations make it obvious to see how Quickdraw has become one of the most distinctive acts around Whatcom County. Their style often defies categorization into any singular genre, but is solidly grounded in acoustic tradition. Their sound consists of various configurations of mandolin, fiddle, guitar, dobro, and vocals. Quickdraw has fun playing music, and has shared the stage with other such notables as Foghorn String Band, John Reischmann and the Jaybirds, The Dunton Sisters, Cliff Perry and Laurel Bliss, The Clumsy Lovers, Maggies Fury, and Robert Sarazin Blake. Listen to soundclips. $10 donation. 7:30-9:30pm, Couth Buzzard Books Espresso Buono Cafe, 8310 Greenwood Ave N, Seattle, 436-2960


Friday, March 11, 2016, 7:30-9:30 pm
Pacific Northwest Folklore Society Coffeehouse Concert
THE DRUNKEN MAIDENS
The Drunken Maidens, an unconventional acoustic band, specialize in tight vocal harmonies which are inspired by performers such as Sweet Honey in the Rock, Mediaeval Baebes, Great Big Sea and the Wailin' Jennys. In addition to their voices, the band incorporates guitar, fiddle, mandolin, whistles, and percussion. Threads from traditional ballads, shanties, old­-time and bluegrass, fiddle tunes and early music are woven together to produce a colorful and varied blend of British and American, old and new. Listen to their music. $10 donation. 7:30-9:30pm, Couth Buzzard Books Espresso Buono Cafe, 8310 Greenwood Ave N, Seattle, 436-2960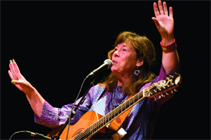 Sunday, April 17, 2016, 7:30-9:30 pm
Pacific Northwest Folklore Society Coffeehouse Concert
CLAUDIA SCHMIDT
Claudia Schmidt has been perfecting her craft of performing for almost four decades. It is a quirky and wonderful hodge-podge (her word!) of music, poetry, story, laughter. drama, and celebrating the moment. She has always included her original work along with very personal versions of the work of others, what you get is a unique look at the world from someone who says what she sees with clarity, humor, and wonder. Garrison Keiilor said "when Claudia sings a song, it stays sung." Listen to her music. $15 donation, reservations: email or phone 206-367-0475 (leave a message) (reservations held until 7:15 pm). 7:30-9:30pm, Couth Buzzard Books Espresso Buono Cafe, 8310 Greenwood Ave N, Seattle, 436-2960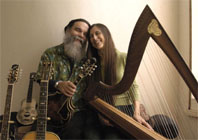 Friday, Sept. 9, 2016, 7:30-9:30 pm
Pacific Northwest Folklore Society Coffeehouse Concert
CURTIS & LORETTA
Curtis & Loretta's music comes straight from the heart. The husband and wife duo's extraordinary harmonies and proficiency on a parade of stringed instruments create an alluring frame for their poignant original songs, and carefully chosen traditional pieces from the British Isles, America, and beyond. The current menagerie includes Celtic harp, mandocello, mandolin, guitars, clawhammer banjo, and National steel ukulele, plus a bit of kazoo, harmonica, and shakers. Curtis' down-home sense of humor and Loretta's theater background engage the audience in an experience that runs the gamut of rolling with laughter to holding back tears, with plenty of side-trips in between. Listen to sound samples; watch a video. $10 donation. 7:30-9:30pm, Couth Buzzard Books Espresso Buono Cafe, 8310 Greenwood Ave N, Seattle, 436-2960