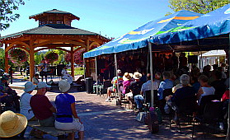 Friday-Sunday, Aug. 19-21, 2016
Princeton, B.C. Canada
PRINCETON TRADITIONAL MUSIC FESTIVAL
Admission is FREE. Events are held on several stages in the centre of Princeton and begin on Friday evening with a public street dance and an Irish ceili band. Between 10 a.m. and 6 p.m. Saturday and Sunday there's a potpourri of concerts, workshops, and jams. Performer application.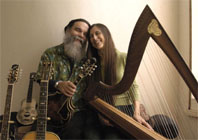 Friday, Sept. 9, 2016, 7:30-9:30 pm
Pacific Northwest Folklore Society Coffeehouse Concert
CURTIS & LORETTA
Curtis & Loretta's music comes straight from the heart. The husband and wife duo's extraordinary harmonies and proficiency on a parade of stringed instruments create an alluring frame for their poignant original songs, and carefully chosen traditional pieces from the British Isles, America, and beyond. The current menagerie includes Celtic harp, mandocello, mandolin, guitars, clawhammer banjo, and National steel ukulele, plus a bit of kazoo, harmonica, and shakers. Curtis' down-home sense of humor and Loretta's theater background engage the audience in an experience that runs the gamut of rolling with laughter to holding back tears, with plenty of side-trips in between. Listen to sound samples; watch a video. $10 donation. 7:30-9:30pm, Couth Buzzard Books Espresso Buono Cafe, 8310 Greenwood Ave N, Seattle, 436-2960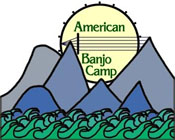 Friday, Sept. 9 - Sunday, Sept. 11
Pilgrim Firs Conference Center near Port Orchard, WA
AMERICAN BANJO CAMP
Come join us for the fourteenth annual American Banjo Camp. We offer an optional Extra Day beginning mid-afternoon on Thursday Sept. 8. The Camp offers a weekend of intense instruction with some of the best old-time and bluegrass banjo players around (not to mention great fiddle and guitar players), plus demonstrations, concerts, and plenty of jamming opportunities. We have full-time programs in bluegrass banjo, old-time banjo, fiddle, and guitar. We offer four levels of banjo instruction: Novice, Lower Intermediate, Upper Intermediate and Advanced. More details here.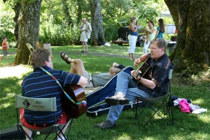 Wednesday, Sept. 28 - Sunday, Oct. 2
Menucha Retreat in Corbett, Oregon
BLUES IN THE GORGE
Immerse yourself in acoustic blues for a long weekend with some of the best blues and fingerstyle guitarists around: Ernie Hawkins, Mary Flower, Steve James, Suzy Thompson. During your stay, you choose 12 classes with up to 6 from any one instructor/style you wish to concentrate on. There is at least one beginning level class each day. Space is limited. More information.


Friday, Oct. 14, 2016, 7:30-9:30 pm
Pacific Northwest Folklore Society Coffeehouse Concert
KESSLER & PERASSO
Joining their broad and eclectic collections of songs together, David Kessler and David Perasso sing Northwest, Northeast, and international songs with gusto and good harmony. Kessler collects songs from everyone he meets. Some from sailing, some from Vermont, some from his family's table, and some from foreign travellers. Perasso mixes a love for the American folk revival, English and Scottish songs, and his ancestral Italian songs. Together they combine these repertoires with a large measure of harmony. $10 donation. 7:30-9:30pm, Couth Buzzard Books Espresso Buono Cafe, 8310 Greenwood Ave N, Seattle, 436-2960

Friday, Nov. 11, 2016, 7:30-9:30 pm
Pacific Northwest Folklore Society Coffeehouse Concert
JOCELYN PETTIT BAND
Hailing from the West Coast of British Columbia, Jocelyn leads The Jocelyn Pettit Band, with her beloved fiddle, Canadian stepdance, podorythmie foot rhythms, and vocals. With grace and passion, she delivers an engaging and uplifting performance of original and traditional music inspired from the Canadian and Celtic cultures of - Cape Breton, Québec, Ireland, Scotland, Brittany, and Galicia. Jocelyn has performed on stages across Canada, the U.S., Scotland, France, and Malaysia. "An incredible fiddle player, who blew away the audience with her expertise." ~ The Celtic Connection, Canada. Watch a video. $10 donation. 7:30-9:30pm, Couth Buzzard Books Espresso Buono Cafe, 8310 Greenwood Ave N, Seattle, 436-2960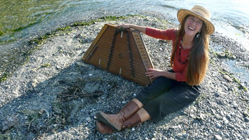 Friday, Dec. 9, 2016, 7:30-9:30 pm
Pacific Northwest Folklore Society Coffeehouse Concert
CAROLYN CRUSO
Carolyn Cruso, an acclaimed multi-instrumentalist and composer has toured widely in both the United States and Europe. She is equally at home on hammered dulcimer, flute, guitar and vocals and performs a diverse array of original tunes and songs as well as traditional material. Her unusual and lyrical approach to the dulcimer especially delights audiences! Listen to her music. $10 donation. 7:30-9:30pm, Couth Buzzard Books Espresso Buono Cafe, 8310 Greenwood Ave N, Seattle, 436-2960