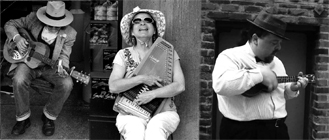 Friday, June 12, 2015, 7:30-9:30 pm
Pacific Northwest Folklore Society Coffeehouse Concert
BUSKERS' NIGHT
REGGIE MILES, JEANNE TOWNE, HOWLIN' HOBBIT
Three Pike Place buskers. Reggie Miles, songwriter, singer, storyteller, slide guitarist and sawplayer, sings original and traditional blues and bows beautiful melodies with a hand saw. Jeane Towne plays autoharp and guitar, and sings some sweet traditional songs. Howlin' Hobbit plays old-skool jazz, hokum, novelty tunes and original songs on ukulele with verve, skill, laughs and fun. Come and hear three of Seattle's best buskers in concert. $10 donation. 7:30-9:30pm, Couth Buzzard Books Espresso Buono Cafe, 8310 Greenwood Ave N, Seattle, 436-2960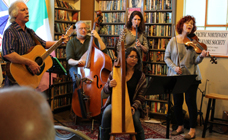 Friday, July 10, 2015, 7:30-9:30 pm
Pacific Northwest Folklore Society Coffeehouse Concert
PIPER STOCK HILL
The Pacific Northwest's only band dedicated to old, new and original folk music of Newfoundland. Celtic and English-based songs about fishing and fish, boats and fishermen, black rum and tragedy, and celebrating life despite hardships. Ron Dickson, acoustic guitar, vocals; Jan Strolle, fiddle, button accordion, vocals; Miki Nelson, fiddle, whistle, mandolin, vocals; James Birkinshaw, acoustic bass, bodhran, vocals. $10 donation. 7:30-9:30pm, Couth Buzzard Books Espresso Buono Cafe, 8310 Greenwood Ave N, Seattle, 436-2960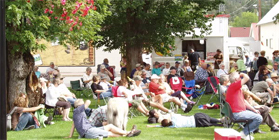 Friday - Sunday, Aug. 14-16, 2015
Princeton Traditional Music Festival
Princeton, B.C., Canada
Admission is FREE. Events are held on several stages in the centre of Princeton and begin on Friday evening with a public street dance and an Irish ceili band. Between 10 a.m. and 6 p.m. Saturday and Sunday there's a potpourri of concerts, workshops, and jams. 2015 application now here! The deadline for applications is April 30.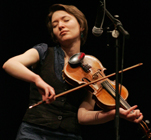 Friday, Sept. 11, 2015, 7:30-9:30 pm
Pacific Northwest Folklore Society Coffeehouse Concert
SARAH COMER
Sarah Comer explores the ethnic roots of Northwest traditional fiddle tunes. She will demonstrate how music from many countries flowed together to form our traditional Northwest music today. Comer's style is strongly rhythmic, with plenty of ringing, double-stopped harmonies. She follows in the stylistic footsteps of many Northwest fiddling legends. As a young adult, she won the Washington State Fiddle Contest, and she has appeared at the Pacific Northwest Folklife Festival, Benaroya Hall, and the Experience Music Project. $10 donation. 7:30-9:30pm, Couth Buzzard Books Espresso Buono Cafe, 8310 Greenwood Ave N, Seattle, 436-2960


Sunday, Sept. 13, 2015, 2-3 pm
PNWFS/Everett Public Library Free Concert
J. W. MCCLURE
Strains of folk, country, vintage jazz and humor resonate in master singer/songwriter/guitarist JW McClure's songs. His performances arc deftly between poetry and punchline, delivered with country-blues fingerpicking arrangements and an ageless voice. "...one of the absolute premier songwriters and singers in the story country mold ever out of the Northwest." Chris Lunn-Ancient Victorys. Free concert, Everett Public Library, 2702 Hoyt Ave, Everett, WA, 425-257-8000.


Friday-Sunday, Sept. 11 - 13, 2015
AMERICAN BANJO CAMP
Fort Flagler State Park Nordland, Washington
Spend a weekend away from the toil and cares of everyday life, with nothing to do but learn about the 5-string banjo or fiddle or guitar or some other instrument from world-famous teachers, play in jams, eat delicious food, and possibly even sleep! ABC is a camp for adults of all ages (students under 18 may attend if accompanied by a parent). There you can study old-time or bluegrass banjo with world-class instructors. Contact Information.


Friday, Oct. 9, 2015, 7:30-9:30 pm
Pacific Northwest Folklore Society Coffeehouse Concert
ROSALYNN DE ROOS & ERIC VERLINDE
Rosalynn De Roos is a multi-instrumentalist, collaborator, bandleader of ChoroLoco and festival producer. Rosalynn graduated from Cornish College of the Arts in clarinet performance. Since graduation Rosalynn has traversed the wondrous world of Brazilian music, exploring and expressing in musical styles of: Forró, Xote, Baião, Chorinho, Samba and Maxixe. She attempts to define the esoteric genre called Choro: vintage Brazilian jazz born out of Rio de Janeiro circa 1920s. Watch a video. Rosalynn will be joined by pianist Eric Verlinde who has excited audiences worldwide with his energetic and passionate performances. He is in high demand and is constantly performing, refining the sound and creating new music. His different groups create music that is pure, creative, spontaneous, superbly structured and melodic. $10 donation. 7:30-9:30pm, Couth Buzzard Books Espresso Buono Cafe, 8310 Greenwood Ave N, Seattle, 436-2960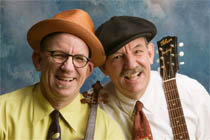 CANOTE BROTHERS
Double up with laughter when these identical twin musicians take the stage. With fiddle, banjo, ukuleles and genetically matched voices, Greg and Jere Canote bring back fun, vintage American music - including forgotten fiddle tunes, swing classics and quirky novelty songs. Seattle fans may remember the Canote Brothers as the affable side-kicks on KUOW's Sandy Bradley's Potluck for 13 years. Watch a video.

Sunday, Nov. 8, 2-3 pm
PNWFS/Everett Public Library Free Concert
Free concert, Everett Public Library, 2702 Hoyt Ave, Everett, WA

Friday, Nov. 13, 7:30-9:30 pm
Pacific Northwest Folklore Society Coffeehouse Concert
Couth Buzzard Books
$10 donation. Couth Buzzard Books Espresso Buono Cafe, 8310 Greenwood Ave N, Seattle, 436-2960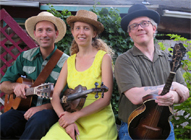 Friday, Dec. 11, 2015, 7:30-9:30 pm
Pacific Northwest Folklore Society Coffeehouse Concert
QUICKDRAW
Emerging from the acoustic string band tradition, Quickdraw String Band plays a repertoire of Old-Time, Early Bluegrass, Country Blues, and Ragtime. Experienced and hard working, they have been performing around Whatcom County off and on for the past twelve years. Their energetic approach and innovative interpretations make it obvious to see how Quickdraw has become one of the most distinctive acts around Whatcom County. Their style often defies categorization into any singular genre, but is solidly grounded in acoustic tradition. Their sound consists of various configurations of mandolin, fiddle, guitar, dobro, and vocals. Quickdraw has fun playing music, and has shared the stage with other such notables as Foghorn String Band, John Reischmann and the Jaybirds, The Dunton Sisters, Cliff Perry and Laurel Bliss, The Clumsy Lovers, Maggies Fury, and Robert Sarazin Blake. Listen to soundclips. $10 donation. 7:30-9:30pm, Couth Buzzard Books Espresso Buono Cafe, 8310 Greenwood Ave N, Seattle, 436-2960