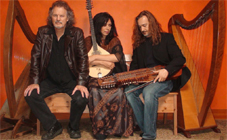 Thursday, Dec. 10, 7:30 pm
A WINTER'S GIFT
Greenlake Methodist Church, Seattle
Stories and music for the season presented by three of the premier Celtic Harpists in the world. Patrick Ball, Lisa Lynne & Aryeh Frankfurter perform Celtic legends, along with Irish and English literature woven together with beloved and rare pieces of holiday music. Audiences will hear three Celtic Harps, Swedish Nyckelharpa, Fiddle, Bandura, Bouzouki and more. $25 ($20, seniors, students) Greenlake Methodist Church, 6415 1st Ave NE, Seattle. Advance tickets, more info (800) 838-3006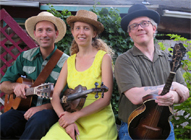 Friday, Dec. 11, 2015, 7:30-9:30 pm
Pacific Northwest Folklore Society Coffeehouse Concert
QUICKDRAW
Emerging from the acoustic string band tradition, Quickdraw String Band plays a repertoire of Old-Time, Early Bluegrass, Country Blues, and Ragtime. Experienced and hard working, they have been performing around Whatcom County off and on for the past twelve years. Their energetic approach and innovative interpretations make it obvious to see how Quickdraw has become one of the most distinctive acts around Whatcom County. Their style often defies categorization into any singular genre, but is solidly grounded in acoustic tradition. Their sound consists of various configurations of mandolin, fiddle, guitar, dobro, and vocals. Quickdraw has fun playing music, and has shared the stage with other such notables as Foghorn String Band, John Reischmann and the Jaybirds, The Dunton Sisters, Cliff Perry and Laurel Bliss, The Clumsy Lovers, Maggies Fury, and Robert Sarazin Blake. Listen to soundclips. $10 donation. 7:30-9:30pm, Couth Buzzard Books Espresso Buono Cafe, 8310 Greenwood Ave N, Seattle, 436-2960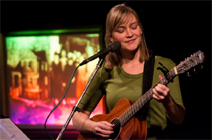 Friday, Jan 8, 2016, 7:30-9:30 pm
Pacific Northwest Folklore Society Coffeehouse Concert
AVERY HILL
Though Avery studied to be a school teacher, an environmental educator, and then a storyteller, all of these things eventually led her back to music, the thing she knows and loves best of all. She is now based out of Portland, Oregon, where she teaches music privately, and regularly gets out of town to tour different regions of the country. "This emerging singer-songwriter has a memorable, lilting voice and is already penning songs that could someday be classics. She is an extraordinary young talent." - Tom May, River City Folk. $10 donation. 7:30-9:30pm, Couth Buzzard Books Espresso Buono Cafe, 8310 Greenwood Ave N, Seattle, 436-2960

Friday-Sunday, Jan. 29-31, 2016
RAINY CAMP - SEATTLE SONG CIRCLE
Lake Retreat Conference Center, Ravensdale, WA
Nestled among the evergreens on the edge of a lake with mountains in the distance Lake Retreat and Conference Center is the perfect place to for RainyCamp! Great acoustics, good food, comfortable beds, and a weekend of song! Friday night song circle, Friday & Sunday workshops, Saturday night concert, late night jams and singing sessions. More information, registration.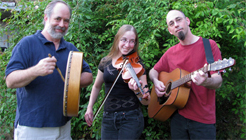 Friday, Feb, 12, 2016, 7:30-9:30 pm
Pacific Northwest Folklore Society Coffeehouse Concert
PINNIPED
Pinniped is Erik Correia (guitar, voice), Sarah Kellington (fiddle, voice), and Bill Kellington (bodhran, guitar, voice). From Olympia, they play mostly-traditional mostly-celtic acoustic music. You can hear music from their latest CD, Toe in the Water, here. $10 donation. 7:30-9:30pm, Couth Buzzard Books Espresso Buono Cafe, 8310 Greenwood Ave N, Seattle, 436-2960


Friday, March 11, 2016, 7:30-9:30 pm
Pacific Northwest Folklore Society Coffeehouse Concert
THE DRUNKEN MAIDENS
The Drunken Maidens, an unconventional acoustic band, specialize in tight vocal harmonies which are inspired by performers such as Sweet Honey in the Rock, Mediaeval Baebes, Great Big Sea and the Wailin' Jennys. In addition to their voices, the band incorporates guitar, fiddle, mandolin, whistles, and percussion. Threads from traditional ballads, shanties, old­-time and bluegrass, fiddle tunes and early music are woven together to produce a colorful and varied blend of British and American, old and new. Listen to their music. $10 donation. 7:30-9:30pm, Couth Buzzard Books Espresso Buono Cafe, 8310 Greenwood Ave N, Seattle, 436-2960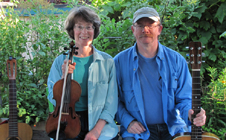 Friday, April 8, 2016, 7:30-9:30 pm
Pacific Northwest Folklore Society Coffeehouse Concert
MORGAN & GRAVES
Bob Morgan and Lynn Graves feature their engaging original songs interwoven with selections from a wide range of musical traditions. They accompany each other on fiddle, guitar and vocal harmonies. Drawn to humor as well as heartbreak, they won't leave you sad for very long. Bob and Lynn are also members of the Irish group Carolan's Corner. Their music can be heard at Northwest art and folk festivals and other Puget Sound folk music venues. $10 donation. 7:30-9:30pm, Couth Buzzard Books Espresso Buono Cafe, 8310 Greenwood Ave N, Seattle, 436-2960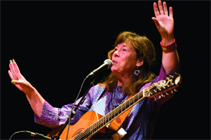 Sunday, April 17, 2016, 7:30-9:30 pm
Pacific Northwest Folklore Society Coffeehouse Concert
CLAUDIA SCHMIDT
Claudia Schmidt has been perfecting her craft of performing for almost four decades. It is a quirky and wonderful hodge-podge (her word!) of music, poetry, story, laughter. drama, and celebrating the moment. She has always included her original work along with very personal versions of the work of others, what you get is a unique look at the world from someone who says what she sees with clarity, humor, and wonder. Garrison Keiilor said "when Claudia sings a song, it stays sung." Listen to her music. $15 donation, reservations: email or phone 206-367-0475 (leave a message) (reservations held until 7:15 pm). 7:30-9:30pm, Couth Buzzard Books Espresso Buono Cafe, 8310 Greenwood Ave N, Seattle, 436-2960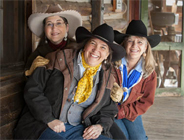 Friday, June 10, 2016, 7:30-9:30 pm
Pacific Northwest Folklore Society Coffeehouse Concert
HORSE CRAZY COWGIRL BAND
Horse Crazy Cowgirl Band is a fresh and rare female western music trio from Winthrop, WA. A rich harmonic tapestry draws audiences into a Horse Crazy performance. The spirit of the contemporary West comes alive with their unique, soothing harmonies. The music itself is varied with original compositions that offer a refreshing addition to the classics. Horse Crazy Cowgirl Band has created an unmistakable sound mixed with stories steeped in traditional campfire heritage. $10 donation. 7:30-9:30pm, Couth Buzzard Books Espresso Buono Cafe, 8310 Greenwood Ave N, Seattle, 436-2960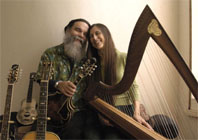 Friday, Sept. 9, 2016, 7:30-9:30 pm
Pacific Northwest Folklore Society Coffeehouse Concert
CURTIS & LORETTA
Curtis & Loretta's music comes straight from the heart. The husband and wife duo's extraordinary harmonies and proficiency on a parade of stringed instruments create an alluring frame for their poignant original songs, and carefully chosen traditional pieces from the British Isles, America, and beyond. The current menagerie includes Celtic harp, mandocello, mandolin, guitars, clawhammer banjo, and National steel ukulele, plus a bit of kazoo, harmonica, and shakers. Curtis' down-home sense of humor and Loretta's theater background engage the audience in an experience that runs the gamut of rolling with laughter to holding back tears, with plenty of side-trips in between. Listen to sound samples; watch a video. $10 donation. 7:30-9:30pm, Couth Buzzard Books Espresso Buono Cafe, 8310 Greenwood Ave N, Seattle, 436-2960

To submit events to this page, contact PNWFS