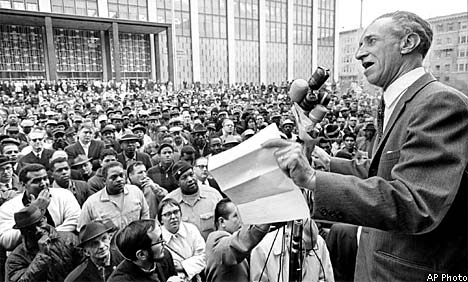 Harry Bridges addresses a labor rally in San Francisco, 1965.

HARRY BRIDGES
Harry Stamper
Sung by Harry Stamper



Harry Stamper is a retired longshoreman,
union activist, and songwriter from Coos Bay, Oregon.

Harry helped to build the bridges that the workers marched across
At a time when it was dangerous to agitate the boss
When the workers got together to see what they could do
They built a solid union, the ILWU
Chorus:
So here's to you Harry, may your name forever stand
For integrity and justice for every working man
Working women are beside them, as the bosses plan to goad
And your spirit sails on every ship we load
Before the union stood against the flowing economic tide
The employers set the standards and then organized the ride
Standards of human decency were easy to ignore
But all that changed in 1934
Chorus
From San Diego to Alaska all the teams called the same play
And there wasn't any question that the workers won that day
They put the blame on Harry when that power was let go
And they called him every evil thing they know
They called him a commie, they called him a red
They called him a lot of things they could have called the boss instead
When the dust had settled and the new life had begun
It was plain the working people had all won
Chorus
Then we found out what employers do when they're pushed to the line
When they panic like their workers and they find a friend some time
Uncle Sam called in the watch dogs, tried to tell them where to go
They stood with Harry Bridges and history said no
Chorus
… Yes your spirit sails on every ship we load.
Pacific Nothwest Folklore Society