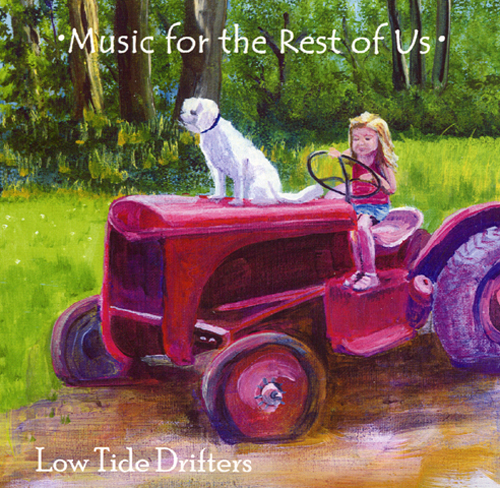 MUSIC FOR THE REST OF US
The Low Tide Drifters (©2014)
CD Baby

This latest release from Eugene, Oregon's Low Tide Drifters could be classified as music with a social conscience. Their songs touch on poverty, depression-era stories, labor issues, and the environment, but also include some sweeter moments. They employ a host of traditional instruments – fiddle, mandolin, guitar, bass, accordion, and harmonica – along with some harmonious voices. Most of the songs are originals by Nathan Moore and Kate Downing, but the CD also includes a few covers.
Living on Too Little, is a song about poverty that seems to have no end. My Vivian and Bound for Lakeview are two songs that tell depression-era stories that end up in Oregon. Real Victories is about trying to lift oneself out of life on city streets, while Already Home is about doing "the work that no one else wants to do."

Eden's Lullaby and Will We Say We Did Our Best are songs of guarded hope for the future of the young, while Song For Cynthia, by Harry Stamper, is about what might have been.

We Just Come To Work Here (We Don't Come To Die) is an iconic song by the late Harry Stamper, Coos County, Oregon longshoreman and union activist, in which he tells a personal story about safety in the workplace. And Destitution Road is a song by the Scottish folk legend and social activist, Alistair Hulett.

Despite the somewhat depressing themes in these songs, there is an upbeat sound in the music with a country flavor or a little punk-rock beat, which drives home their message. Low Tide Drifters is a popular Eugene, Oregon band made up of the husband-and-wife songwriting duo Nathan Moore and Kate Downing, harmonica player Dennis Soper, multi-instrumentalist Chico Schwall, percussionist and accordion player Wendy Schwall, and Rachael Young on bass. They are joined on this CD by guest soloist Alison Kinney. Another fine release by this group.

Stewart Hendrickson