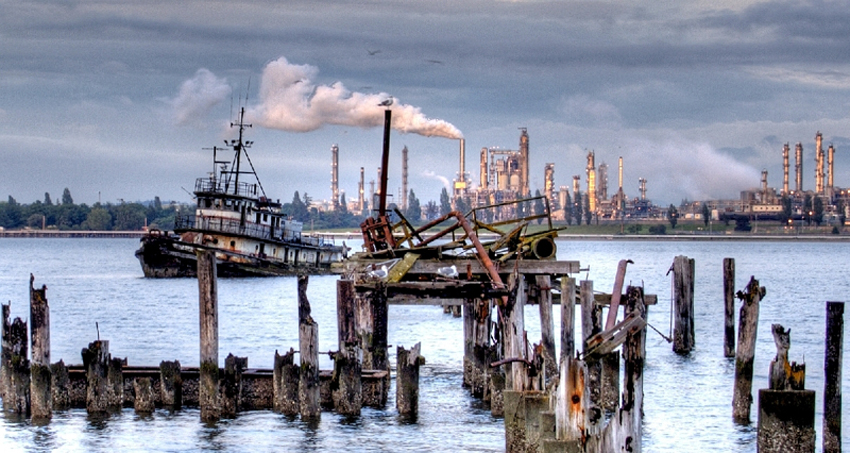 Tugboat Enchantress in Padilla Bay, Anacortes, WA (photo by Michael Martin)
ODE TO THE ENCHANTRESS
by Tim Wittman ©2010
Sung by Tim Wittman
Pam Hobson (vocal harmony), Greg Hobson (upright bass)
Recorded on Northwest Tugboat Tales




Built in 1944, the Enchantress, first named LT495, was one of 61 Miki-class tugs built for the U.S. Army. After WWII, she was purchased and renamed the "John Michael" by a Baltimore company. She was then sold to an Alaskan oil company in 1950. In 1951, Foss Tug bought her in auction and named her the "Leslie Foss" under which name she spent 17 years plying Puget Sound and Alaska. She was bought and sold and renamed at least four more times, eventually purchased by Richard Carnes. Carnes was suspected of abandoning her in Anacortes in 2000.
Chorus
Where do you lay your weary head? Where lay your body down?
Amid the crash of wrecking ball you sink into the sound.
Is this a fitting legacy of one so strong and proud?
The mighty tug Enchantress, sweet friend of Puget Sound.
The mighty tug Enchantress rides high in majesty
Guardian of those who draw a living from the sea.
Cargo ships and tankers, log booms of coastal trees,
The mighty tug Enchantress, guardian of the sea.
Chorus
One hundred twenty feet she glides, from upright bow to stern.
Her pilot house an eagles nest, while ocean currents churn.
Escorting precious cargo, freighters, barges, old and new,
Kept safe from hostile forces at the height of World War Two.
Chorus

Waters of Lake Union, Ballard Locks, Alaska, too.
She journeyed to Padilla Bay, left by who knows who.
Tied to rotting pilings, sometimes covered by the tide
Though we called for preservation, only few stood by her side.

The ship is just an eyesore, poisoning the view.
She could be leaking oil and fuel, toxic hazards, too.
They should have hung her on a cross as we plead her case in vain.
'Til the wrecking ball came crashing down, she was never seen again.

Chorus