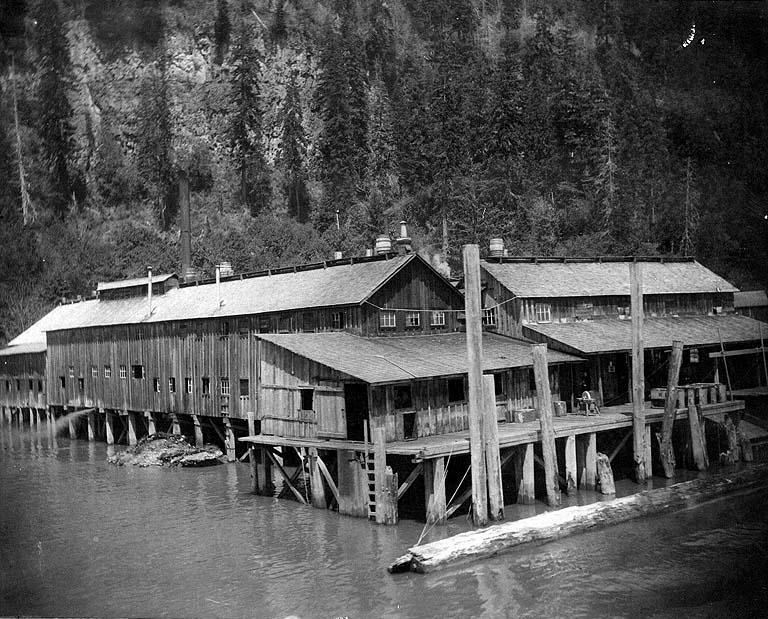 William Hume's Cannery, Eagle Cliff, Columbia River, Washington, ca. 1897
Stella
by Mary Garvey
Sung by Mary Garvey


I've worked all my life in the cannery shed
And if I'm dying or you think I'm dead.
Don't bury my bones but put me instead
In a can in the cannery shed.

The cannery shed perches over the river
When the winter winds blow, you'll freeze and you shiver
When the boss comes around, I just might have to give her
My opinion of the cannery shed

There's no time to rest and there's no time to linger
And you better move sharp or you might lose a finger
It would make your stomach turn if you knew everything there's
Been canned in a cannery shed.
We chop off the heads and chop off the tails
Scoop out the guts and throw 'em in the pails
Won't get a rest till the next schooner sails
From the dock at the cannery shed.

LaFaye went away and he wrote me a letter
And I tucked it up high in the sleeve of my sweater
It slipped and it fell and ended in the shredder
And got canned in the cannery shed.

The cannery boy, he's a very happy fella
If he gets him a girl from the little town of Stella
I would if I could but I'm not gonna tell ya
What goes on behind the cannery shed.
Pacific Nothwest Folklore Society