The schooner Wawona was the last of many merchant sailing vessels that served ports of call on the west coast from the late 1800's through the mid-1900's. The Wawona was a magnificent vessel that transported lumber, and later fished the Bering Sea bringing home tons of salted codfish (halibut was used for bait!). The Wawona was powered only by sail. There was a small gasoline motor aboard with a single dedicated purpose to charge the batteries that powered the radio equipment and the lights below deck. The Wawona spent her last days moored in Lake Union, in Seattle. While major attempts were made to restore her, she was finally demolished. A national relic, the Wawona was taken apart piece by piece and parts were preserved to be shown in special exhibits around the Northwest. She is a beautiful vessel that will long live in the hearts and minds of the men and women fortunate to have been associated with her.
Tim Wittman, June 14, 2010
YouTube Video of Wawona Being Moved to Lake Union Drydock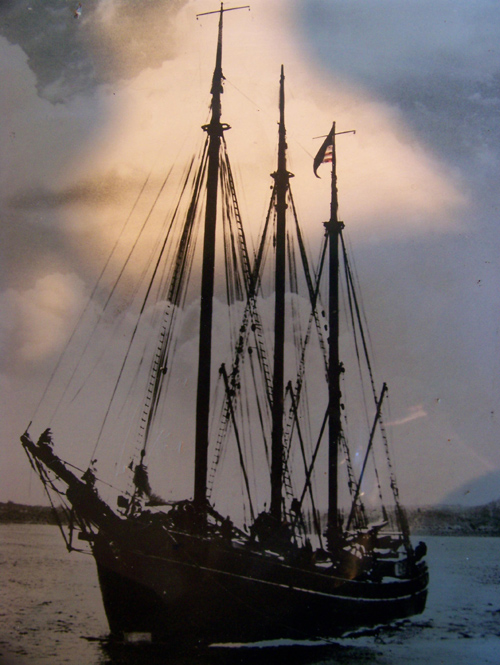 The Wawona - historic photo provided by Bill Mitchell
SWEET WAWONA
by Tim Wittman © 2010
Sung by Tim Wittman
Pam Hobson (vocal harmony), Greg Hobson (upright bass)


Chorus:
Where did you go my sweet Wawona?
Your berth was empty today.
Are you gone from our shores like the prodigal son
Or the daughter who moved far away?
Have you found a port
In a coastal town
Where fishermen toil all day?
Or have you made a home in the stars above
Is that where you've gone to stay?
Slicing through protected waters
Fight the Bering Seas
Inter Island ports of call
Where lies your destiny?
Cast heave ho a heavy line
Wind billowing out your sails!
Laden down with salted codfish
Lumber, sacks of mail.
Chorus
Riding high or' coastal waters
Powered by offshore breeze
Moving along with the wind and tide
Wild and fancy free.
No engine whine
No fueling lines
No steam or bins of coal
Nothing but God and the stars above
Guiding you to your goal.
Chorus
Men like Smitty, Kager, Wright,
the Robinson Family,
Hans Bendixen's own two hands
Gave you life and set you free.
Thirty-eight fishermen called you home
At the end of the light of day
While at night the mug served steaming hot
And a fiddle below would play.
Chorus