Welcome to NW HOOT
WELCOME to the Pacific Northwest Folklore Society's e-zine the NW HOOT (as in hootenanny). We will announce upcoming events and include articles on folk music, folklore and the traditional music scene in the Pacific Northwest.
June/July, 2015 Vol. 7, No. 5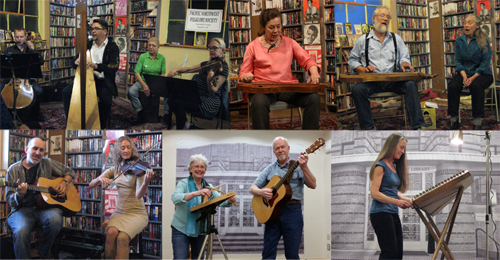 Seumas Gagne, Claudia Schmidt, John Elwood & Sally Burkhart
Dan Frechette & Laurel Thomsen, Hank & Claire, Carolyn Cruso

Past concerts at the Couth Buzzard featured Seumas Gagne on April 10; Claudia Schmidt on April 19; an Acoustic Harmonica Master Showcase  with Grant Dermody, Mark Graham, and Orville Johnson co-sponsored by the Couth Buzzard on April 24; John Elwood and Sally Burkhart on May 8; and a concert by Dan Frechette & Laurel Thomsen on May 14. Two free concerts at the Everett Public Library featured Hank & Claire on April 19, and Carolyn Cruso on May 17. That was a busy two months with some fine music! Upcoming concerts at the Couth Buzzard will feature a Buskers' Night on June 12 with Reggie Miles, Jeanne Towne, and Hobbit & Hare; and Piper Stock Hill on July 10. This issue features an article by Stewart Hendrickson: "The Pacific NW Folklore Society - Past, Present & Future;" "Music Changes the Brain" by Laurie Riley; and a CD Review - The Coffee Stories - Anita Rose Meranda, by Bob Nelson. On Saturday, June 13, we begin a monthly 2nd Saturday Community Sing at the Couth Buzzard from noon - 1 pm.   The Events page lists some great concerts through the next few months. We are still looking for more writers for the NW HOOT (send us your ideas and articles). Keep tuned and revisit the NW HOOT as new articles, CD reviews, and videos may appear during the next two months. Donations - We manage to carry on with a small budget, but there are needs to support. For example, we just wrote a check to Couth Buzzard in appreciation of the venue they provide and to help defray the cost of their annual ASCAP fee (for live music). We also need to cover the cost of printer ink and paper for concert posters and internet service costs for our websites. Donations of any amount are welcome - for $20 or more we will send you a free Songs of the Pacific Northwest CD. Send a check to Pacific NW Folklore Society, 11720 1st Ave NW, Seattle, WA 98177. Thank you.
Obituary
Jean Ritchie, Who Revived Appalachian Folk Songs, Dies at 92
Ms. Ritchie brought hundreds of traditional songs from her native Appalachia to a wide audience and performed with major names in folk music. Read the New York Times Obituary

ARTICLE

THE PACIFIC NW FOLKLORE SOCIETY
PAST, PRESENT & FUTURE
by Stewart Hendrickson
This is a reflection on what we have done in past years, how we have evolved in ways that we never expected, what we are doing now, and what we plan for the future. It is also a call for others to become involved and eventually take over this project that we began. We need YOU!
ARTICLE

MUSIC CHANGES THE BRAIN
by Laurie Riley
In the last twenty years or so it has come to our attention that there is researched proof that music positively affects how our neurology develops. Humans are musical beings and have always used music for entertainment, ritual, and mood enhancement. Now science is beginning to be able to tell us why it is so important to our well-being and our brain health.
CD REVIEW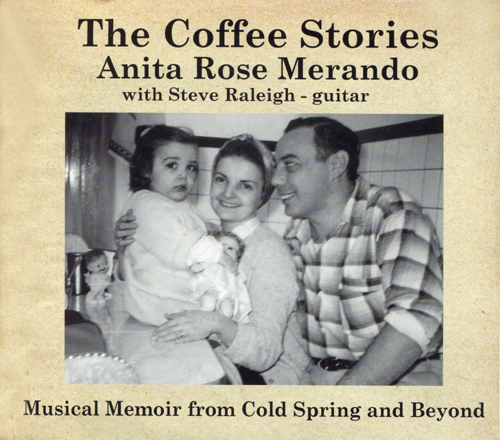 The Coffee Stories: Musical Memoir from Cold Spring and Beyond
Anita Rose Merando
Anita Rose, formerly of Seattle, sent me this wonderful double-CD album that combines her childhood stories of growing up in a strong, close-knit Italian family in upper New York state with her wonderful renditions of jazz standards.
MONTHLY EVENT

Pacific Northwest Folklore Society
COMMUNITY SING
Every 2nd Saturday, noon - 1 pm
Couth Buzzard Books, 8310 Greenwood Ave N, Seattle
Come as you are - all ages and skill levels are welcome. We will emphasize the traditional and "old songs." Led by Stewart Hendrickson and other musicians using our song book (Sing Together). You may also bring your own song (at least 12 copies) to lead with the group.
FEATURED VIDEO OF THE WEEK
If you can't view this in Internet Explorer, any other browser (Firefox, etc.) should work fine.

Martyn Wyndham-Read & Iris Bishop: Broken-Down Squatter

Words and tune by Charles A. Flower (1894).