Welcome to NW HOOT
WELCOME to the Pacific Northwest Folklore Society's e-zine the NW HOOT (as in hootenanny). We will announce upcoming events and include articles on folk music, folklore and the traditional music scene in the Pacific Northwest.
February/March, 2015 Vol. 7, No. 3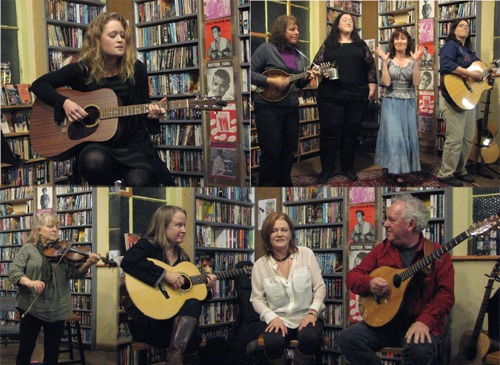 Alice Howe, The Drunken Maidens

Tina, Julie Mainstone

Concerts at the Couth Buzzard featured Julie Mainstone on Dec. 12, and a Folk Musicians Showcase on Jan 9 with Tina, Alice Howe, and The Drunken Maidens. Upcoming concerts at the Couth Buzzard will feature Crònan on Feb. 13, and J. W. McClure on March 13. This issue features the fifth article in a series on Seattle Folksingers by Bob Nelson: "Those Who Led The Way - John Ashford & Sally Pushkara Ashford"; an article by Stewart Hendrickson, "Bring Back America Singing," on community singing; and a review of the CD, "J. W. McClure & Friends - Interpretations of Jimmie Rodgers."  The Events page lists some great concerts through the next few months. We are still looking for more writers for the NW HOOT (send us your ideas and articles). Keep tuned and revisit the NW HOOT as new articles, CD reviews, and videos may appear during the next two months. Donations - We manage to carry on with a small budget, but there are needs to support. For example, we just wrote a check to Couth Buzzard in appreciation of the venue they provide and to help defray the cost of their annual ASCAP fee (for live music). We also need to cover the cost of printer ink and paper for concert posters and internet service costs for our websites. Donations of any amount are welcome - for $20 or more we will send you a free Songs of the Pacific Northwest CD. Send a check to Pacific NW Folklore Society, 11720 1st Ave NW, Seattle, WA 98177. Thank you.
ARTICLE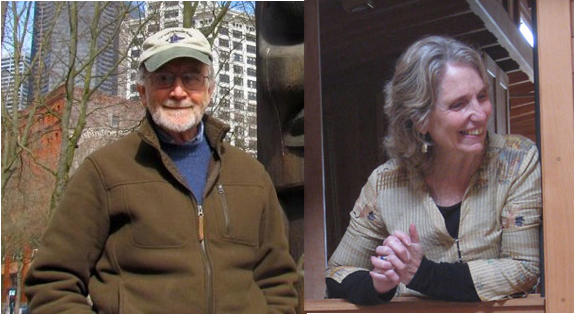 SEATTLE FOLKSINGERS
THOSE WHO LED THE WAY
JOHN ASHFORD & SALLY PUSHKARA ASHFORD
By Bob Nelson
In these articles titled "Those Who Led The Way" I want to bring to you the stories of five folksingers who were very influential in the Seattle folk music scene of the 1950s and '60s. The first three articles presented Walt Robertson, Don Firth, and John Dwyer. In this final installment I delight in presenting John and Sally Ashford, who's lasting legacy is one of fostering community singing and the teaching of our rich heritage of folk music.
ARTICLE
BRING BACK AMERICA SINGING
When was the last time you sang as part of a community? In a baseball stadium during the seventh-inning stretch when everyone belted out "Take Me Out to the Ballgame?" At church when everyone mumbled through a lugubrious hymn with their noses buried in the hymnal? Americans don't sing together. The music industry has convinced us that only professional singers can sing, so don't even try – music is only for listening. However in some communities group singing is making a comeback. In Seattle we have  sea chanty groups, song circles, and other informal community sings. How do these groups function and what is the best way to encourage and conduct these activities?
CD REVIEW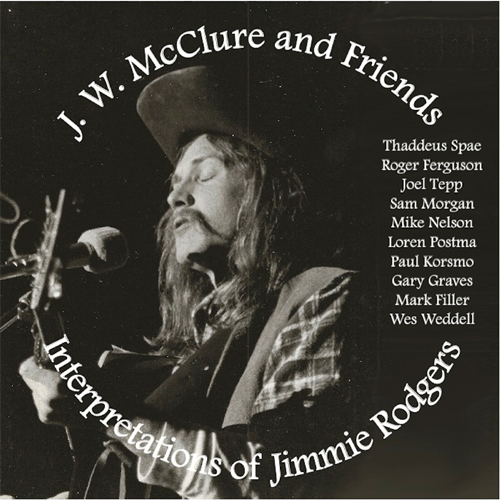 J. W. MCCLURE & FRIENDS
Interpretations of Jimmie Rogers
J.W. McClure loves to yodel. He has been doing it for "quite a while," he says, and he is very good at it. It's not surprising, then, that he decided to make a CD with his interpretations of Jimmie Rodgers' songs. Jimmie's country yodeling, his "curlicues," were trademarks of his music.
FEATURED VIDEO OF THE WEEK
If you can't view this in Internet Explorer, any other browser (Firefox, etc.) should work fine.