Welcome to NW HOOT
WELCOME to the Pacific Northwest Folklore Society's e-zine the NW HOOT (as in hootenanny). We will announce upcoming events and include articles on folk music, folklore and the traditional music scene in the Pacific Northwest.
December/January, 2014/2015 Vol. 7, No. 2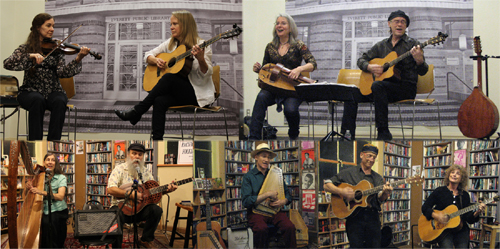 Kate MacLeod & Kat Eggleston, Pint & Dale
Curtis & Loretta, Adam Miller, Small Potatoes

Concerts at the Couth Buzzard featured Curtis & Loretta on October 10, Adam Miller on November 14, and Small Potatoes on Nov. 15. There were also free concerts at the Everett Public Library by Kate MacLeod & Kat Eggleston on October 5, and on Nov. 16 by Pint & Dale. Upcoming concerts at the Couth Buzzard will feature Julie Mainstone on Dec. 12, and a Folk Musicians Showcase on Jan 9 with Tina, Alice Howe, and The Drunken Maidens. This issue features the fourth article in a series on Seattle Folksingers by Bob Nelson: Those Who Led The Way - John Dwyer; an article by Robin Elwood about his parents, folksingers John Elwood and Sally Burkhart; and a review of the CD, "John Elwood and Robin Elwood." The Events page lists some great concerts through the next few months. We are still looking for more writers for the NW HOOT (send us your ideas and articles). Keep tuned and revisit the NW HOOT as new articles, CD reviews, and videos may appear during the next two months. Donations - We manage to carry on with a small budget, but there are needs to support. For example, we just wrote a check to Couth Buzzard in appreciation of the venue they provide and to help defray the cost of their annual ASCAP fee (for live music). We also need to cover the cost of printer ink and paper for concert posters and internet service costs for our websites. Donations of any amount are welcome - for $20 or more we will send you a free Songs of the Pacific Northwest CD. Send a check to Pacific NW Folklore Society, 11720 1st Ave NW, Seattle, WA 98177. Thank you.
ARTICLE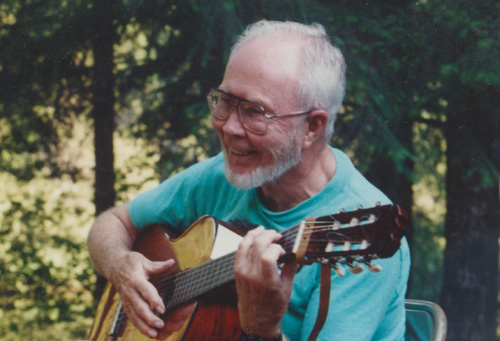 SEATTLE FOLKSINGERS
THOSE WHO LED THE WAY
In these articles titled "Those Who Led The Way" I want to bring to you the stories of folksingers who were very influential in the Seattle folk music scene of the 1950's and 60's. The first two articles presented Walt Robertson and Don Firth. Here I present John Dwyer as I knew him.
ARTICLE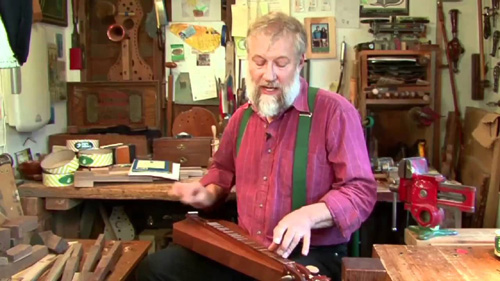 JOHN ELWOOD AND SALLY BURKHART
Keeping the Old Songs Alive
By Robin Elwood

My father, John Elwood, is a luthier who has spent the past 40 years building mountain dulcimers with hand tools. He and my mother, Sally Burkhart live in an old farmhouse in a ghost town along the banks of the Palouse River, in rural eastern Washington. Together, they sing traditional songs from the British Isles and Appalachia
CD REVIEW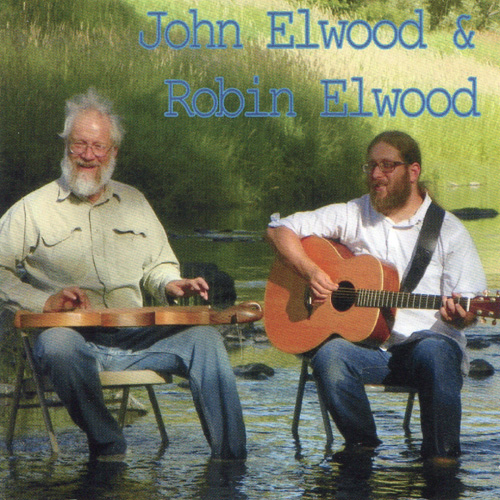 JOHN ELWOOD & ROBIN ELWOOD
John and Robin Elwood
© 2014
Trans-generational music performed by father and son. This delightful CD presents some old songs not often heard, an original song, and a couple of instrumental tunes. John Elwood has been building mountain dulcimers in rural eastern Washington for forty years and is a masterful player of that instrument. His son Robin, a musician in Bellingham, Washington, grew up with traditional music played with his parents at home. The sounds of the dulcimer and guitar and a few other instruments, along with harmonious voices make for some very nice listening.
FEATURED VIDEO OF THE WEEK
If you can't view this in Internet Explorer, any other browser (Firefox, etc.) should work fine.

"Makem & Spain: The Making of Sessions"
A behind the scenes look at the making of "
Sessions - Volume 1
" the new album from Makem and Spain featuring collaborations with David Mallett, Tom Paxton, Bill Staines, Noel Paul  Stookey, Roger McGuinn, Gordon Bok, The Shaw Brothers, Jonathan Edwards, Schooner Fare. "This album's feel is that of the early Folk Revival – back in the days in which Pete Seeger's command to "sing out!" was in full flower, genres were loose, and music was a group exercise."—
Rob Weir. CD Baby
.