Welcome to NW HOOT
WELCOME to the Pacific Northwest Folklore Society's e-zine the NW HOOT (as in hootenanny). We will announce upcoming events and include articles on folk music, folklore and the traditional music scene in the Pacific Northwest.
February/March, 2013/14 Vol. 6, No. 3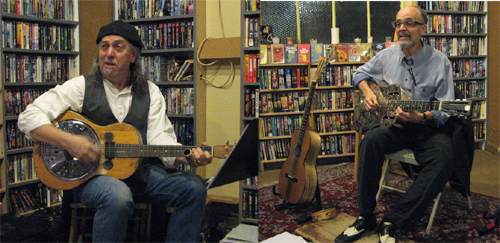 Reggie Miles; Steve Cheseborough

The December concert at the Couth Buzzard featured Northwest  blues man Reggie Miles, and the January concert featured another blues musician,  Steve Cheseborough from Portland. Upcoming concerts at the Couth Buzzard will feature Choroloco on Feb. 14, and The Quiet American (Aaron and Nicole Keim) on March 14. A new Winter/Spring series of Sunday afternoon free concerts at the Everett Public Library begins on March 2 with Kate Power and Steve Einhorn, and Tania Opland and Mike Freeman on March 23. This issue features an article by Stewart Hendrickson on Making Music Together in the Seattle Area; an article on the "Americana Women" MusicBox Project and movie premier in Ballard on Feb. 15; an article from Lauri Riley's Music Blog on Full Benefit: The Many Ways of Learning; and a review of Julie Mainstone's latest CD, On The Blessed Road. Let the authors know what you think about their articles - writers love (need) feedback. And of course a new Featured Video of the Week each week (usually beginning on Friday). The Events page lists some great concerts through the next few months. We are still looking for more writers for the NW HOOT (send us your ideas and articles). Keep tuned and revisit the NW HOOT as new articles, CD reviews, and videos may appear during the next two months.
ARTICLE
MUSIC IS NOT A SPECTATOR SPORT!
Making Music Together in the Seattle Area
by Stewart Hendrickson
In the beginning there was music. I think we are genetically programed to respond to music by playing instruments, singing, and moving our bodies in dance. But in modern times music has become more of a commodity that we buy rather than what we do. A friend of mine said, "music is something we should do with each other, not something we do to each other." We recently introduced a new page on the PNWFS web site, Jams & Other Participatory Music Events, as a guide to discover the joy of making music with other people.
ARTICLE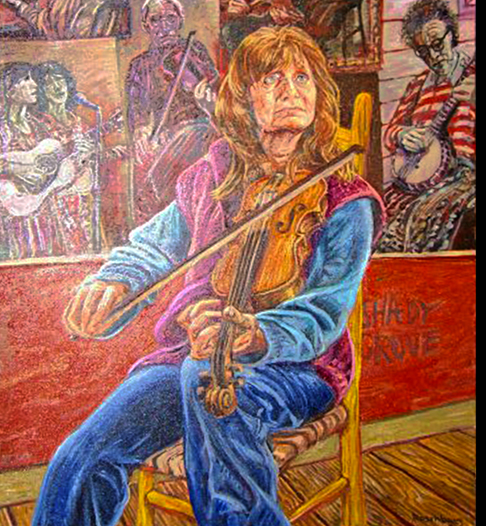 a mural of Alice Gerrard at her home

"AMERICANA WOMEN Movie + Music Night"
Benefit Event for MusicBox Project
Sat, Feb. 15, 2014
by Dyann Arthur

MusicBox Project, a Snohomish-based 501(c)(3)non-profit arts organization run by Dyann and Rick Arthur of Mill Creek, is on a mission! Their charter states that they "document and preserve music history," but MusicBox Project is way more than that.
ARTICLE

FULL BENEFIT
MANY WAYS OF LEARNING
by Laurie Riley
Learning obviously comes from many sources and in many ways. We can learn music from our families, peers, friends, teachers, recordings, and/or You Tube. We can learn from notation or tablature, by rote, by ear, and/or from observing performances. We learn aurally, visually, and/or kinesthetically.
CD REVIEW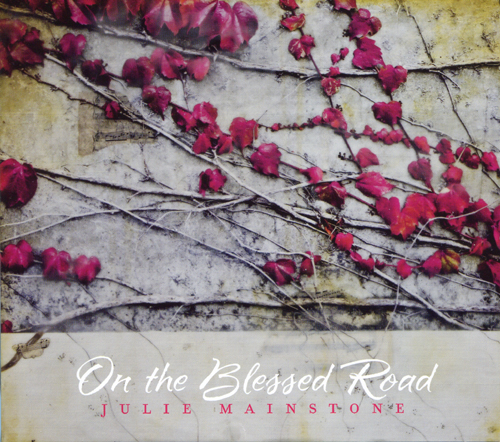 For her second CD Julie Mainstone has put together a stellar group of local musicians from Vashon Island to produce an interesting and varied collection of traditional and contemporary songs.  Mountain dulcimer, fiddle, guitars, flutes, banjo, bass and percussion are some of the instruments backing up Julie's beautiful voice.
FEATURED VIDEO OF THE WEEK
If you can't view this in Internet Explorer, any other browser (Firefox, etc.) should work fine.

Tommy Makem ~ Rambles Of Spring