Welcome to NW HOOT
WELCOME to the Pacific Northwest Folklore Society's e-zine the NW HOOT (as in hootenanny). We will announce upcoming events and include articles on folk music, folklore and the traditional music scene in the Pacific Northwest.
April/May, 2014 Vol. 6, No. 4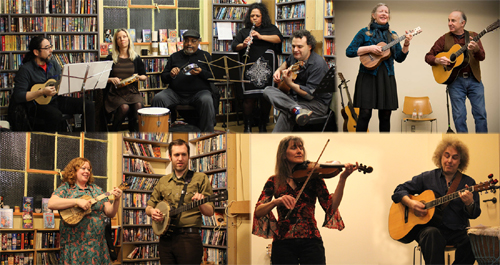 Choroloco; Kate Power & Steve Einhorn
The Quiet American; Tania Opland & Mike Freeman

The February concert at the Couth Buzzard featured Choroloco, and the March concert featured The Quiet American (Aaron & Nicole Keim)(watch videos). Two Sunday afternoon free concerts at the Everett Public Library featured Kate Power and Steve Einhorn on March 2 (watch videos), and Tania Opland and Mike Freeman on March 23. Upcoming concerts at the Couth Buzzard will feature Dale Russ & Michael Saunders on April 11, and Piper Hill Stock on May 9. The final Everett Library free Sunday Concert will feature Hank & Claire on May 18.This issue features an article by Stewart Hendrickson on Collecting Songs, and two CD Reviews: Songs From A Rocking Chair - The Quiet American; and Music For The Rest Of Us - Low Tide Drifters. Let the authors know what you think about their articles - writers love (need) feedback. And of course a new Featured Video of the Week each week (usually beginning on Friday). The Events page lists some great concerts through the next few months. We are still looking for more writers for the NW HOOT (send us your ideas and articles). Keep tuned and revisit the NW HOOT as new articles, CD reviews, and videos may appear during the next two months.
ARTICLE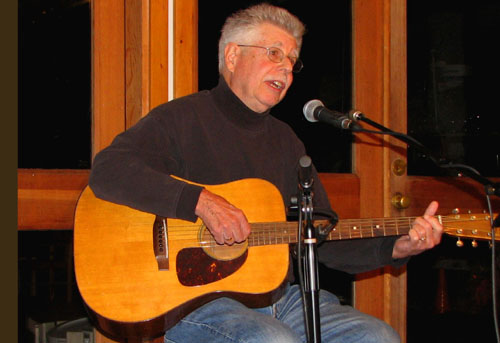 COLLECTING SONGS
By Stewart Hendrickson

I've been coming to the community SING at Dusty Strings for over a year now and usually bring a new song to share each time. Kate Power, director of the Dusty Strings Music School, calls me a "song caster." I think of myself more as a "song catcher," but neither of those terms describes what I do.
CD REVIEW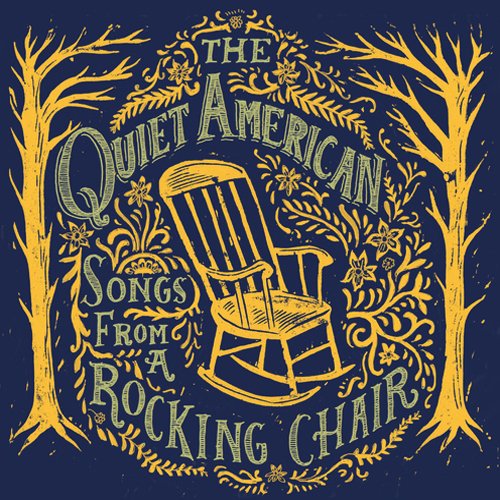 SONGS FROM A ROCKING CHAIR
The Quiet American
Aaron & Nicole Keim (©2014), CD Baby

In this latest release from the Quiet American, Aaron and Nichole Keim create the feel of sitting on a rustic back porch in a comfortable rocking chair listening to music both relaxing and stimulating. This is a far cry from their previous excellent recording, Wild Bill Jones, set around a murder ballad; in this recording no one dies – everyone relaxes and has a good time.
CD REVIEW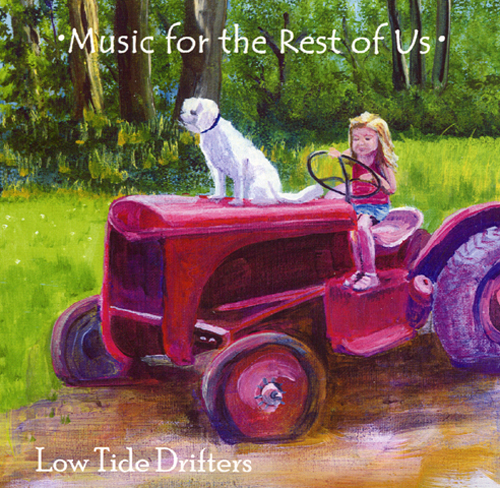 MUSIC FOR THE REST OF US
The Low Tide Drifters
(©2014)
CD Baby
This latest release from Eugene, Oregon's Low Tide Drifters could be classified as music with a social conscience. Their songs touch on poverty, depression-era stories, labor issues, and the environment, but also include some sweeter moments. They employ a host of traditional instruments – fiddle, mandolin, guitar, bass, accordion, and harmonica – along with some harmonious voices. Most of the songs are originals by Nathan Moore and Kate Downing, but the CD also includes a few covers.
FEATURED VIDEO OF THE WEEK
If you can't view this in Internet Explorer, any other browser (Firefox, etc.) should work fine.

WSKG's Expressions: The Honey Dewdrops
Laura Wortman and Kagey Parrish
make their home in the foothills of the Blue Ridge Mountains in Charlottesville, Virginia. The couple has been playing music in some capacity for over 15 years, but honed in on their natural duet abilities 7 years ago when they met for the first time in college. It was their love of folk music that brought them together and has since taken them out on the road to tour fulltime as the award-winning duet they are today.