CD REVIEW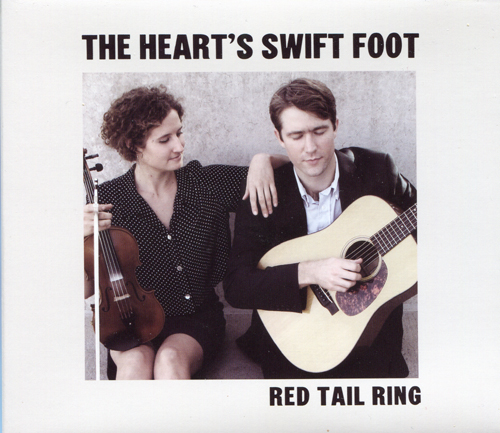 There is a lot to like about this CD, the third release from Michigan-based folk duo Red Tail Ring. Just two musicians with guitar, fiddle, banjo, mandolin and dobro, no overdubbing or added backup musicians, the sound you hear is exactly what you would hear in a live concert; I like that.
Laurel Premo and Michael Beauchamp are two talented musicians – Laurel on voice, fiddle, banjo and dobro, and Michael on voice, guitar, mandolin and banjo. Although they play both traditional and original music, this CD is mostly original songs with a couple of well-sung traditional songs to bring credibility to the mix. Their original songs sound traditional, "in the tradition." They are well steeped in the folk tradition and carry a respect for this into their original compositions. Their close harmonies contain dissonant seconds, fourths and fifths along with drones and modal scales characteristic of Appalachian music. They also bring a certain upper-Midwestern, Scandinavian accent into their music.

Laurel is an accomplished traditional fiddle player. She pursued art and music at the University of Michigan, and studied traditional Finnish fiddle playing at the Sibelius Academy in Helsinki, Finland. Michael plays guitar and mandolin, and they both play banjo and contribute beautiful vocal harmonies to the mix.

Katy Came Breezing

Their journey through this CD begins along the Ohio Turnpike evoking a long trip home. Katy Came Breezing is a poignant conversation between two lovers enhanced by the lonesome dissonant harmonies of Laurel's fiddle. Dirt Triangle paints a picture of an empty city lot and what it might become. The title track, The Heart's Swift Foot, questions whether the heart can stop searching for love. The vocals are well articulated and the instrumental accompaniments executed with precision.

J in the Broom Straw, one of two instrumentals, is an Appalachian-style dance tune, a duet between fiddle and banjo. The other instrumental, Ladies' Choice Waltz, is a comforting slow fiddle waltz with a definite Scandinavian flavor to it.

Suffer Every Sound

Queen of the West and Other Stories is a ballad about friendships with a country-sounding twang to it, articulated by Laurel's masterful playing of the dobro. A Clearing in the Wild is a love song about slowing down and being at one in the wild. Laurel's lyric vocal solo combined with some close harmonies and a sparse banjo accompaniment gives it poignant quality. This is in contrast to the next song, Suffer Every Sound, a very Appalachian-sounding lament. Then a country blues type of song, Body Like a Bell, follows in an upbeat tempo.

Body Like A Bell

Finally, two traditional songs included in this collection illustrate their understanding of and respect for traditional folk music. It helps to bring the two types of music together. St James Hospital is a version of St. James Infirmary as done by Doc Watson. They keep close to Watson's interpretation, but add to the sad and lonely feel with some fantastic fiddle playing in close dissonant harmonies and Michael's soulful vocal interpretation of the lyrics. A very moving rendition.

And our journey concludes with Hazel Dickenson's uplifting song, My Heart's Own Love. It's an appropriate ending to a varied musical journey. You want to go back and listen again. Right now this is my favorite new recording and I'm sure it will remain so.
This e-mail address is being protected from spambots. You need JavaScript enabled to view it