CD REVIEW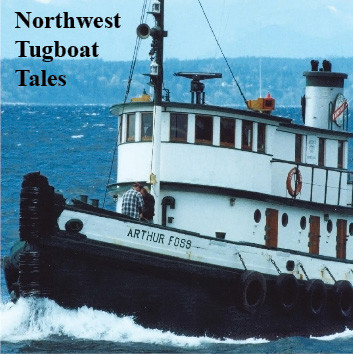 NORTHWEST TUGBOAT TALESMaritime Folknet
CDBaby
I didn't think there would be so many songs about tugboats, but this is a great collection. Some are new, composed for this CD, and some are not so new. They are all well performed. Many relate to specific tugboats and people, and bring with them a wealth of history and folklore of the Northwest. It begins with a rousing version of Geoff Noble's song One More Pull, sung by Hank Cramer with the able assistance of a local crew. From Canada and Fraser Union is another great towing song by Vic Bell, Snap the Line Tight.
Other songs not new to this collection are The Oda G. by Stanley Tiggs, sung by Jon Bartlett and Rika Ruebsaat, a humorous story of hardships and glory aboard a historic tug; A Hundred Years Ago, by Bob Kotta and Mariide, celebrating the hundredth birthday of the tug Arthur Foss, sung by Victory Sings at Sea; The Tugboat Song, by the late Inge Wessels, a former tugboat cook, about being a  tugboat cook, sung by Tugboat Bromberg; Summer Wages, Ian Tyson's song that might be about tugboats, sung by Chris Roe and crew; When Carissa Came Ashore, by Jonathan Lay, about a ship that came uninvited ashore on the Oregon coast and whose bow was towed away leaving the stern half still on the beach; and Tugboats, an iconic tugboat song by Bob Bossin and his East Coast crew, Stringband.  
The remaining nine songs are new to this CD. Mary Garvey, a prolific Northwest song writer and co-instigator of this project, contributed four new songs: The Tugboat Captain, about tugboats on the lower Columbia River, with music by and performed with Watch The Sky; Tall Trees, sung by Mary, Chris Roe and Jan Elliott-Glanister, about tugboats and timber rafts on the lower Columbia; with Jon Pfaff, Piper Cameron, sung by Mary and Jon, commemorating a young woman and soon-to-be tugboat captain who died too early; and, with Capt. Andrea McDonald and a tune by Matt Moeller, performed by The Whateverly Brothers, The Tugboat Langston Hughes tells a story about a 1908 tugboat used as a training ship for young boys.
A beautiful song by Dejah Leger, performed by Dejah and Devon Leger, Mary D. Hume, is about a ship built in 1881 with the longest commercial service of any tug on the West Coast, which now sits wrecked at Gold Beach, Oregon. Ode to the Enchantress, by Tim Wittman, performed by Tim and his crew, is about another wrecked tug that was sadly removed from its resting spot at Anacortes. Chris Roe contributed a lovely song, Thea Foss, sung by Chris with her brother Jim playing very nice backup guitar, about the founder of the Foss Tugboat fleet in Tacoma. Able-bodied Seaman Wendy Joseph contributed and sang Tugboats Pullin' on the Bridge Line, about a 1990 storm that almost took down the I-90 floating bridge in Seattle, which was saved by several local tugs that pulled it back together. And Cap'n Matt Moeller's song Bound to Hell, sung by Matt and Jan Elliott-Glanister, about hell on a Northwest tug.
That's it, seventeen songs about tugboats, and the sound of the tug Arthur Foss leaving the dock in Seattle thrown in for extra measure, and recorded on one CD. This CD is highly recommended for anyone interested in the maritime history of the Northwest and some darn good songs to go with it.
Stewart Hendrickson