CONCERT PREVIEW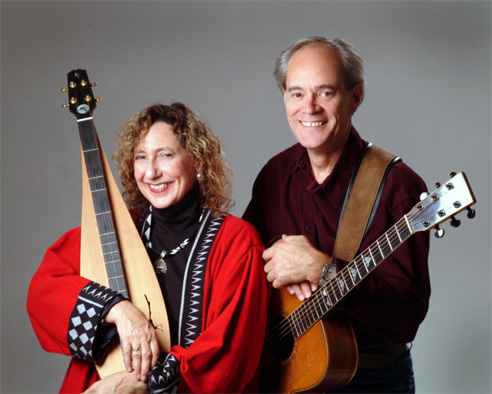 MAGPIE RETROSPECTIVE
by J. W. McClure
November 6 the
Seattle Folklore Society
will feature Greg Artzner and Terry Leonino of
Magpie
in a rare West Coast appearance. Their recent release "
In This World
" contains many of their memorable songs.  I often hear their own 'Give Light' played on various folk shows on KBCS, KSER or on the Traditions Show with Mary Cliff out of Washington D.C.  Currently, they are in New York performing their
one act play about John Brown
, the abolitionist [
video of a song
from the play]. In Seattle, I'll be in the audience enjoying my own inner retrospective and measuring how far they have come.
In 1975 as I was house sitting and  substituting as coffeehouse host in D.C. one morning a 1950's Ford panel truck pulled up to whisk me away. I was suddenly living in a house full of musicians. Magpie at that time numbered four people from Ohio, mostly from Kent State, already popular with the wider D.C. area. I rode in the back of that panel, helped haul equipment and took the opportunity to play the breaks. The food was plentiful if you liked mashed potatoes, the hours were odd. We traveled in two vehicles - in addition to the Ford we had an aging Impala called 'The Puff.' I could go on but I do remember Greg saying that he was in it to stay. He meant music. Today there are two full time musicians from that group - Terry and Greg. But in 30+ years, they have a wonderful legacy of work songs, reminders of the environment, poignant songs of governmental missteps, folk songs, and incredibly good renditions of old blues and swing era tunes [
video of Magpie with Kim & Reggie Harris
singing Pete Seeger's 
Rainbow Race
]. Both are good guitarists. Greg adds the concertina and Terry adds harmonica and banjolin. They have the harmonies that come from hard work and singing all day together. "In This World" features Phil Och's anthem 'When I'm Gone', Bob Franke's incredible 'For Real', Kat Eggleston's beautiful 'Go To The Water,' and many other favorites.  I hope to see you at the
Seattle Concert
. 
J. W. McClure