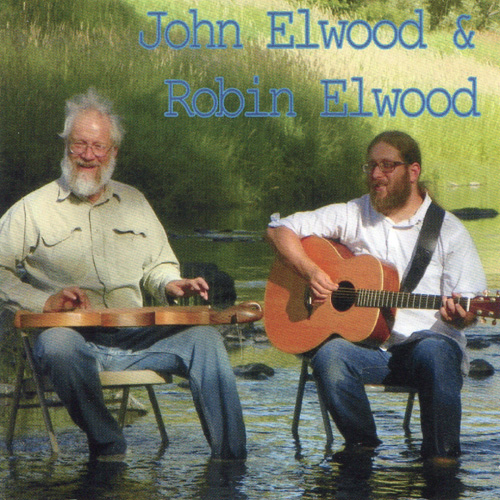 JOHN ELWOOD & ROBIN ELWOOD
John and Robin Elwood © 2014
CD Baby
Trans-generational music performed by father and son. This delightful CD presents some old songs not often heard, an original song, and a couple of instrumental tunes. John Elwood has been building mountain dulcimers in rural eastern Washington for forty years and is a masterful player of that instrument. His son Robin, a musician in Bellingham, Washington, grew up with traditional music played with his parents at home. The sounds of the dulcimer and guitar and a few other instruments, along with harmonious voices make for some very nice listening.
The CD begins with Canadeeio, a traditional Irish/Canadian ballad going back perhaps to the 18th century. It tells the story of girl who follows her sailor boy as a stow-away aboard a sailing ship. She is soon discovered and ends up in Canada married to the ship's captain. It is nicely accompanied by dulcimer, guitar and harmonica. This is followed by an often-played tune, Princess Royal, said to be composed by the great Irish harper O'Carolan in about 1725. It consists of some well-played counterpoint between dulcimer and guitar – a delightful tune.
Next are a couple of jaunty songs, beginning with Diamond Joe, a Stephen Foster song about a river steamboat. A fun song, well-sung by John, with the dulcimer sounding like an old-time banjo. This is followed by my favorite song on the album, Little Black Bull. I immediately wanted to learn it. This song, collected by Carl Sandburg in Illinois, is also known as Hoosen Johnny. "Lawyers sat around the wood stoves of the taverns and hotels of the Eighth Circuit in Illinois and sang this on many a winter night. Lincoln heard it often." The addition of a bass clarinet (played by Ruth Steele) to the accompaniment gives it a whimsical quality. The rhythmic nature of this song makes one want to join in.
Child on Earth by John Elwood is a well-crafted song reminiscent of the '60s folk revival. Its water theme is continued with Waterbound, a traditional song from southern Appalachia. Joined by the voice of John's wife, Sally Burkhart, this is a fine song for group singing. This is followed by the traditional Child ballad, Matty Groves, with a nice dulcimer and guitar accompaniment, and percussion by Matt Zook.
The album concludes with an original Celtic-style instrumental piece, Heir to an Air, composed by Robin's bandmate Jean Rogers, of the Bellingham group Lindsay Street. This is a fitting and comforting end to a fine collection of songs and tunes. I love the combination of dulcimer and guitar playing counterpoint in this tune.
Only a total of eight songs and tunes, this CD is full of some pleasant musical surprises. These aren't the usual songs and tunes one usually hears, but a collection lovingly put together from years of music played by a family through a couple of generations. Highly recommended.

Stewart Hendrickson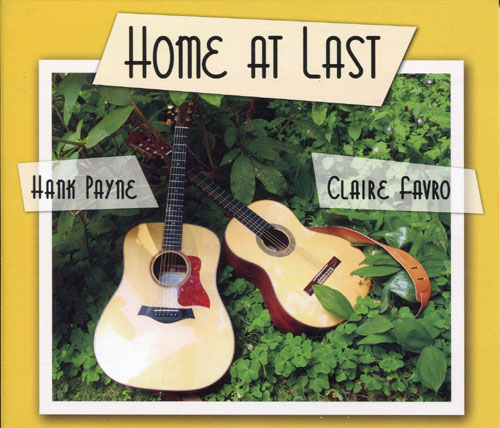 HOME AT LAST

Hank Pane & Claire Favro
CD Baby
, 2014
I just finished listening to a wonderful and recently released CD by Northwest duo Hank Payne and Claire Favro, "Hank And Claire!" This is their second recording in four years, and it was well worth the wait. The CD is called "Home At Last", and the title fits a strong theme throughout the CD. Their song selections let us know they're home, in a place where they are happiest making music and sharing it with listeners who wish to be entertained and healed with its power and love.

This is a recording which makes the listener feel as if he/she was at a house concert, listening to Hank and Claire sing to an intimate group of friends, because what you hear on the recording is what you'd get at a live concert. The instrumentation is simple: two guitars, a bowed psaltery on a few songs, and a mountain dulcimer. At a concert, Hank and Claire might have a friend and guest musician play with them on a few songs. They chose to do that on this recording as well.

Although the listener mainly hears two guitars and two voices, Hank and Claire are definitely one single and solid unit when it comes to interpreting songs. They've done a nice job with their arrangements and variety, from serious and contemplative to songs of healing, to funny and whimsical. They sing songs written by such people as Hazel Dickens, Bill Gallaher, Bruce (Utah) Phillips, Carol McComb, George Harrison, and Pete Seeger, among several others. Three of Hank's original songs are also featured.

Roger Ferguson added some tasteful mandolin accompaniment to a couple of selections. Musician extraordinaire Mick Nicholson also collaborated by adding tuba accompaniment on a song. Yes…Tuba!

All in all, very nice recording. Not only do I recommend people get a copy of this new album, but I also encourage everyone to catch Hank and Claire in concert when you get the chance.

Jim Portillo

Kate MacLeod
At Ken Sanders Rare Books
a collection of songs inspired by books
Waterbug Records - 2013
This CD was a long time in the making. It began with the first song written by Kate MacLeod in 1982, and finished with the last song written in 2012, all about books that she had read and treasured. These songs were recorded in a live concert at Ken Sanders Rare Books in Salt Lake City on August 4, 2012. Well, not quite – one was recorded in the studio, but we are not told which and are asked to guess.
This is an interesting concept around which to produce a CD, and it works. The songs are all sung and accompanied on guitar by Kate with harmony vocals by Mark Hazel. Kate's harmonica was later added in the mixing sessions. The accompaniments are very simple, and do not distract from the words. In listening to the songs one needs to focus intensely on the words. It helps to have the lyrics in front of you while listening, and fortunately they are readily available on Kate's website.
There is a lot of meaning and interpretation to understand in the poetry of the lyrics, and to appreciate this requires listening many times. However, some songs such as Buch Cassidy Was Here, Blue Highways, Lucy of Littletown, and New Homeland are more straightforward and easy to follow. Some of the songs are preceded by a short introduction.
The melodic lines are well matched to the poetry of the words, and the music is very pleasing to listen to. Kate's voice and Mark's vocal harmonies blend well together and add to the listening pleasure. The important thing is that the melody and arrangements are simple and do not distract from the words.
The songs (and their source books) are Anam Cara (Anam Cara, 1997, John O'Donohue), Love In and Out of Time (The Time Traveler's Wife, 2003, Audrey Niffenegger), Riding the White Horse Home (Riding the White House Home, A Western Family Album, 1993, Teresa Jordan), Prairy Erth (Prairy Erth, 1991, William Least Heat-Moon), The Annual Menhaden (Men's Lives: The Surfmen and Baymen of the South Fork, 1986, Peter Matthiesen), Butch Cassidy Was Here (Butch Cassidy, A Biography, 1998, Richard Patterson), The Solace of the Broken (Ceremony, 1977, Leslie Marmon Silko), Blue Highways (Blue Highways, 1982, William Least Heat-Moon), Shadows of Avalon (The Mists of Avalon, 1983, Marion Zimmer Bradley), Lucey of Littleltown (The Tale of Mrs. Tiggy Sinkle (a children's book), 1905, Beatrix Potter), Tom Egan (Drop Him Till He Dies, 1994, C. John Egan Jr.), New Homeland (Chesapeake, 1978, James A. Michener), A Pilgrim's Progress (A Pilgrim's Progress, 1678, John Bunyan).
This is a unique CD tying together two art forms: music and literature. For the bibliophile it is a window into one artist's interpretation of literature. For the non-bibliophile it is an enticement to read some of the books that inspired this artist. It is also enjoyable music and poetry just to listen to.
Note: Kate MacLeod will present a concert of these songs for the Pacific NW Folklore Society at Couth Buzzard Books on Friday, Sept. 12, 7:30-9:30 pm.
Stewart Hendrickson



THE QUIET AMERICAN
SONGS FROM A ROCKING CHAIR
Aaron & Nicole Keim (©2014), CD Baby
In this latest release from the Quiet American, Aaron and Nichole Keim create the feel of sitting on a rustic back porch in a comfortable rocking chair listening to music both relaxing and stimulating. This is a far cry from their previous excellent recording, Wild Bill Jones, set around a murder ballad; in this recording no one dies – everyone relaxes and has a good time. Read More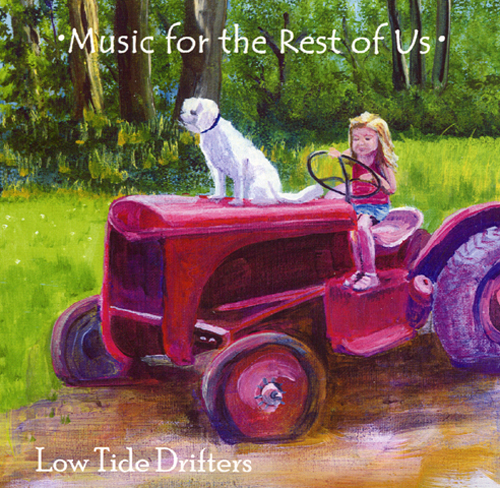 MUSIC FOR THE REST OF US
The Low Tide Drifters (©2014)
CD Baby
This latest release from Eugene, Oregon's Low Tide Drifters could be classified as music with a social conscience. Their songs touch on poverty, depression-era stories, labor issues, and the environment, but also include some sweeter moments. They employ a host of traditional instruments – fiddle, mandolin, guitar, bass, accordion, and harmonica – along with some harmonious voices. Most of the songs are originals by Nathan Moore and Kate Downing, but the CD also includes a few covers. Read More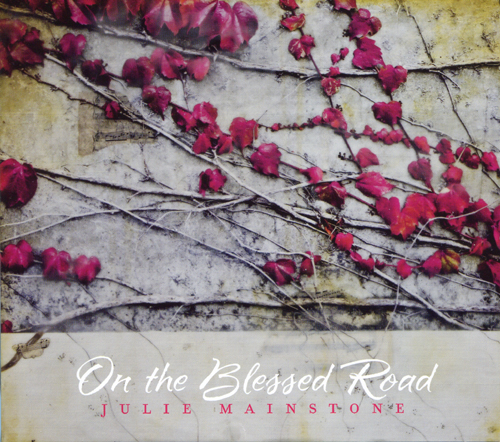 For her second CD Julie Mainstone has put together a stellar group of local musicians from Vashon Island to produce an interesting and varied collection of traditional and contemporary songs. Mountain dulcimer, fiddle, guitars, flutes, banjo, bass and percussion are some of the instruments backing up Julie's beautiful voice. READ MORE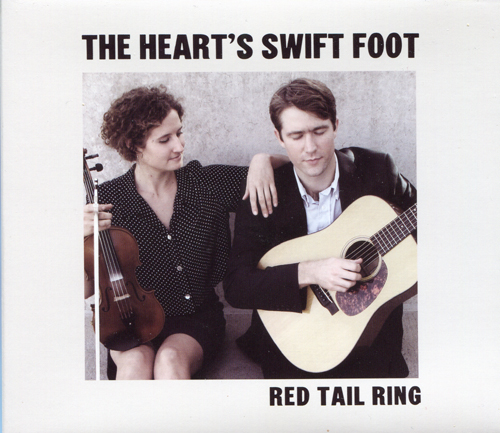 THE HEART'S SWIFT FOOT
Red Tail Ring, © 2013
CD Baby
There is a lot to like about this CD, the third release from Michigan-based folk duo Red Tail Ring. Just two musicians with guitar, fiddle, banjo, mandolin and dobro, no over dubbing or added backup musicians, the sound you hear is exactly what you would hear in a live concert; I like that. READ MORE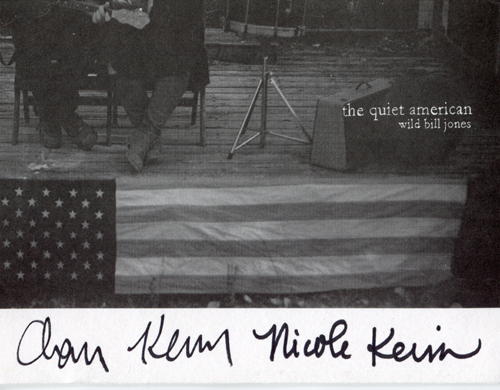 WILD BILL JONES
Wild Bill Jones
, the fourth CD by the Quiet American, a.k.a. Aaron Keim, is a little different in that it takes a thematic approach. Aaron and his wife Nicole, along with a couple of talented backup musicians, have created an album based on the traditional murder ballad
Wild Bill Jones
. It is "old time folk music for modern times." In addition to traditional guitar, fiddle and banjo, they use non-old-time-traditional instruments such as lap steel, ukulele and harmonium to play traditional songs that sound more modern, and original songs that sound more old-timey. While this may not sound good to pure traditionalists, it sounds great to younger – in age and/or spirit – listeners.

Wild Bill Jones is the typical traditional murder ballad – a classic love triangle that ends in tragedy. "A young woman goes out walking with 'bad man' Wild Bill Jones. Her lover confronts them and shoots Wild Bill Jones in a violent rage." This story is woven into a sort of folk opera or song cycle, which purports to cover "all sides of the tragic story and explore love, loss and redemption through the eyes of each character." How well the chosen songs and tunes fit into this theme to tell a coherent story is questionable, but the result is an enjoyable listening experience.

The young woman is introduced in Apple in the Fall, an original song with a persistent repetitive rock-like rhythm: "she picks a man like an apple in the Fall." This is followed by Give the Fiddler a Dram, a traditional tune with added lyrics by Keim: "come another dance, Posey come along, here comes Billy with his big boots on." This is a dance tune with banjo and a harmonium drone. Next comes another original song, Come Walkin' With Me, a jug band type of tune featuring the Canote Brothers – Greg on fiddle and Jere on harmonica – Aaron on lead vocal with Nicole adding nice harmony to the chorus: "oh honey, honey come a walkin' with me." A very listenable, jaunty tune, well done.

Posey's Song, sung in Nicole's clear strong voice, elaborates on the ballad of Wild Bill Jones from the point of view of the young woman: "sometimes the right choice is the wrong one, but you make it just the same." This is accompanied by Aaron's expert banjo playing, along with bass and harmonium; a nice original ballad. Leading up to the title ballad is the traditional tune, John Brown's Dream, where Aaron demonstrates his clawhammer ukulele playing technique. It's expertly done without any accompaniment and illustrates the versatility of this instrument, which was hand built by Aaron.

The title ballad, Wild Bill Jones, starts out with traditional accompaniment but quickly adds the sassy sound of a lap steel guitar. It is well sung by Aaron, joined by Nicole on the chorus, and is an example of a traditional ballad in a modern setting. It goes over quite well in my opinion; the lap steel adds a certain musical commentary to the song.

Following the title ballad is a traditional gospel song, Keys to the Kingdom, accompanied by ukulele with some nice finger picking by Aaron, with harmonium, accented by lap steel and a little percussion. It has an easy-going style that makes one want to join in on the chorus; another traditional song gone modern. This is followed by the original Crooked Tree Waltz – a simple tune well played by Aaron on resonator tenor guitar; a pleasant waltz that invites you to dance. It flows directly into a traditional song, Gallows Pole, with added verses by Aaron; an up-beat tune with driving percussion.
What Are They Doing in Heaven Today
is a Washington Phillips song nicely sung by Nicole with added vocal harmonies. This is followed by an original tune,
Quail Parade
, expertly played clawhammer style by Aaron on a banjo-ukulele, with harmonium in the background. It evokes the jerky movement of the birds in parade.
Free Little Bird
is an old-timey song sung with nice harmonies by Aaron and Nicole, accompanied by banjo and resonator-ukulele, with Greg Canote doing some fancy fiddle playing; a pleasant little song. It is followed by a John Fahey finger-picking tune,
Sunflower River Blues
, expertly played by Aaron on ukulele; it illustrates the versatility and pleasant sound of this instrument.
A brief reprise or echo of
Posey's Song
is followed by the final song, Daniel Johnston's
True Love Will Find You in the End
, featuring Aaron and Nicole in vocal harmony, a baritone ukulele, harmonium, and augmented in the middle by piano and percussion. A nice ending to this musical journey.
The whole project was masterly recorded by Adam Selzer at Type Foundry Studies in Portland and Michael Connolly at Empty Sea studios in Seattle, and mastered by Timothy Stollenwerk. My only criticism of the package is the small type and hard-to-read script. My much-over-middle-aged faltering eyes had a hard time deciphering the text; young people with better eyesight should take note of this. All in all this was an enjoyable collection of old-timey-derived songs and tunes done in an unconventional and modern style.
Stewart Hendrickson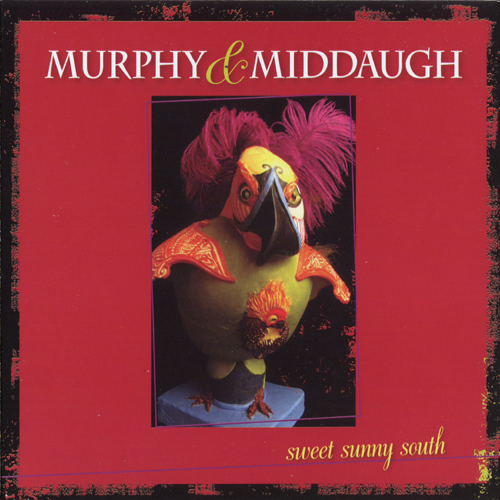 MURPHY & MDDAUGH - SWEET SUNNY SOUTH

With the release of their second CD Sweet Sunny South, Orville (Murph) Murphy and Jerry Middaugh again demonstrate their consummate musicianship. This is a beautifully recorded and produced collection of folk music of the American South, dedicated to the memory of Carolyn Murphy - I can see Carolyn's sweet smile in every song.

In the opening notes of Mississippi John Hurt's Make Me A Pallet On Your Floor you hear the clean guitar work of Jerry. And as Murph let's the song slide easily from inside him, you know that he and this song are old friends.

With Sweet Sunny South you hear the fine mountain frailing of Jerry's banjo in modal tuning. Jerry's understated fluid and lyrical voice blends perfectly. This song was printed in 1932 in Cecil Sharpe's English Folksongs from the Southern Appalachia's.

Corrine, Corrina gives you a taste of Murph's harmonica skills. Murph has a well-earned reputation as one of the Northwest's finest harp players.

Jerry chases this version of The Two Soldiers , a.k.a. The Blue Eyed Boston Boy, to the singing of Mike Seeger. This was a Civil War poem set to music.

Billy Gray, written by Norman Blake, is ballad singing at it's very best. As I listen to Murph's easy delivery, I feel like a little boy sitting on the floor at my Grandfather's feet as he spins stories and songs by the fire.

Jerry's guitar playing on the ballad Johnson just hints at the melody and adds an almost teasing backdrop to this piece.

When you listen to I'm Troubled, open your ears and listen to the notes dance between Jerry's guitar and Murph's singing. This is a perfect example of when one plus one equals more than two.

In Mississippi John Hurt's Richland Woman Jerry's guitar has a subtle rhythm that almost suggests that he is frailing on the guitar. I accused him of this … but he denies it. As I listen to him sing this song, in my mind's eye I can see his wry expression, one eyebrow slightly cocked, and a sardonic gleam in his eye.

This Dream Of You, by Bob Dylan, has almost made me a fan of Dylan. I have a special memory of this song, one that goes to Carolyn Murphy's memorial service this summer as the two of them sang this song - quite a tribute.

Their version of We're All In This Together is the perfect ending to this fine CD. Just as you get lost in the words, Murph's haunting harp comes along and makes you smile at the perfection of this musical blending.

In closing I'm going to mention a comment from Judy Nelson: "They sing these songs as though they had written them. And if they didn't write them, they certainly have lived them."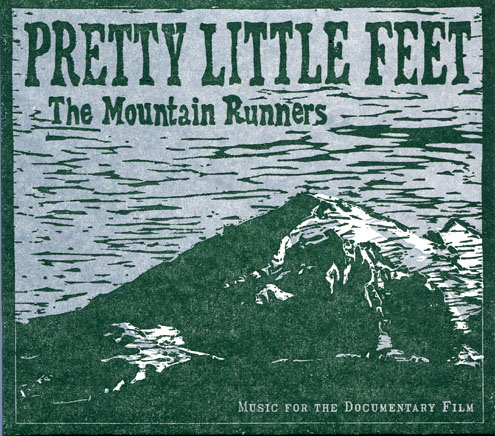 RETTY LITTLE FEET
The Mountain Runners
Pretty Little Feet – 2012. CD Baby

Music in this album by
Pretty Little Feet
, an acoustic old-time music duo from Bellingham, WA, was used in the film,
The Mountain Runners
, documenting the Mount Baker Marathon of 1911-1913. This music is also about the settlement of Whatcom County in the Pacific Northwest.

Much of the music was written by Allegra Ziffle – who plays fiddle, banjo, accordion, guitar, clogs, and sings – and Matt Novak – who plays guitar, mandolin, tenor banjo, and sings. In addition, they also play some traditional tunes and songs.

The CD begins with an original song, A New Republic – music by Ziffle and lyrics by Novak – about the early settlements around Whatcom County. This sets the theme for the album, and is followed by a tune, Steam Up and Turning, by Ziffle, about steamboat travel from town to town.

Six other tunes written by Allegra Ziffle include: Plank Road, about the roads built throughout the new county; Consolidation Run, about the joining of four settlements into the town of Bellingham; Devil's Row, about the red-light distract of old Fairhaven; Winding Betsy, a model T Ford that carried Joe Galbraith to victory in the first Mt. Baker Marathon in 1911; Dock Street, the official start of the Marathon; and North Ridge, of Mt. Baker. These are delightful, well-crafted tunes, which evoke the feeling of their themes.

Matt Novak wrote three more songs: The Boom and On, about the economic boom in the late 19th century that defined early Fairhaven and Whatcom; Bellingham and Northern, the rail line that reached north and south of Bellingham; and Runners Mountain, a song about the Mt. Baker Marathon, a race by auto or train from Bellingham to the base of Mt. Baker, by foot up to the summit, and then back again. These songs tell interesting stories of early Whatcom County and the Marathon.

Four traditional tunes and songs complete the album: Cold Frosty Morning, Walking Boss, Long Steel Rail, and The Log Cabin.

The music is well played by these two talented musicians. I particularly enjoyed the excellent fiddle playing by Allegra, and Matt's fine mandolin and tenor banjo playing.

The CD package is illustrated with beautiful woodcut art and printing by Allegra. Altogether a very nice musical and artistic work, highly recommended for those interested in Pacific Northwest history, and fans of old-time music.

Stewart Hendrickson

TALES FROM THE BAR – Songs of the lower Columbia River
Maritime Folknet, 2012. Available from CDBaby.
This CD is a collection of songs, mostly original, about crossing the Columbia bar, shipwrecks, fishing, towns and locales along the river, local history and more, sung by local musicians.
There is a wide variety of music, from solo unaccompanied singing to highly polished instrumental and vocal arrangements. This makes for a varied enjoyable musical listening experience – just local folks sharing their knowledge and pride of their region through their own music.
The nineteen songs cover a range of topics and musical styles. Rather than review each one – leading to a very lengthy review – I will concentrate on those I enjoyed the most. All of the songs were good, but these stood out as some of the best in my opinion.
The CD begins with lovely unaccompanied choral version by Brownsmead Flats, a local folk/bluegrass acoustic music group, of Mary Garvey's song Astoria's Bar. Their harmonies and musical expression set a high bar for the rest of the CD. Later they sing Boston Men, an original song about the first ship to sail into the Columbia River, named after their ship the Columbia out of New England with Captain Gray and his crew in 1792. This is a rousing rendition with solos, choral harmonies and instrumental accompaniment.
Willapa Hills, a local group of fine musicians from Skamokawa, a small town on the Washington side of the lower Columbia, contributed two songs. Old Miller Sands, lyrics by J.J. Corcoran in the 1880's and set to the music of the traditional Squid Jiggling Grounds, reflects conflict over the Miller Sands salmon seining grounds. The CD ends with a wonderfully joyous song, Beach of Heaven, written by Willapa Hills musician Andrew Emlen and based on the melody of the traditional gospel song Said I Wasn't Gonna Tell Nobody. "I said I wasn't gonna tell nobody but … I've found my beach of heaven," reflects their love of their region along the river. This is spirited singing at its best.
Ilwaco Town by Astoria musicians Hobe Kytr and Dave Berge – words and music by Hobe Kytr – is about an old fisherman in Ilwaco, Washington, who wants to end his days in the sea, just like the big river. It is a well-crafted song.
Several songs on this CD were written by Mary Garvey, a prolific and gifted songwriter from Long Beach, near Seaview on the southwest coast of Washington: Astoria's Bar, Shanghai Jack, Klipsan Beach, Hold On, and Seaview Bells.
Seaview Bells tells a true story (from the Chinook Observer) – "They used to have to call the men home from sea in the storms with bells and lanterns before there were lighthouses ... and the storms here are wicked." Mary performs this song with Chris Roe and Sophie Morse in a beautiful unaccompanied arrangement.
Hank Payne sings unaccompanied his original song The Last Days of the Peter Iredale. It tells of the fate of the Peter Iredale, a 285 ft. four-masted steel bark bound for Portland, Oregon from Mexico to pick up a cargo of wheat for England. A heavy northwest squall grounded the ship on October 25, 1906, off Clatsop spit while awaiting a pilot to guide it into the Columbia River. A few ribs and a couple masts of the ship can still be seen on the sands at Clapsop.
The Pacific Waits is a soothing, relaxing song of a ship waiting to leave the Columbia River with a load of wheat for Japan. This song, written by Alice Winship and sung by Jan Elliot Glanister, uses a Stephen Foster tune.
No collection of Columbia River songs would be complete without Woody Guthrie's Roll On, Columbia. Hank Cramer does a very nice version of this iconic song.
Columbia River Lullaby is a sweet song, words and music by Kate Powers, performed beautifully by Kate Powers and Steve Einhorn. "Sleep, baby me-o/ Rock in the windy weave-o/ Wave after wave-o/ Out to the ocean we go" would rock anyone to sleep.
This was a project of the Maritime Folknet, inspired by Mary Garvey with the help of Alice Winship and Dan Roberts, technical production by Chris Glanister. Although it was released in May, 2012, we are still awaiting full liner notes on the Maritime Folknet website.
All in all, this CD should appeal to those who love rivers, the sea, history, ships and good maritime music in general. I highly recommend it.
Stewart Hendrickson, Aug. 2, 2012.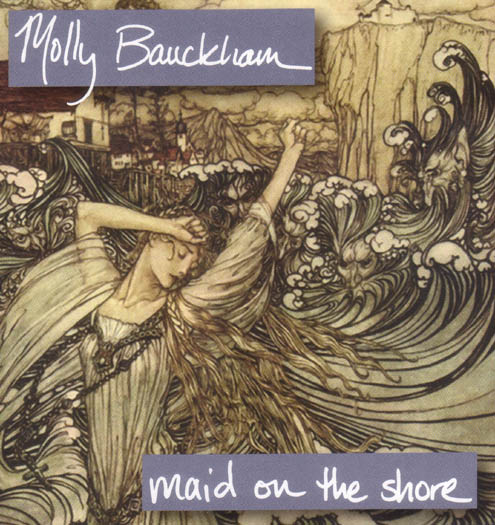 <![endif]>
MOLLY BAUCKHAM: MAID ON THE SHORE
2011, CD Baby, Website
What a delight! Molly Bauckham has put together a beautiful collection of tunes and songs with harp and voice. Accompanying her on some of the tracks are John Peekstok on guitar and cittern, Scott Mercado on percussion, Sarah Bost on flute, and Richard Hill on backing vocal. This CD was professionally recorded, mixed and mastered by Michael Connolly of Empty Sea Studios.
Molly's clear soprano voice blends well with her enchanting sparse harp accompaniments. She has a trained voice and enunciates clearly so that every word is understood. Her songs and tunes reflect an appreciation of and respect for traditional Celtic music. While most of the selections are traditional, a few are contemporary but in the traditional style. She begins with a traditional song, I Know My Love, unaccompanied at first, but later with simple percussion and then her own voice dubbed in harmony – very effective. Two O'Carolan tunes, Si Bheag, Si Mhor and Tabhair Dom Do Lamh are beautifully played on her harp. A contemporary tune, Sheba's Bellybutton, composed by Seattle harpist Beth Kolle, with flute solo by Sarah Bost and Molly's harp, evokes a belly dance in some Middle Eastern locale. The traditional songs include The Shepherd's Wife (words by Robert Burns); Maid on the Shore; Matt Hyland (one of my favorites); and Health to the Company, which she very effectively sings unaccompanied as the last song on the CD. Blow, Blow Thou Winter Wind uses the words of William Shakespeare beautifully set to music by Molly. Two contemporary songs, Somewhere Along the Road (Rick Kemp) and Snow (Archibald Lampman/Loreena McKennitt) fit very well with the traditional style of music on this CD. Included is an original song by Molly, The Wiser Maid, which is a retelling of John Riley (a lover returns after seven years at sea) with a surprising, ironic ending. Molly interprets these songs with respect for the tradition, and her arrangements are well crafted. She should be congratulated for a superb debut album. I thoroughly enjoyed listening to it and recommend it most highly.
Stewart Hendrickson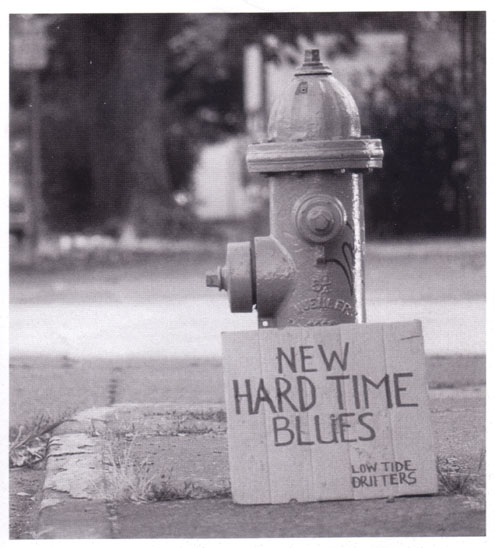 NEW HARD TIME BLUES
Low Tide Drifters - 2011 CDBaby
The Low Tide Drifters are a folk roots band, formed in 2007 in Eugene, Oregon They are influenced by socially-conscious folk-singers like Woody Guthrie and Utah Phillips, and their songs reflect the experiences and struggles of everyday working people.
All the songs are originals by Nathan Moore and Kate Downing and other band members, with the exception one traditional song, St. James Infirmary. The theme of this recording is set by the opening song, New Hard Time Blues, about an out-of-work, hard-luck man… "If I had ten dollars, I'd get a ticket home to you / I'd be long gone, no living on these hard time blues." Lincoln County Blues, a song with a honky-tonk flavor, tells the story of a down-and-out woman trying to make it on the Oregon coast. And Broken Bootstraps, is about having to endure a low-paid, dead-end job – "I've been punching the clock/ And it's been punching me back/ I was pulling myself up, Lord/ When my boot strap snapped."

Trail Bride tells the story of a young bride suffering the hardships of the Oregon Trail to meet her husband who is already in Oregon. Along another trail, A Prayer for Josephine tells the story of young girl who dies of thirst on a migrant trail in southern Arizona – "Miles and miles of men with guns/ And no one hears her prayers/ There's no room in the promised land/ For those who weren't born there."

Labor songs include Common Voice, a song of protest, demanding common rights, and Every Stitch, a song about garment workers, beginning with the disastrous New York sweatshop fire a century ago to off-shore sweatshops – "From the slums of New York City/ To the streets of Bangladesh/ One hundred years of struggle/ Ain't it over yet."

Helping Amy Move (to Seattle) is a nice jaunty instrumental by Chico Schwall. It is followed by Sweet William, a poignant song about an infant son who dies too soon – "So I'll rock your memory gently, goodnight stars and goodnight moon/ Like iron to a lodestone/ I'll meet you someday soon." The Garden is about a young girl's wonder at the beauty of nature – "So much to see right in front of your feet/ Each new thing as sweet as the last/ What will the breeze bring in on butterfly wings/ A whole world or one blade of grass."

The lyrics are interesting and well written, telling socially-conscious stories of ordinary people and hard times, and are reprinted (albeit in very small type) in the fold-out CD wrapping. The music is well played by Nathan Moore, guitar/vocals; Kate Downing, banjo/vocals; Dennis Soper, harmonicas; Chico Schwall, mandolin/fiddle/bass; Wendy Schwall, percussion; and Tracy Beckman, bass. All in all, a nice collection of well-crafted original songs of our times with the flavor of the Pacific Northwest. Stewart Hendrickson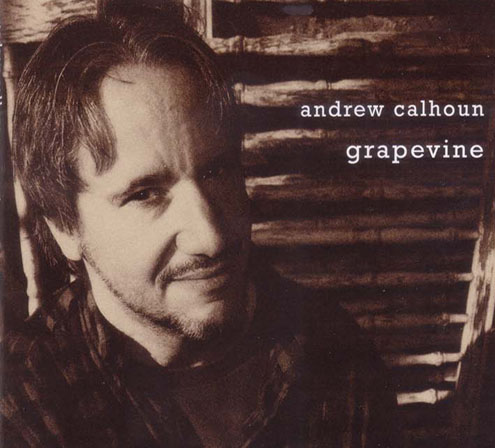 ANDREW CALHOUN - GRAPEVINE
Waterbug - 2011 CDBaby
What's not to like about this new CD! From the first moments I was captured by Andrew Calhoun's rich and sonorous voice. And even better was his choice of the first song … an a cappella singing of I Gave My Love A Cherry.
He chooses his songs well on this CD. Thirteen of the nineteen songs are what I consider to be old and pleasantly familiar classics. And his presentations are delightful: very clean and crisp. He obviously appreciates the value of basic story singing. And he avoids the common mistake of getting in the way of the songs, which can distract from this wonderful material.

I enjoyed again hearing songs such as The Fox, O Susanna, Oh Mary, Don't You Weep and especially Shenandoah. I suspect that there might well be a whole new generation of folk song enthusiasts out there that have missed some of these gems.

Two new songs caught my attention: Garten Mother's Lullaby and Buskers. Garten Mother's Lullaby is a real pleasure to hear. Written in 1904, it reminded me well of my own singing of lullabies to children that are now middle aged. And Buskers written by Colum Sands, is storytelling at it's finest. He takes you to the street and you can get a real feel of the event. Quite remarkable.

Andrew's guitar playing is very nice. He lets the guitar add to the song when appropriate, but also is careful that the instrument not distract from the music. That's a narrow threshold to walk.

The production work is quite good. It was produced by Waterbug and beyond the nicely balanced sound mix, the liner notes and track notations are very complete. This is an album I'm going to enjoy for many years. Bob Nelson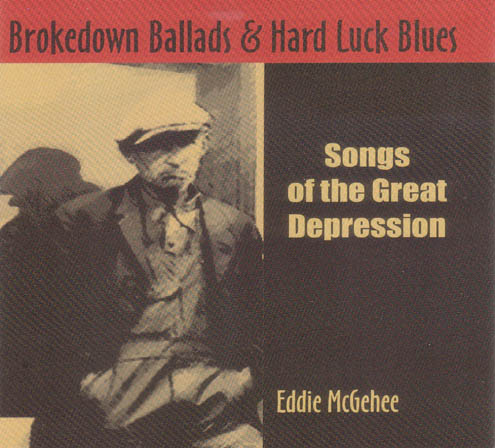 BROKEDOWN BALLADS & HARD LUCK BLUES
SONGS OF THE GREAT DEPRESSION - Eddie McGehee
Fire Mountain Music, Mount Vernon, WA FMM-110401, CDBaby
"Songs are the statements of a people. You can learn more about people by listening to their songs than in any other way, for into the songs go all the hopes and hurts, the angers, fears, the wants and aspirations." John Steinbeck. Eddie McGehee seeks to study American history through folk songs. The Great Depression of the 1930s was a desperate, life-changing time for American people. But through it all people wrote and sang songs that told their stories of the hard times. These songs make up a living history of these people and the times they lived though.
Brokedown Ballads & Hard Luck Blues is a collection of songs from the Great Depression ranging from the iconic Brother Can You Spare a Dime; Prohibition Blues; the Carter Family's No Depression; All in Down and Out Blues by Uncle Dave Macon; of course Woody Guthrie's Hard Travelin, Goin' Down This Road Feelin' Bad, Pretty Boy Floyd, Do Re Mi, and Pastures of Plenty; Harry "Haywire Mac" McClintock's Big Rock Candy Mountain; and more.
Eddie McGehee sings these songs accompanied by his guitar in a laid-back, honest and simple manner. He is joined by a variety of backup musicians. John Boyd plays banjo along with Paul Sherman on bass and mandolin on all of the tracks; Aviathar Pemberton adds accordion on several tracks along with Beverly Heising and Steven Harper on fiddle and viola; and Tim Miller on harp. These songs were professionally recorded and mixed by Tim Miller at Fire Mountain Music, Mount Vernon, WA. It all makes for some fine, relaxed, toe-tapping listening. It tells stories of how people lived through these times, and brings home the hard times that many people are experiencing now in our faltering economy. Many hours of enjoyable listening are here. Stewart Hendrickson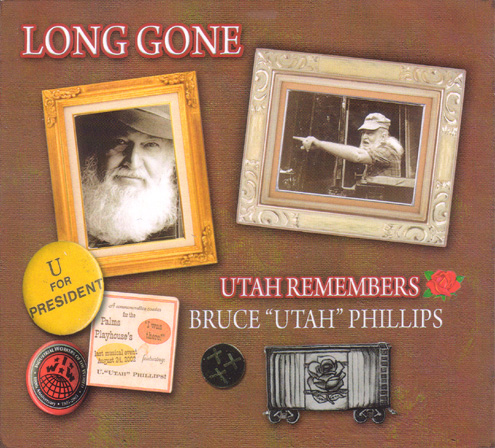 LONG GONE Utah Remembers Bruce "Utah" Phillips
Waterbug, WBG-96 © 2011
This is more than just another tribute to Utah Phillips, it is a remembrance of him by many artists who were influenced by him, studied under him, performed with him, and were part of his Utah music scene. This project is the fulfillment of a dream by his son Duncan Phillips, who said, "His songs and his stories were more or less my inheritance." Although Utah was widely known for his political leanings, Duncan said, "I wanted to portray that [folk singer], to give that back to him. For me it's quite simply a collective effort of good friends remembering another good friend."
This album was lovingly and masterfully produced by Duncan Phillips and Kate MacLeod. Eighteen artists contributed their talents: Paul Rasmussen, Kate MacLeod, Mike and Shauna Iverson, Gentri Watson, Polly Stewart, Brent Bradford, Duncan Phillips, Anke Summerhill, Doug Wintch, Carla Eskelsen, Ken Shaw, Kyle Wulle, Gigi Love, Hal Cannon, Dave Eskelsen, Tom Shults, and Mike Garcia. All the songs are by Utah Phillips with the exception of Long Gone, a remembrance of his dad by Duncan Phillips. Many of these songs reflect the history of the region around Utah that influenced Utah Phillips' songwriting.

The arrangements are pared down to reflect Utah's preference to present his songs in a simple way. All of the guitar tracks were recorded with Utah's old blond Guild guitar. The penultimate track, The Long Memory, is a spoken remembrance by Mike Garcia. All the musicians join in on the final song, Ship's Gonna Sail, which sums up Utah's dreams and life work: "Workin' on a ship, may never sail on/ Ship's gonna sail, gonna sail some day/ Workin' on a ship that, may never sail on/ Gonna build it anyway." What a wonderful remembrance. Thanks to Duncan Phillips and Kate MacLeod for producing this fine album, and to all the musicians for their contributions. It is a treasure to listen to and remember the life and music of Utah Phillips. Stewart Hendrickson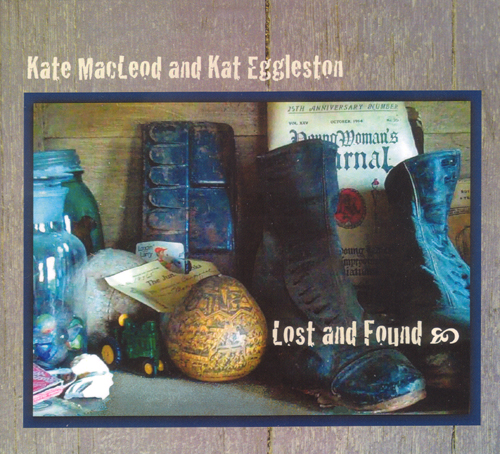 KATE MacLEOD & KAT EGGLESTON - LOST & FOUND
Waterbug WBG100 - © 2011
Kate MacLeod and Kat Eggleston have put together a beautiful CD with a wide variety of music, both vocal and instrumental. It includes original songs by Kate and Kat, a few songs by others, and some traditional fiddle tunes expertly played by Kate. All of these are backed by their fine guitar playing and Kate's harmonica and violin. Their two voices blend well and their vocal harmonies are a pleasure to hear. What more could you want in a CD by these two fine musicians?
Both Kate and Kat are excellent songwriters. The original songs by Kate are the opening (I Love You Is) Sometimes a Sound, Lark in the Morning, and My Forsaken Love. I particularly like the latter song. With beautiful harmony singing and dual finger-picking guitars, it sounds like it might be some traditional, old-timey song. Kat has contributed her original songs, Rain, Africa, and Sanctuary. My favorite is Sanctuary, a song of friendship with beautiful lyrics by Kat. Kate plays a nice tune on her violin, History Man by Andy Cutting, to surround the song, and she weaves her beautiful violin playing throughout the song.
Other songs include Robert Burns' Rantin' Rovin' Robin, Jean Ritchie's None But One, The Living and the Breathing Wind, by Andrew Calhoun, and the closing song, Chiquitita, by Benny Andersson and Björn Ulivaeus of the supergroup ABBA! I particularly like their arrangement of Rantin' Rovin' Robin, and Andrew Calhoun's song with Kate's lovely violin playing, the harmony singing on the chorus, and the beautiful lyrics.
Scattered throughout the CD are three sets of Irish fiddle tunes and a set of traditional American reels, expertly played by Kate. Bluehill, originally an Irish hornpipe, was adapted and set in a nice arrangement by Kat and Kate, and beautifully played by Kate on violin. Kate shows a mastering of and respect for the traditional style of fiddle playing in the Irish tunes.
These two musicians are so well matched in their style of playing, singing, and choice of music that I begin to think of them together as one. This is their second CD. I think they form a natural musical duo. This CD has so much good music on it, I consider it a real treasure. Stewart Hendrickson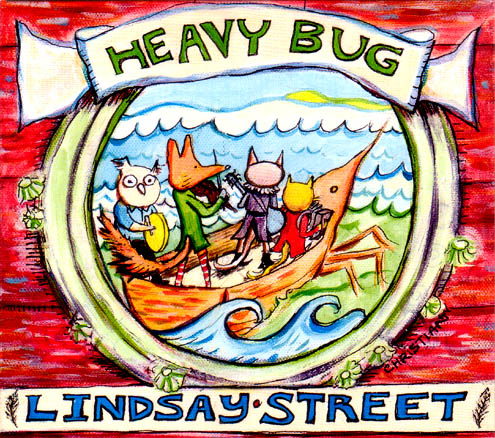 HEAVY BUG – Lindsay Street © 2011, Etsy
My first reaction to this recording was – these people are having fun! That began with the colorful and whimsical cover artwork and continued with the upbeat, happy and sometimes humorous tunes and songs. Lindsay Street have been playing around the Pacific Northwest since 2004. They play tunes from all around the oceans; Scandinavia, Quebec, the British Isles, France, their home in Bellingham, and other lands.
Heavy Bug is their second CD after their debut My Bird (2006). It has a nice mix of traditional and original tunes and songs from the British Isles, France and Scandinavia, influenced by where they live on the Pacific Northwest coast in Bellingham, Washington.
The opening tune, Heavy Bug, composed by band member Jean Rogers, begins with a fine guitar intro by Jean, then joined by Bryan Early on the bones, followed by Elizabeth Elton on violin, and finally Robin Elwood on the button accordion. It has a lively Scandinavian dance feel to it, and is followed by a Stefan Brisland-Ferner tune from the Swedish group Garmarna, with Bryan switching to bodhran in a steady beat. This is music to make you want to dance. They play with a feeling that they've played together for many years, which they have.
Next is a song, Pour un Instant, sung by Jean and Liz, which Jean brought with her from her days in Montréal. It conveys the lively spirit of French Canada. This is followed by a lively Laura's Wedding Waltz (by Dan Newton) featuring Robin's fine accordion playing, which transports you to a sidewalk café in Paris.
Following that are a series of British Isles songs and tunes including a lively version of Boneparte's March; the traditional English song, Nottamun Town; a lively jig, Jiggery Poker Work, by English melodeon player Jon Spiers; a lovely (but to me, less familiar) version of the female sailor song, Lovely Nancy; a set of Irish tunes - Kerfunken (jig), Liverpool Hornpipe, and Mountain Road (reel); a charming, yet meditative version of Adieu Lovely Nancy, inspired by one of Bryan's sailing adventures around the San Juan Islands; and Miss Lindsay Barker, an English waltz by Andy Cutting, followed by an Irish jig, O'Farrel's Welcome to Limerick, which Lindsay Street retitled Squirrelly ("because it is").
The recording finishes with a Scandinavian holiday tune set of drinking and fighting; Au Bord de la Fontaine, a French drinking song of friendship turning into a lover's fight, followed by a traditional French waltz; and Heir to an Air, an original Celtic style slow air composed by Jean Rogers.
These lively, charming and often humorous songs and tunes are guaranteed set your feet to dancing and raise your spirits – highly recommended to cheer you up on some of the dreary rainy days we experience in the Pacific Northwest. Well done, Lindsay Street! Stewart Hendrickson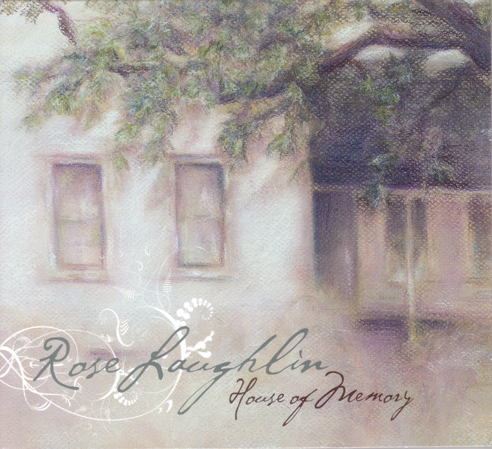 HOUSE OF MEMORY - Rose Laughlin, 2011. CD Baby

House of Memory is Rose Laughlin's third CD and the best by far. It is professionally produced with a stellar cast of supporting musicians: Kat Eggleston – guitar, harmony vocals, hammered dulcimer; Kate MacLeod – violin, harmony vocals; Michael Kirkpatrick – guitars, dulcimer; Mark Graham – harmonica, harmony vocals; Patrick Christie – upright bass; Kevin Almeida – upright bass; Mike Saunders – banjo; Eric Yerlinde – piano; John Dally – whistles, Scottish smallpipes; and Jim Malcom – harmony vocals. The arrangements are very pleasing, allowing the individual instruments to stand out and also weave into the vocals with some nice harmonies. It's a recording that sounds better with repeated playing, as you hear more of the nuances in the arrangements. Rose puts it all together with a pleasing voice and style.
Rose begins with a vocal classic, Somewhere Over the Rainbow. This is followed by a classic Woody Guthrie Pastures of Plenty; a lovely traditional Across the Blue Mountains; New Homeland, a haunting song by Kate MacLeod inspired by her ancestor's arrival in Chesapeake Bay in the year 1633; another traditional song, Black is the Color; House of Memory, a lovely original song by Rose about growing old with fading memories; a Robert Burns song, My Love is Like a Red, Red Rose, lovingly sung by Rose; another traditional song, Shady Grove; the enigmatic '60s song Suzanne by Leonard Cohen; Across the Great Divide, a great Kate Wolf song; and Angel Band, with great vocal harmonies. It concludes with the traditional Scottish love ballad, Broom of the Cowdenknowles, in a lovely arrangement enhanced by the Scottish smallpipes. All in all, this CD is lovingly produced and lovely to listen to. Stewart Hendrickson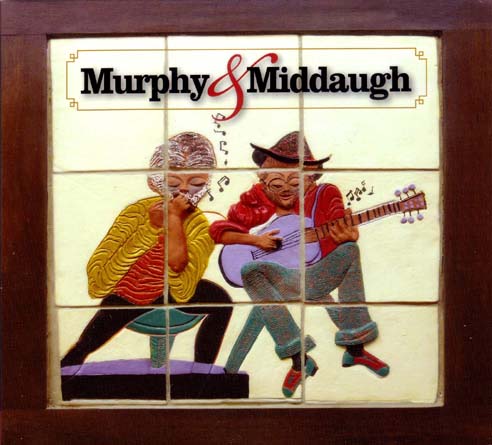 MURPHY AND MIDDAUGH (2010)
Orville Murphy & Jerry Middaugh - M&M Music
To immerse yourself in this album is to take a journey. With the first song you know you are in the presence of two people who know their music well, and who also have the rare talents to share it perfectly. Most anyone can sing a song or tell a tale, but few people can capture the wealth and depth of this music.
It is clear from the first harp note that Murphy plays and sings from deep within. He is a lesson to us all … keep the faith … keep the music … keep on keeping on. I've known Jerry for many years and he never fails to amaze me. Only someone as well grounded, as Jerry is, in this traditional music can recognize the treasure that this music is.This is a rare musical presentation … we are blessed with their work.
Louis Collins: Mississippi John Hurt wrote this murder ballad in 1928. This is a classic example of the ballad keeping the story alive over the years. Slow Train Through Georgia: Jerry's warm voice tells you to pull up a chair, relax and enjoy. Have Someone Play Dixie For Me: Murph often says that in most wars, the losers got the best songs. Banjo Medley: This is traditional banjo playing at it's finest. Shenandoah Wind: Chris Stuart wrote this song of a universal sentiment common to all wars. We've Got Franklin D. Roosevelt Back Again: This is a refreshing look back at our political history. This makes me want to run out and vote for F.D.R. again. Won't You Come And Sing For Me: Hazel Dickens wrote this sentimental song. I recently overheard an audience member say: "You just don't hear these songs anymore." Dixie Darling: A.P. Carter recorded this in 1936 and Jerry captures it again. They Have Gone Home: Bill Carlisle Died in 2003 at the age of 93. This song he wrote sounds like a fitting epitaph. Whiskey Death and Whiskey Blind: A Norman Blake classic. Steal Away: I well remember my grandmother singing this old spiritual in the 40's … it takes me back. Black Waters: This is an all too true story that Jean Ritchie wrote of her home ground in Kentucky. Cotton Eyed Joe: This is Murphy at his best. Listen to the clear, crisp notes. The Winds of Time Won't Change: Murphy tells us that he sang this song at his brother's memorial service. Black Eyed Suzie: And this presentation is Jerry at his best. Bob Nelson, January 2011. (Bob Nelson is a local folksinger and co-director of The Pacific Northwest Folklore Society)

Heart of the Matter (2010)
Hank Payne & Claire Favro
CD Baby
This first CD from this new duo is a winner. It's rare to find first efforts so well done. This CD is a lesson in good musicianship.

LONG MONDAY (John Prine/K. Sykes): The first music you hear is delightful guitar work that is simple, clean and clear. Then comes the perfect blending of two voices … you can hear them smiling. SLOW TIME KID (Chuck Pyle): This piece has a very nice intro and a dramatic beginning. This is a real toe-tapper. THE DUTCHMAN (Michael Smith): I first heard this song in the mid 70's. I've never heard it performed better. BLUE WATER (Hank Payne): Hank draws his songwriting inspiration from real life. He tells me that this song was written with several friends in mind. It speaks to all of us. Notice that clean and clear guitar come ringing through. THE GOOD GUYS WORE WHITE HATS (Bill Gallaher): This tale brings me back to the Saturday afternoon movie matinees. Laurie Riley's harmonies are a nice addition. THE OLD TRAIL (Steve Gillette/C.J. Quarto): This song is Steve at his warmest. Another fine blending of voices. THE MOUNTAINS AND THE MUSIC (Hank Payne): A very nice piece of writing that reflects Hank's early years in West Virginia. A poignant song. The mandolin adds a delightful touch. SOME WALLS (P. Rose/M.A. Kennedy/R.Sharp): Another lesson in musicianship and artful arranging. RUSTY OLD RED RIVER (Tim Henderson): Hank's guitar work is perfect. It's very tuneful, but not distracting … a very difficult task. GOD IS GOD (Steve Earle): A powerful musical statement that rings like an anthem. SHADE TREE MECHANIC (Hank Payne): Good songs come from good experiences. This story is a blending of characters and circumstances. DOUBLE YODEL (Lou and Peter Berryman): What can I say other than … sit down, put on your seat belt so you don't fall to the floor laughing. Pure delight! 13. HOME TO ME (Tom Paxton): Another one of Tom's songs will stick in your head for weeks at a time. STEP BY STEP (Chuck Pyle): Again, superb and tasteful guitar work. WAITING FOR ME (Hank Payne): I predict this will become their signature song. An autobiographical piece from Hank's past. Very moving.

A final comment about Hank and Claire's voices. Claire has a bright and clear voice with excellent diction. You don't have to strain to hear the words … that's a rare talent today. Hank achieves a warm and welcoming vocal tone … it's warm and fuzzy … just like him.

In closing … I marvel at the blending of not just their voices and instruments, but their obvious personal connection which adds a delightful robustness and maturity that is truly wonderful. In their case, the sum is greater than the parts. I look forward to much more music from these two fine musicians.
Full liner notes and lyrics for Hank's songs are on their website here. You can also hear sound clips and buy the CD at CD Baby.
Bob Nelson (Bob Nelson is a local folksinger and co-director of The Pacific Northwest Folklore Society)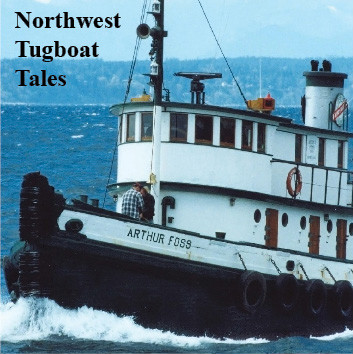 NORTHWEST TUGBOAT TALES (2010)
Maritime Folknet CDBaby
I didn't think there would be so many songs about tugboats, but this is a great collection. Some are new, composed for this CD, and some are not so new. They are all well performed. Many relate to specific tugboats and people, and bring with them a wealth of history and folklore of the Northwest. It begins with a rousing version of Geoff Noble's song One More Pull, sung by Hank Cramer with the able assistance of a local crew. From Canada and Fraser Union is another great towing song by Vic Bell, Snap the Line Tight.
Other songs not new to this collection are The Oda G. by Stanley Tiggs, sung by Jon Bartlett and Rika Ruebsaat, a humorous story of hardships and glory aboard a historic tug; A Hundred Years Ago, by Bob Kotta and Mariide, celebrating the hundredth birthday of the tug Arthur Foss, sung by Victory Sings at Sea; The Tugboat Song, by the late Inge Wessels, a former tugboat cook, about being a tugboat cook, sung by Tugboat Bromberg; Summer Wages, Ian Tyson's song that might be about tugboats, sung by Chris Roe and crew; When Carissa Came Ashore, by Jonathan Lay, about a ship that came uninvited ashore on the Oregon coast and whose bow was towed away leaving the stern half still on the beach; and Tugboats, an iconic tugboat song by Bob Bossin and his East Coast crew, Stringband.
The remaining nine songs are new to this CD. Mary Garvey, a prolific Northwest song writer and co-instigator of this project, contributed four new songs: The Tugboat Captain, about tugboats on the lower Columbia River, with music by and performed with Watch The Sky; Tall Trees, sung by Mary, Chris Roe and Jan Elliott-Glanister, about tugboats and timber rafts on the lower Columbia; with Jon Pfaff, Piper Cameron, sung by Mary and Jon, commemorating a young woman and soon-to-be tugboat captain who died too early; and, with Capt. Andrea McDonald and a tune by Matt Moeller, performed by The Whateverly Brothers, The Tugboat Langston Hughes tells a story about a 1908 tugboat used as a training ship for young boys.
A beautiful song by Dejah Leger, performed by Dejah and Devon Leger, Mary D. Hume, is about a ship built in 1881 with the longest commercial service of any tug on the West Coast, which now sits wrecked at Gold Beach, Oregon. Ode to the Enchantress, by Tim Wittman, performed by Tim and his crew, is about another wrecked tug that was sadly removed from its resting spot at Anacortes. Chris Roe contributed a lovely song, Thea Foss, sung by Chris with her brother Jim playing very nice backup guitar, about the founder of the Foss Tugboat fleet in Tacoma. Able-bodied Seaman Wendy Joseph contributed and sang Tugboats Pullin' on the Bridge Line, about a 1990 storm that almost took down the I-90 floating bridge in Seattle, which was saved by several local tugs that pulled it back together. And Cap'n Matt Moeller's song Bound to Hell, sung by Matt and Jan Elliott-Glanister, about hell on a Northwest tug.
That's it, seventeen songs about tugboats, and the sound of the tug Arthur Foss leaving the dock in Seattle thrown in for extra measure, and recorded on one CD. This CD is highly recommended for anyone interested in the maritime history of the Northwest and some darn good songs to go with it.
Stewart Hendrickson
NORTHWEST LEGENDS, Vol. 1 is a winner. As a native Puget Sounder, I find delight in hearing these familiar legends put to music. Al Hirsch is a talented song writer and performer who took it upon himself to add some new songs to our local folk material. He has that rare talent to make his ballads sound old and fitting, which can only come from a strong respect for traditional folk music.
1. The Denny Party: A rich telling of the first white settlers in Puget Sound.
2. Song of the Salmon: This is a delightful version of this old English classic.
3. Great Seattle Fire: Al combines his skills as a story teller with his fine singing. I predict this upbeat song will catch on with the local singers.
4. Little Log Cabin: Al's rendition of this classic song written by Harold Weeks back in the 20's is a perfect blend of ukulele, accordion, harmonica, fiddle and voice.
5. The Frozen Logger: Finally, somebody GETS IT RIGHT! Jim Stevens told me in 1959 that nobody sings the second line the way he wrote it … thanks Al.
6. Wellington Avalanche: This is ballad telling at its best. As one who tramped the hills in 1955 looking for signs of this disaster, this song rings perfectly true.
7. Old Settler: Al's singing brings back memories of Ivar Haglund.
8. Ode to Puget Sound: This song, written by Carton Fitchett, joins a long list of state songs that weave many river names together … almost like a geography lesson.
9. Clark and Lewis: A well-told history lesson.
10. Chivalrous Shark: Pure Burl Ives … well done.
11. Wild Man of the Olympics: I first heard of John Turnow in 1953 when I was living in the area. It's only in recent years that this story has come to better light. Al's telling rings true to what I remember.
12. When the Ice Worms Nest Again: This is ukulele work at it's best.
13. – 14. – 15: Three well-told stories. Here's where you want to gather the children around and fill their eyes with wonder.

Al's singing is reminiscent of Burl Ives, and I imagine that Ivar Haglund would have loved this album.
Bob Nelson (Bob Nelson is a local folksinger and co-director of The Pacific Northwest Folklore Society)