The Pacific Northwest Folklore Society was founded in 1953 by Walt Robertson, Don Firth and others in the University District of Seattle to preserve and promote the traditional folk music and folklore of the Pacific Northwest. Bob Nelson was an early member of the Society. The Society has been inactive for many years, but we think there is a need for this Society and we have revived it.

We encourage you to join and become involved with our Society. There is no membership fee as our expenses are minimal. And there are no committees or formal meetings. But we would welcome your suggestions, contributions, and volunteer help in maintaining this web site, producing house concerts, coffeehouse concerts and other activities. There is no formal membership application - just indicate your interest and willingness to become involved. We would appreciate articles, photos, or audio/visual files to put on our website, ideas about concerts or other activities, or just general expressions of support. And in return, we would like to provide a forum where the traditional music and folklore of the Pacific Northwest can can be presented and were local folk musicians can participate.
Stewart Hendrickson, Don Firth, and Bob Nelson
Getting Organized - by Don Firth
Support the Pacific Northwest Folklore Society

The PNWFS requires little money to operate, yet there are a few expenses that need to be covered, such as printing the newsletter, preparing posters and flyers, and maintaining the web site. We would appreciate your donations. Complete the following form and mail it with a check to PNW Folklore Society, 11720 1st Ave NW, Seattle, WA 98177.
Name:

Address (street, city, state, zip):

Email:

Amount of donation (check payable to Pacific Northwest Folklore Society):
Mail to PNW Folklore Society, 11720 1st Ave NW, Seattle, WA 98177
Donate $20 or more and receive this complimentary CD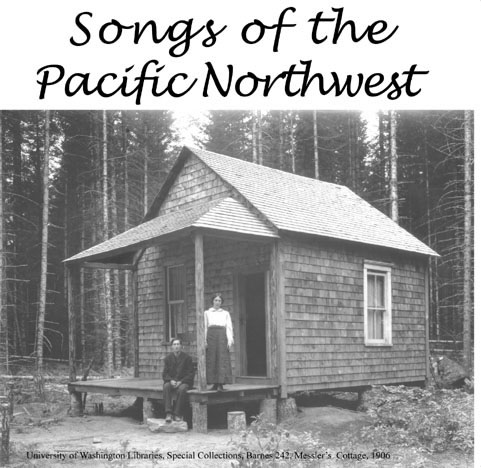 SONGS OF THE PACIFIC NW
This collection of songs grew out of a workshop at Rainy Camp, a weekend singing retreat of the Seattle Song Circle at Camp Don Bosco in Carnation, WA, Feb. 2005. Most of the songs were recorded live in the camp chapel, others were recorded or taken from previous recordings as indicated. Some of these songs are traditional, others are newer songs written in the traditional style. Some have never been recorded before. They all represent a part of the ongoing folklore of the Pacific Northwest.