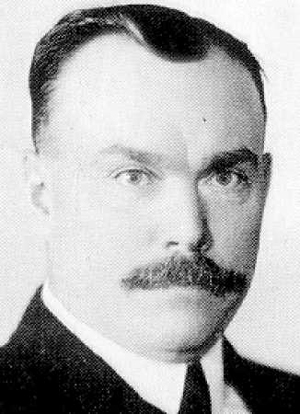 Harry Orchard at time of trial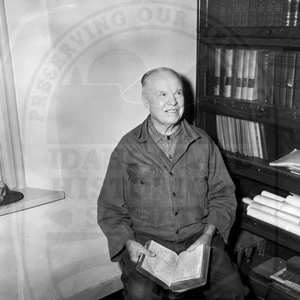 Harry Orchard later at Idaho State Penitentiary at Boise
Frank Steunenberg was killed by a bomb on Dec. 30, 1905, when he opened a gate to enter his yard at Caldwell, Idaho. Under interrogation, Harry Orchard confessed to the murder, saying that he acted for the Western Federation of Miners Union. He implicated William Haywood, Charles Moyer and George Pettibone, officials of the Miners Union, in arranging the murder. Clarence Darrow defended the men. Harry Orchard was convicted, but the others were found not guilty.
Harry Orchard was sentenced to life imprisonment in the Idaho State Penitentiary at Boise, where he proved to be a model prisoner. He was later eligable for parole, but refused to leave the prison, and died there on April 13, 1954, at the age of 88.
BALLAD OF HARRY ORCHARD
collected from E.H. Hardy, Moore Idaho
Sung by Gary Oberbillig
at a 'hoot' in Seattle, late 1950s
from the audio archives of Bob Nelson

Harry Orchard was convicted of murdering
Frank Steunenberg, ex-Governor of Idaho,
on the night of Dec. 30, 1905.

Harry Orchard is in prison,
The reason you all know,
He killed Frank Steunenberg
Right here in Idyho.
He set his bomb out carefully,
He did not hesitate;
It blew poor Frank to Kingdom Come
When he tried to shut the gate.
Harry says he has killed others,
For them my heart it bleeds;
He should pray for Gods forgiveness
For his terrible misdeeds.
Harry blamed the Wobblies,
And maybe he spoke true,
For no one on this earth can tell
What such a band will do.
The chiefs were brought from Denver,
They were shanghaied as you know,
Bill Haywood and George Pettibone
Were brought to Idyho.
Clarence Darrow stood to shield them;
The result it was so sure,
Bill Haywood and. his comrades
Free men walked out the door.
Now listen, all you young
The lesson it is plain,
Just be prepared to pay the cost
When you set a bomb for gain
the tune Mr. Hardy used was similar to that
to which 'Little Mary Phagan' is sung.
Pacific Nothwest Folklore Society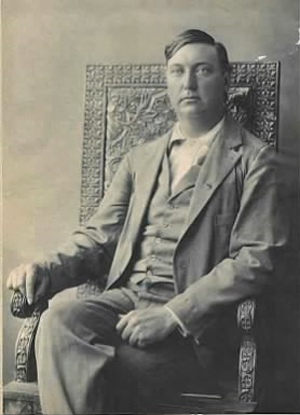 Idaho Gov. Frank Steunenberg
Emma Langdon, a union supporter and author, wrote of an 1899 confrontation between miners and mine owners, "Frank Steunenberg was then serving his second term as governor. His first term being satisfactory as far as the writer knows. In 1899 he proved a willing tool of the mine owners and allowed outrages perpetrated which were a disgrace to any civilized community. It is significant that within one week after the decisive step, which showed him to be subservient to the mine owners, it is said, he deposited in the bank $35,000, yet up to this time he was considered a poor man."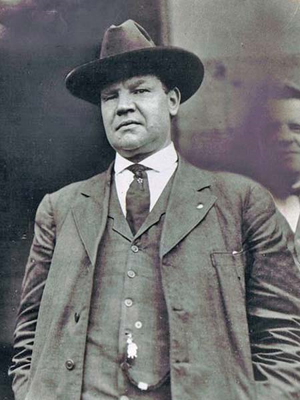 Big Bill Haywood
William Dudley Haywood (February 4, 1869 – May 18, 1928), better known as Big Bill Haywood, was a founding member and leader of the Industrial Workers of the World (IWW), and a member of the Executive Committee of the Socialist Party of America.