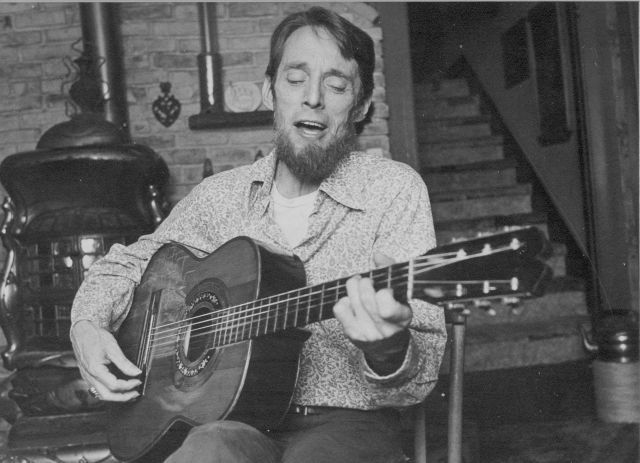 Walt Robertson –Seattle Folksinger
by Don Firth
In 1952, while attending the University of Washington, I frequented a restaurant near campus called The Chalet, a gathering spot for aspiring writers, artists, and musicians. The Chalet didn't normally offer entertainment, but I learned that on a forthcoming Saturday evening, folk singer Walt Robertson would be singing there. At the time, my interest in folk music was only casual, but I was dating a young woman who was busily learning folk songs and teaching herself to play the guitar. I asked her if she would like to go. Indeed she would.
Claire and I arrived early. Lights in the kitchen were still on, but the main room was illuminated only by candlelight. A table had been moved from its usual location and placed diagonally in one corner with a chair facing it. Immediately in front stood another small table with a row of four lighted candles. Claire and I managed to find a table fairly close.
After some minutes, a hush fell over the place. A slender young man with dark hair came out of the back hallway and walked briskly toward the table in the corner. The guitar he carried seemed unusually large. He sat on the edge of the table and propped a foot on the chair. The four candles illuminated him from below and cast huge, trembling shadows on the wall behind.
He glanced quickly around the room. His face was thin, almost hawk-like, and his eyes were piercing and intense. Candlelight shimmered along the gleaming steel strings of the guitar. A crescent shaped cut in the guitar's oversized headstock gave an impression of devil's horns and two rows of tuning keys resembled shark's teeth. It looked downright sinister. I had never seen a 12-string guitar before.
His hands began to move. A strong, pulsing rhythm rang out from that big guitar—deep, insistent, and driving, like the rolling rhythm of a locomotive. His voice, clear and robust, pealed out through the room:
When John Henry was a little baby,
Sittin' on his mammy's knee. . . .
I had never heard that song before. A few of the songs he sang that night I'd heard on records by Burl Ives or Richard Dyer-Bennet, or they were songs I'd heard Claire sing; songs like Lord Randal, Come All You Fair and Tender Ladies, and Venezuela. But there were many others, like The Midnight Special, High Barbaree, Bile Them Cabbage Down, The Golden Vanity, Black is the Color of My True Love's Hair, Blow Ye Winds . . . dozens of songs I'd never heard before. Nor had most of the people there that night.
Five decades later, John Henry, a classic American ballad, is considered such an old war-horse that it's been banished from the repertoire. I venture to guess that many younger folk music enthusiasts may have never heard it. The same holds true for many songs Walt sang that night.
He sang for nearly three hours, weaving tapestries of song and story, evoking ancient images and emotions that seemed to emerge from the Unconscious or from some genetic memory trace: images of medieval castles looming above cold and misty moors; the suffocating claustrophobia of a coal mine; wind and salt spray on the heaving deck of a whaling ship; the dust and sweat of the cattle trail; the roar of cannon as flame and smoke erupt from the gun ports of pirate galleons; the agony of love betrayed, and the joys, both bawdy and profound, of love shared; the gleeful nonsense and fresh wonder of children's songs and rhymes . . . antique echoes and dream visions and, somehow, shadows from within my own soul.
I was completely entranced—spellbound.
Up to that time I had never seriously considered becoming any kind of a musician. My main interest was writing. Musically, I was interested in opera and had taken a few singing lessons, but that was just for fun. And when Claire's grandmother gave Claire her fine old parlor guitar, I bought a cheap guitar and futzed with it a bit. But now, suddenly, it took on a whole new dimension.
I wanted to do what Walt Robertson did. Sing like he did.
A few days later I ran into Walt in The Chalet. We talked for awhile. I asked him if he would teach me to play the guitar. He said he didn't really regard himself as a teacher, but he'd be happy to show me what he could.
And that's how I got started.
* * *
Walt Robertson was born in Omaha, Nebraska in 1928, raised on Bainbridge Island, and went to school at Haverford College in Pennsylvania. While at Haverford, he attended a number of folk festivals at nearby Swarthmore College where he heard John Lomax, Woody Guthrie, Pete Seeger, Susan Reed, Richard Dyer-Bennet, Leadbelly, John Jacob Niles and many others. He won a Talent USA contest, then in 1952-53 he had his own weekly show on KING-TV. With his expressive voice, tastefully inventive guitar, and respect for the songs he sang, he was soon regarded as the "dean of Pacific Northwest folk singers." He performed extensively throughout the United States, Canada, and Europe. Also a talented actor, he appeared on stage in Europe and Hawaii, and in bit parts in a number of motion pictures. In the late Eighties he returned to the Seattle area, and on September 23, 1994, he died of cancer. Since then, on the first day of spring every year, his old friends get together for a "hoot" and sing one for Walt.
Walt Robertson discography: American Northwest Ballads, Folkways Records FP 46 (1955). Walt Robertson Sings American Folk Songs, Folkways Records FA 2330 (1959). Available through Smithsonian Folkways.
* * *
Walt Robertson's introduction to his LP "American Northwest Ballads" – (Folkways Records, New York, 1955): I was born in Omaha in 1928 and have been moving around ever since. My mother tells me that I learned how to open the front gate when I was eighteen months old and one time I got a mile and a half down the road before she found me. Since then I've lived on the West Coast, the East Coast, in the Midwest, and rambled through every state in the Union, and most of Canada and Europe. I've sung in just about every sort of a place you can imagine; in a "greasyspoon" in Illinois, the sidewalk cafes in Paris, a dusty road in West Virginia, society parties on Philadelphia's "main line" in mountain lodges arid dude ranches and fancy supper clubs, at revival meetings and on radio and TV. (I had my own weekly show on KING-TV in Seattle for a year) and been on nationwide radio and TV shows in New York and Hollywood, taken part in "hootenannies" in every part of our country in famous places and in places you couldn't find on any map. And I've been learning songs and finding out how to play the guitar all along the way, from a foreman I had once when I was fighting forest fires (he only had three fingers on one hand and tuned his guitar a special way), a ship's doctor on a Dutch ship who showed me that the guitar could be a classical instrument, and from a young woman singing to her unborn baby and who didn't know I was listening. I've worked at a lot of jobs: followed the harvests (wheat from Texas to North Dakota, apples and peaches and beans and hops on the West Coast), lumberjack, grocery clerk, bank teller, draftsman, carpenter, cab driver fire fighter (U. S. Forest Service), painter , truck driver, ranch hand, and counselor in a camp for delinquent boys. I've done work in surgical research, and I've sold everything from women's shoes to bibles to fireworks. And all along the way I've been finding out about people, and they all like to sing or to listen to a song. Folk music is alive everywhere in the world today and its about the best medicine the world has got to ease its aches and pains. While it is true that many of the songs I've included in this album are not localized in origin in the American Northwest, it is equally true that they have taken root there. Of "Wandering" Walt Robertson writes: "I learned it from an old hand I worked with in a meat-packing plant in Omaha, unloading freight-cars. "
Wandering - sung by Walt Robertson (his theme song)

Songs sung at an informal session on a Sunday morning
at the breakfast table of a home on the Hood Canal,
WA, 1983. From the audio archives of Bob Nelson

Nobody Knows You - sung by Walt Robertson

Where Did You Sleep Last Night? - sung by Walt Robertson

Evil Hearted Woman Blues - sung by Walt Robertson

Five Nights Drunk (Our Goodman) - sung by Walt Robertson

Ball Of Yarn - sung by Walt Robertson