Fri.-Sun., Jan. 19-21, 2018
BELLINGHAM FOLK FESTIVAL
Bellingham Unitarian Fellowship – Bellingham, WA
The Bellingham Folk Festival is a celebration of folk music in the heart of beautiful Bellingham on January 19-21, 2018. The festival offers three days of inspiring workshops, performances, dances, and jams for all ages and abilities. At Bellingham Unitarian Fellowship, 1207 Ellsworth St, Bellingham, WA. More information.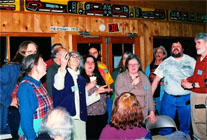 Friday, Jan. 26 – Sunday, Jan. 28, 2018
Ravensdale, WA
RAINY CAMP
Rainy Camp is a weekend folk singing retreat now in its 27th year, held in Ravensdale, Washington. The camp  is centered on folk singing and song sharing, drawing attendees from the Northwest and beyond. Participants enjoy fine singing, good food, and great camaraderie in a lovely wooded setting. Sponsored by the Seattle Song Circle. More information.
Friday, Feb. 9, 2018, 7:30-9:30 pm
Pacific Northwest Folklore Society Coffeehouse Concert
SMALL POTATOES  CANCELLED

Friday, March 9, 2018, 7:30-9:30 pm
Pacific Northwest Folklore Society Coffeehouse Concert
JOCELYN PETTIT
Hailing from the West Coast of British Columbia, Jocelyn leads The Jocelyn Pettit Band, with her beloved fiddle, Canadian stepdance, podorythmie foot rhythms, and vocals. With grace and passion, she delivers an engaging and uplifting performance of original and traditional music inspired from the Canadian and Celtic cultures of – Cape Breton, Québec, Ireland, Scotland, Brittany, and Galicia. Jocelyn has performed on stages across Canada, the U.S., Scotland, France, and Malaysia. "An incredible fiddle player, who blew away the audience with her expertise." ~ The Celtic Connection, Canada. Watch a video. $10 donation. 7:30-9:30pm, Couth Buzzard Books Espresso Buono Cafe, 8310 Greenwood Ave N, Seattle, 436-2960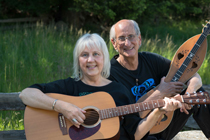 Friday, April 13, 2018, 7:30-9:30 pm
Pacific Northwest Folklore Society Coffeehouse Concert
HEIDI MULLER & BOB WEBB
Heidi Muller, an award-winning songwriter, singer, guitarist and mountain dulcimer player has played in concert halls, festivals, and livingrooms throughout America, and produced eight CDs establishing her firmly in the national folk community. She tours both as a solo artist and with her partner, Bob Webb, a talented accompanist on guitar, mandolin, dulcimer and cello, and former member of the original Mountain Stage house band. Heidi and Bob cross the musical boundaries between original songs and traditional tunes, blending each other's influences from the Pacific Northwest to the Appalachian Mountains. $10 donation. 7:30-9:30pm, Couth Buzzard Books Espresso Buono Cafe, 8310 Greenwood Ave N, Seattle, 436-2960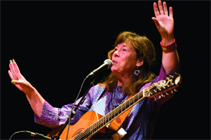 CLAUDIA SCHMIDT
Sunday, May 13, 7:30-9:30 pm
Pacific Northwest Folklore Society Coffeehouse Concert
If you listened to the Prairie Home Companion show in the late '70s and early '80s you certainly knew Claudia Schmidt, one of Garrison Keillor's regular performers. She was ubiquitous, a folk, jazz and blues singer, poet, and multi-instrumentalist – she plays guitar, mountain dulcimer, and quirky instruments such as the pianola. Claudia Schmidt has been perfecting her craft of performing for almost four decades. It is a quirky and wonderful hodge-podge (her word!) of music, poetry, story, laughter. drama, and celebrating the moment. She has always included her original work along with very personal versions of the work of others, what you get is a unique look at the world from someone who says what she sees with clarity, humor, and wonder. Garrison Keiilor said "when Claudia sings a song, it stays sung." Listen to her music. $15 donation, reservations: email or phone 206-367-0475 (leave a message) (reservations held until 7:15 pm). Couth Buzzard Books Espresso Buono Cafe, 8310 Greenwood Ave N, Seattle, 436-2960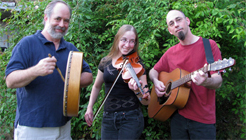 Friday, June 8, 2018, 7:30-9:30 pm
Pacific Northwest Folklore Society Coffeehouse Concert
PINNIPED
Pinniped is Erik Correia (guitar, voice), Sarah Kellington (fiddle, voice), and Bill Kellington (bodhran, guitar, voice). From Olympia, they play mostly-traditional mostly-celtic acoustic music, some quebecois, maritime, and even a little Klezmer music. You can hear music from their demo CD, here. $10 donation. 7:30-9:30pm, Couth Buzzard Books Espresso Buono Cafe, 8310 Greenwood Ave N, Seattle, 436-2960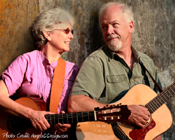 Friday, July 13, 2018, 7:30-9:30 pm
Pacific Northwest Folklore Society Coffeehouse Concert
HANK & CLAIRE
Stories – yours, mine, ours – sung in harmony. Hank Payne and Claire Favro from Poulsbo, WA beautifully arrange traditional and popular folk songs from John Prine, Tom Paxton, Chuck Pyle, Lou and Peter Berryman, and others. Award-winning original songs round out an enjoyable evening of voice, guitars, dulcimer, and bowed psaltery. Enjoy sweet harmonies, a bit of sentiment, some fun, and a big dose of heart? You'll love Hank and Claire. In choosing Hank and Claire to include in his "River City Folk Best of 2017," Tom May says, "Hank and Claire epitomize the beauty and simplicity of two people who love the music so deeply and who love working together." $10 donation. 7:30-9:30pm, Couth Buzzard Books Espresso Buono Cafe, 8310 Greenwood Ave N, Seattle, 436-2960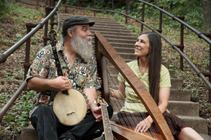 Friday, Sept. 14, 2018, 7:30-9:30 pm
Pacific Northwest Folklore Society Coffeehouse Concert
CURTIS & LORETTA
Curtis & Loretta's music comes straight from the heart. The husband and wife duo's extraordinary harmonies and proficiency on a parade of stringed instruments create an alluring frame for their poignant original songs, and carefully chosen traditional pieces from the British Isles, America, and beyond. The current menagerie includes Celtic harp, mandocello, mandolin, guitars, clawhammer banjo, and National steel ukulele, plus a bit of kazoo, harmonica, and shakers. Curtis' down-home sense of humor and Loretta's theater background engage the audience in an experience that runs the gamut of rolling with laughter to holding back tears, with plenty of side-trips in between. Listen to sound samples;  watch a video. $10 donation. 7:30-9:30pm, Couth Buzzard Books Espresso Buono Cafe, 8310 Greenwood Ave N, Seattle, 436-2960


Friday, Oct. 12, 2018, 7:30-9:30 pm
Pacific Northwest Folklore Society Coffeehouse Concert
TOM BERGHAM
Tom Berghan was transported into the old-time banjo scene, a couple years ago, as a refugee from the Early Music camp, rockabilly bands and various other. Tom has been playing music professionally since the late 1960s. He is a musicologist whose research has spanned both America and Europe. Tom plays all fretted stringed instruments, but in recent years has been focusing on all forms of banjos, both five string and four string, and all sizes of banjos from soprano to bass. He performs music and songs from when America was young. $10 donation. 7:30-9:30pm, Couth Buzzard Books Espresso Buono Cafe, 8310 Greenwood Ave N, Seattle, 436-2960
To submit events to this page, contact PNWFS