SVERE EPIC NORDIC FOLK
Saturday, January 19th – Seattle, WA
Sunday, January 20th – Bellingham, WA
SVER play grand Norwegian folk music with relentless energy and seductive spark taking you on a fantastic musical journey guaranteed to excite you. Ranging from the very dreamy to a swinging, pounding and sweaty madness – you are invited to the party, greeted by a welcoming primal force that pulls you into the dance. Information: Saturday, Jan. 19, Seattle; Sunday, Jan. 20, Bellingham.


BELLINGHAM FOLK FESTIVAL
Friday-Sunday, Jan. 25-27
Bellingham, WA
The Bellingham Folk Festival is a celebration of folk music in the heart of beautiful Bellingham, WA. Join us for our fifth annual festival this year! The festival offers three days of inspiring workshops, performances, dances, and jams for all ages and abilities. This year's teachers and performers include Katie McNally Trio, Choroloco, Carl Jones & Erynn Marshall, Laura Smith, Eli West, John Whelan, Kathy Larisch & Carol McComb, Quattlebaum, and many more! More information.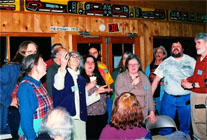 Friday-Sunday, Jan. 25-27, 2019
RAINY CAMP
Rainy Camp is a folk singing weekend retreat now in its 28th year on January 25-27 2019, at Lake Retreat Conference Center Ravensdale, Washington.   This is about an hour Southeast from Seattle.   This weekend camp features a few dozen workshops, big sings, a concert and intimate late night singing.  Plus heated dorm style accommodations and catered food.  Registration is open here. Registration is online, as is the choice of accommodations made when you register.  For more information, see  the web site or call 425-998-6134 (7×24) or email registrar@rainycamp.org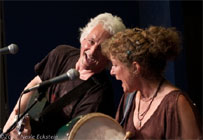 Friday, Feb. 8, 2019, 7:30-9:30 pm
Pacific Northwest Folklore Society Coffeehouse Concert
SMALL POTATOES
Small Potatoes is Jacquie Manning and Rich Prezioso. This Chicago-based duo has been touring on the folk circuit since 1993 and in that time they've become sought-after regulars at many clubs, coffeehouses across the U.S. They call themselves eclecto-maniacs and describe their music as "Celtic to Cowboy." They say it has taken them "years of careful indecision" to come up with a mix of music that ranges from country, blues, and swing to Irish, with songwriting that touches on all of those styles and more. They both sing, they both play guitars and an array of other instruments. They even yodel. Superb musicianship and showmanship, award-winning songwriting, and a strong sense of tradition has made them, as Dirty Linen Magazine once said, "one of the most polished, inventive, and entertaining shows on the circuit." Listen to songs,  watch videos. $10 donation. 7:30-9:30pm, Couth Buzzard Books Espresso Buono Cafe, 8310 Greenwood Ave N, Seattle, 436-2960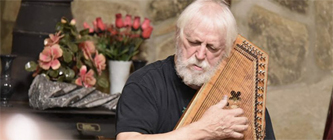 Friday, March 8, 2019, 7:30-9:30 pm
Pacific Northwest Folklore Society Coffeehouse Concert
BRIAN BOWERS
Bryan Bowers has become a major artist on the traditional music circuit. He has redefined the autoharp and is also well known as a singer-songwriter. Bryan has a dynamic outgoing personality and an uncanny ability to enchant a crowd in practically any situation. His towering six foot four inch frame can be wild and zany on stage while playing a song like `Dixie' and five minutes later he can have the same audience singing `Will The Circle Be Unbroken' in quiet reverence and delight. For nearly three decades, Bryan Bowers has been to the autoharp what Earl Scruggs was to the five-string banjo. He presents instrumental virtuosity combined with warmth, eloquence, expression and professionalism. $15 donation. 7:30-9:30pm, Couth Buzzard Books Espresso Buono Cafe, 8310 Greenwood Ave N, Seattle, 436-2960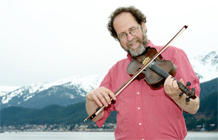 Friday, March 22, 2019, 7:30-9:30 pm
Pacific Northwest Folklore Society Coffeehouse Concert
KEN WALDMAN
Ken Waldman (a.k.a. Alaska's fiddling poet) draws on his 30 years in Alaska to produce poems, stories, and fiddle tunes to create a performance uniquely his own, described as "haunting and melodic;…like being reminded of our very humanness and all the chances and changes still waiting to be discovered" (Cinthia Ritchie, Anchorage Daily News). He will be joined by some local musicians. A former college professor, Waldman published six full-length poetry collections, a memoir, a children's book, and released nine CDs that combine old-time Appalachian-style string-band music with original poetry. $10 donation. 7:30-9:30pm, Couth Buzzard Books Espresso Buono Cafe, 8310 Greenwood Ave N, Seattle, 436-2960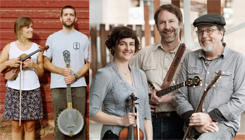 Friday, April 12, 2019, 7:30-9:30 pm
Pacific Northwest Folklore Society Coffeehouse Concert
Brittany & Johnny / $4 SHOE
Brittany Newell and Johnny Fitzpatrick are old time music practitioners from Seattle, WA. Both Brittany and Johnny enjoy dabbling in other instruments and singing together. They tend to come together on a random assortment of fiddle tunes, with a few bits of blues, bluegrass and old country songs strewn in as well. $4 Shoe, a southern music duo/trio, consists of Morgan John on banjo & lead vocals and Tom Collicott on guitar and harmony vocals.  Now occasionally you may find Morgan playing the fiddle, guitar or uke, and sometimes Tom will be playing the banjo or singing lead. Just to confuse things a bit more these days, you will find Kate Lichtenstein joining them with fine fiddle or guitar playing and singing. $10 donation. 7:30-9:30pm, Couth Buzzard Books Espresso Buono Cafe, 8310 Greenwood Ave,Seattle, 436-2960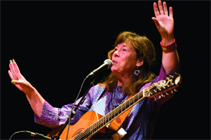 Sunday, June 9, 2019, 7:30-9:30 pm
Pacific Northwest Folklore Society Coffeehouse Concert
CLAUDIA SCHMIDT
If you listened to the Prairie Home Companion show in the late '70s and early '80s you certainly knew Claudia Schmidt, one of Garrison Keillor's regular performers. She was ubiquitous, a folk, jazz and blues singer, poet, and multi-instrumentalist – she plays guitar, mountain dulcimer, and quirky instruments such as the pianola. Claudia Schmidt has been perfecting her craft of performing for almost four decades. It is a quirky and wonderful hodge-podge (her word!) of music, poetry, story, laughter. drama, and celebrating the moment. She has always included her original work along with very personal versions of the work of others, what you get is a unique look at the world from someone who says what she sees with clarity, humor, and wonder. Garrison Keillor said "when Claudia sings a song, it stays sung." Listen to her music. $15 donation, no reservations, come early for a good seat.  Couth Buzzard Books Espresso Buono Cafe, 8310 Greenwood Ave N, Seattle, 436-2960
To submit events to this page, contact PNWFS
" width="20″ height="20″>