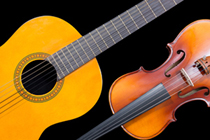 Friday, May 10, 2019, 7:30-9:30 pm
Pacific Northwest Folklore Society Coffeehouse Concert
HENDRICKSON & BARROGA
Stewart Hendrickson plays fiddle tunes from Scandinavia to Shetland, Scotland, England and Ireland, accompanied by Ken Barroga on guitar. Ken also sings an eclectic selection of songs from early 21st- and mid-20th century America. A fun evening of fiddle tunes and songs from two local musicians. $10 donation. 7:30-9:30pm, Couth Buzzard Books Espresso Buono Cafe, 8310 Greenwood Ave,Seattle, 436-2960.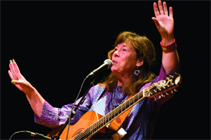 Sunday, June 9, 2019, 7:30-9:30 pm
Pacific Northwest Folklore Society Coffeehouse Concert
CLAUDIA SCHMIDT
If you listened to the Prairie Home Companion show in the late '70s and early '80s you certainly knew Claudia Schmidt, one of Garrison Keillor's regular performers. She was ubiquitous, a folk, jazz and blues singer, poet, and multi-instrumentalist – she plays guitar, mountain dulcimer, and quirky instruments such as the pianola. Claudia Schmidt has been perfecting her craft of performing for almost four decades. It is a quirky and wonderful hodge-podge (her word!) of music, poetry, story, laughter. drama, and celebrating the moment. She has always included her original work along with very personal versions of the work of others, what you get is a unique look at the world from someone who says what she sees with clarity, humor, and wonder. Garrison Keillor said "when Claudia sings a song, it stays sung." Listen to her music. $15 donation, no reservations, come early for a good seat.  Couth Buzzard Books Espresso Buono Cafe, 8310 Greenwood Ave N, Seattle, 436-2960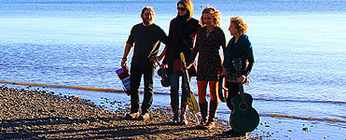 Friday, July 12, 2019, 7:30-9:30 pm
Pacific Northwest Folklore Society Coffeehouse Concert
LINDSAY STREET
Lindsay Street, from Bellingham, WA, plays roots music from Ireland, England, Quebec, Scandinavia, and France, as well as original compositions. Inspired by the past as well as emerging musical traditions, Lindsay Street delivers rich and varied arrangements that connect the old and the new. Lindsay Street's repertoire features creative use of accordion, guitar, violin, mandolin, bodhran, bouzouki, banjo, whistles, and other assorted instruments. $10 donation. 7:30-9:30pm, Couth Buzzard Books Espresso Buono Cafe, 8310 Greenwood Ave,Seattle, 436-2960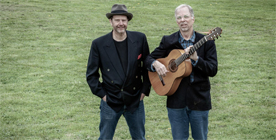 Friday, Sept. 13, 2019, 7:30-9:30 pm
Pacific Northwest Folklore Society Coffeehouse Concert
TANGO COWBOYS
The Tango Cowboys is a duo that performs fun-loving music from America (North and South), specializing in vocal tangos and cowboy songs from the 1930s and 1940s and beyond. They tell stories of their songs directly to the audience, inviting them to journey from the open range of the wild west and the small cafe in Buenos Aires. Tom Bourne-guitar, and Rich Hinrichsen-voice. $10 donation. 7:30-9:30pm, Couth Buzzard Books Espresso Buono Cafe, 8310 Greenwood Ave,Seattle, 436-2960
To submit events to this page, contact PNWFS