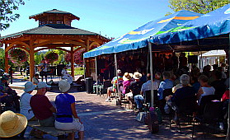 Friday-Sunday, Aug. 18-20, 2017
Princeton, B.C. Canada
PRINCETON TRADITIONAL MUSIC FESTIVAL
Free music festival. Events are held on several stages in the centre of Princeton and begin on Friday evening with a public street dance and an Irish ceili band. Between 10 a.m. and 6 p.m. Saturday and Sunday there's a potpourri of concerts, workshops, and jams. Applications due April 30. More information here.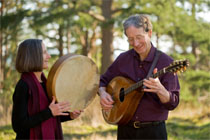 Friday, Sept. 8, 2017, 7:30-9:30 pm
Pacific Northwest Folklore Society Coffeehouse Concert
STANLEY & KIP GREENTHAL
Stanley Greenthal is an internationally acclaimed songwriter and instrumentalist, who stretches musical borders from Scotland, Ireland and Brittany to Greece and the Balkans. He sings and plays guitar, bouzouki, laouto and lavta (Greek and Turkish lutes). His wife Kip Greenthal adds harmony vocals and percussion, and compelling spoken word pieces set to music. $10 donation. 7:30-9:30pm, Couth Buzzard Books Espresso Buono Cafe, 8310 Greenwood Ave N, Seattle, 436-2960

Friday, Oct. 13, 2017, 7:30-9:30 pm
Pacific Northwest Folklore Society Coffeehouse Concert
RICK FOGEL
Rick Fogel is a distinguished hammer dulcimer performer, luthier and teacher. At festivals and venues across the country, Rick displays virtuosity in his performance of classical, traditional, Celtic, and original compositions. He captivates an audience with his mastery of the hammer dulcimer and his passionate enjoyment of music. The Whamdiddle Full Harmonic features Rick playing three hammer dulcimers, with a span of over seven octaves. His musical tastes are diverse, covering a wide range of styles and traditions, changing easily from old-timey to classical. Whether powerful or tender, Rick's music moves the spirit. Watch a video. $10 donation. 7:30-9:30pm, Couth Buzzard Books Espresso Buono Cafe, 8310 Greenwood Ave N, Seattle, 436-2960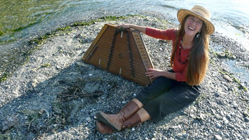 Friday, Nov. 10, 2017, 7:30-9:30 pm
Pacific Northwest Folklore Society Coffeehouse Concert
CAROLYN CRUSO
Carolyn Cruso, an acclaimed multi-instrumentalist and composer has toured widely in both the United States and Europe. She is equally at home on hammered dulcimer, flute, guitar and vocals and performs a diverse array of original tunes and songs as well as traditional material. Her unusual and lyrical approach to the dulcimer especially delights audiences! Listen to her music. $10 donation. 7:30-9:30pm, Couth Buzzard Books Espresso Buono Cafe, 8310 Greenwood Ave N, Seattle, 436-2960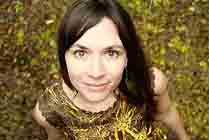 Friday, Dec. 8, 2017, 7:30-9:30 pm
Pacific Northwest Folklore Society Coffeehouse Concert
JASPAR LEPAK
Jaspar Lepak is a folk/Americana songwriter whose remarkable gift for melody is only surpassed by her poetry. A child of the Sonoran Desert, her songs are deeply influenced by the many places she has called home: Tucson, Minneapolis, Durban, and currently Seattle. Sweeping across landscapes with an emotional depth that is extraordinary, her lyrics expose a brave vulnerability while her clear, pure voice touches the heart. Listen to her music. $10 donation. 7:30-9:30pm, Couth Buzzard Books Espresso Buono Cafe, 8310 Greenwood Ave N, Seattle, 436-2960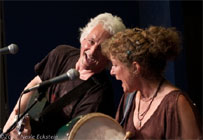 Friday, Feb. 9, 2018, 7:30-9:30 pm
Pacific Northwest Folklore Society Coffeehouse Concert
SMALL POTATOES
Small Potatoes is Jacquie Manning and Rich Prezioso. This Chicago-based duo has been touring on the folk circuit since 1993 and in that time they've become sought-after regulars at many clubs, coffeehouses across the U.S. They call themselves eclecto-maniacs and describe their music as "Celtic to Cowboy." They say it has taken them "years of careful indecision" to come up with a mix of music that ranges from country, blues, and swing to Irish, with songwriting that touches on all of those styles and more. They both sing, they both play guitars and an array of other instruments. They even yodel. Superb musicianship and showmanship, award-winning songwriting, and a strong sense of tradition has made them, as Dirty Linen Magazine once said, "one of the most polished, inventive, and entertaining shows on the circuit." Listen to songs, watch videos. $10 donation. 7:30-9:30pm, Couth Buzzard Books Espresso Buono Cafe, 8310 Greenwood Ave N, Seattle, 436-2960

Friday, March 8, 2018, 7:30-9:30 pm
Pacific Northwest Folklore Society Coffeehouse Concert
JOCELYN PETTIT
Hailing from the West Coast of British Columbia, Jocelyn leads The Jocelyn Pettit Band, with her beloved fiddle, Canadian stepdance, podorythmie foot rhythms, and vocals. With grace and passion, she delivers an engaging and uplifting performance of original and traditional music inspired from the Canadian and Celtic cultures of – Cape Breton, Québec, Ireland, Scotland, Brittany, and Galicia. Jocelyn has performed on stages across Canada, the U.S., Scotland, France, and Malaysia. "An incredible fiddle player, who blew away the audience with her expertise." ~ The Celtic Connection, Canada. Watch a video. $10 donation. 7:30-9:30pm, Couth Buzzard Books Espresso Buono Cafe, 8310 Greenwood Ave N, Seattle, 436-2960
To submit events to this page, contact PNWFS