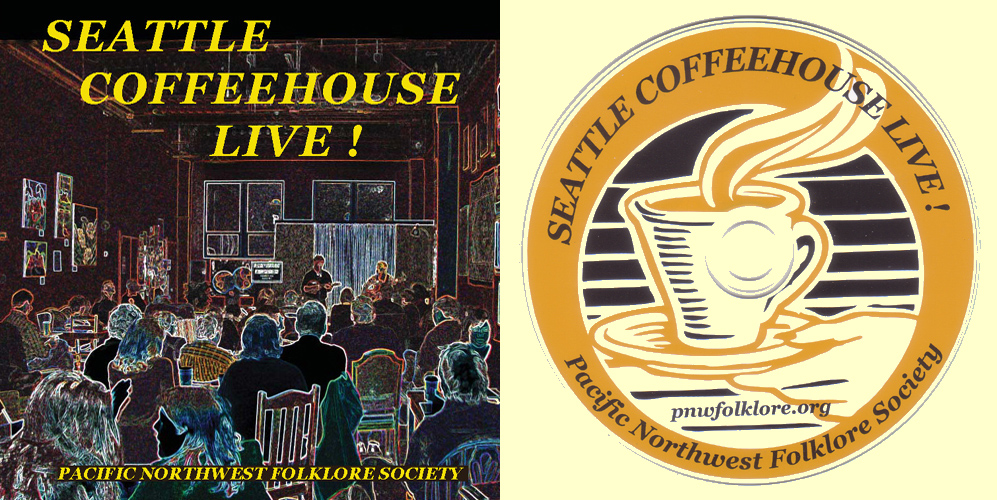 SEATTLE COFFEEHOUSE LIVE!
In March, 2008, the Pacific NW Folklore Society began a monthly series of Coffeehouse Concerts. Starting at the Kaffee Shachor in Green Lake, and then the Library Cafe on Crown Hill, we moved to the Wayward Coffeehouse in Greenwood from October, 2008 through April, 2010. In May, 2010 we moved to Couth Buzzard Books/Espresso Buono, also in Greenwood, for our concerts every 2nd Friday of the month. All tracks on this CD were recorded live at the Wayward Coffeehouse, except # 7, 16 at Couth Buzzard Books. (cover photo, Wayward Coffeehouse)
1. Barbara Allen (Trad.) (5:26) Ginny Reilly is half of Reilly & Maloney, is one of Seattle's favorite folk duos.
2. I Won't Bleed (Alice Stuart) (4:42) Alice Stuart 1/9/09. Began her singing career in Seattle coffeehouses in the '60s. Favorite Seattle blues musician with her band The Formerlys.
3. Leaving Home (Charlie Poole) (4:27) Down The Road 10/9/09. A trio of bluegrass musicians (Cathi and Gary Davidson, guitars and vocals, and John Tubbs, mandolin and vocals) from the towns of North Bend and Snoqualmie, east of Seattle.
4. Cowboys on the Skyline (JW McClure) (3:47) JW McClure 2/12/10. JW, a veteran of the '60s coffeehouses, from Snohomish Co. JW, guitar, vocal; Thaddeus Spae, guitarron.
5. Ain't Got No Home (Woody Guthrie) (2:46) Smalltime String Band 1/8/10. A Seattle family band made up of Oliver (12, fiddle, vocal), Eli (8, banjo), Mom (guitar) and Dad (fiddle).
6. Whiskey and Wine (Charlie Beck) (3:30) Squirrel Butter 1/8/10. Charlie Beck (fiddle, vocal) & Charmaine Li-Lei Slaven (guitar), also part of Tall Boys, Seattle's favorite old-time band.
7. Franklin D. Roosevelt Back Again (Anon.) (3:25) Jerry Middaugh & Orville Murphy 7/9/10, at Couth Buzard. From Seattle and Kirkland, WA, singing together for several years. Jerry, lead vocal, guitar; Orville, harmonica, vocal).
8. Old Crow Blues (Eliza Manoff) (3:05) Eliza Manoff 8/14/09. Talented finger-style guitar player, songwriter and singer from Everett.
9. 'Till the Elephant Sings (Eliza Manoff) (3:46) Eliza Manoff & Kim Ruehl 8/14/09. Kim is a freelance music writer and Seattle musician. Kim, lead vocal; Eliza, guitar, vocal.
10. Lady Julianna (Val James) (5:29) Val & Mike James 4/10/09. From Port Townsend, singing together for over 20 years – folk to jazz and blues. Val, vocal, guitar; Mike, guitar.
11. Wiki Waki Shack (Michael Guthrie) (3:00) Michael Guthrie 2/13/09. Talented multi-instrumentalist, singer and songwriter from Seattle.
12. Marmaduke's Hornpipe (Trad.) (2:23) Sarah Comer 3/13/09. Award-winning (WA Old Time Fiddlers) traditional fiddler from Pierce Co., WA. Emmett Comer, guitar.
13. Obama's March To The White House (4:30) Canote Brothers 5/8/09. Greg Canote (fiddle) and Jere Canote (guitar), Seattle's favorite old-time music duo.
14. Thing That Fell Off The Kettle (Dan Carollo) (3:56) Dan Carollo 7/10/09. Talented Seattle finger-style Celtic guitar player.
15. The Conversation (Carolyn Cruso) (4:51) Carolyn Cruso 4/9/10. From Orcas Island, a talented multi-instrumentalist, composer, singer and songwriter.
16. Don't Say Goodbye (Jillian Graham) (3:48) Jillian Graham 6/11/10 at the Couth Buzzard Bookstore. Seattle singer, songwriter. Jillian, guitar, vocal; Jim Graham, upright bass.
17. Blue Water Run Down (Hank Payne) (4:16) Hank Payne & Claire Favro 12/11/09. Seattle duo – "beautiful harmonies with entangled guitar accompaniments."
18. What Else Can We Do? (Carolyn Cruso) (3:15) Carolyn Cruso 4/9/10.
© Pacific Northwest Folklore Society, Seattle, WA, 2010.