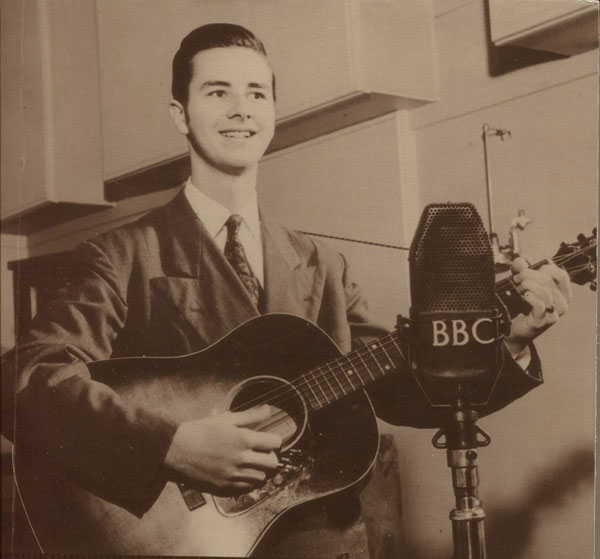 There is one name that is not well known in the history of the folksong revival beginning in the late 1940s and 1950s. Paul Clayton was a folk music scholar, a collector and field recorder of traditional folksongs primarily from Appalachia and New England, and America's most-recorded young folksinger – some 17 albums between 1954 and 1961, mostly traditional folk songs and later commercial recordings – bringing hundreds of obscure folk ballads and songs into the American folk music scene. He was a mentor to David Van Ronk, Bob Dylan, and other emerging folksingers of that era, but became eclipsed in the emerging commercial folk scene of the 1960s. He was a genius with many talents, but also many demons that led to his tragic death in 1967 at the age of 36.
Paul Clayton Worthington was born on March 31, 1931, in the whaling town of New Bedford, MA. He grew up hearing songs of the seaman's life from his grandfather, Paul Hardy, a whaler's outfitter. From his grandmother, Elizabeth Hardy, he learned songs from Prince Edward Island. As a teenager he began researching old songs when he came upon a collection of original manuscripts of seafaring songs at the New Bedford Whaling Museum. Unencumbered by instruments he sang these songs with the free rhythm of an unaccompanied singer; this led to his odd wayward conversational vocal style, different from that of most other folksingers.
At age eleven Paul was given his first guitar, and in high school he hosted a weekly series of folk programs on New Bedford's local radio station and later on WBSM. He wrote his own material and sang live music on his program, which was later expanded from a few minutes to one hour per week. The folksong bug had bitten and his folksinging career had begun.
After graduating from New Bedford High School in 1949 he went to the University of Virginia in Charlottesville. There he discovered the university's Alderman Library with its vast collection of folklore and songs. He was taken under the wing of Professor Arthur Kyle Davis, a foremost folklorist and ballad scholar of the time. There he helped work on Davis's book "Folk Songs of Virginia," and later helped produce "More Traditional Ballads of Virginia" from his research in the archives of the Virginia Folklore Society. He also began extensive excursions into the Appalachian mountains collecting songs from many traditional folk artists, including Etta Baker and Hobart Smith. His home base was a remote, primitive log cabin in western Albemarle County known as Brown's Cove. Paul's neighbor in the Cove was Marybird McAllister, a traditional singer and banjo player. Some of his best discoveries from her were "Georgie," "Will the Weaver," "Poor Ol' Tuckyhoe," "Richmond," and  "Across the Blue Mountains."
In the summer of 1951, following his junior year, Paul went to Europe "on his thumb." He integrated himself into the London folk circles among performers such as A. L. Lloyd, Patrick Galvin, Hamish Henderson, and Ewan MacColl. He also interacted with visiting American folksingers including Jean Ritchie, Burl Ives, Peggy Seeger and Guy Carawan. He collected songs, hosted radio shows, and recorded his family songs for posterity in the BBC archives. On the continent he traveled to Paris, through France to Spain "with guitar and pack on his back" collecting songs and playing along the way.
Back at the University of Virginia Paul completed work for a masters degree in English and American Folklore. From his youth in New Bedford through his time in Charlottesville, VA, he experienced homosexual tendencies, but these were kept tightly under wraps since at that time being gay was not something one would want to openly acknowledge. Later, and particularly  in Europe, he became more active in gay communities, although many of his close friends still did not realize he was gay.
By 1953 Paul was frequenting the Greenwich Village scene in New York trying to solidify a base for his folk music career. With his plain voice and guitar he was no match for the emerging young folksingers in the Village who would later make it big. His friend Rey Barry characterized him as a "very faithful performer," but lacking an adorned style to pull a large audience. "There were a lot of people around in those days, like Ed McCurdy, who were doing a wonderful job of popularizing folk music with more richly orchestrated [backing] and catchier ways of putting over a tune. Paul was doing it pretty straight … and there's nothing very sexy about that kind of music. You needed to be someone who was into the folk music scene to appreciate what he was doing. If you were just someone who was there to be entertained by a singer on stage, Paul was not entertaining."
Paul's first album came out on Stinson Records in Greenwich Village around 1954.  "Whaling Songs and Ballads," was drawn from his Grandfather's songs and co-produced with the New Bedford Whaling Museum. Most of the songs were not wide known, perhaps only to those who knew whaling songs. The only other Stinson record was "Waters Of Tyne – English North Country Songs & Ballads." This led to a series of recordings on Folkways including
Bay State Ballads, Folk Songs & Ballads of Virginia,

Cumberland Mountain Folksongs, Folk Songs of the English-Speaking World

In 1950 Paul discovered the dulcimer; this was the Appalachian dulcimer not the hammered variety. Jean Ritchie was one of the top players and had introduced a more gentle type of playing that became quite popular among folksingers.  Paul took to this new instrument and quickly became quite proficient. In 1957 he recorded an album on Folkways, "Dulcimer Songs and Solos," which featured a range of playing from gentle chordings to rollicking hoedowns.

In 1956 Paul moved to a new label, Tradition Records, owned by the Clancy Brothers. Their fifth release was Paul's "Whaling and Sailing Songs from the Days of Moby Dick." This included some classics of the sea including "The Maid of Amsterdam," "Spanish Ladies," "The Mermaid," "Go Down You Blood Red Roses," and a rare century-old song, "Saturday Night at Sea."

Another album of seaman's songs on Folkways (1959) was "Foc'sle Songs and Shanties" (Folkways  1959 ) with Paul Clayton and the Foc'sle Singers: Roger Abrahams, Dave Van Ronk, and Bob Brill.
On a more commercial level, Paul's first concept recording in 1957 on Electra was "Unholy Matrimony."  The liner notes, seemingly oblivious of Paul's non-public sexual leanings, excitedly proclaimed "songs to amuse and appall you … [marriage] a fate most assuredly worse than hell … Paul Clayton is a folksinger of no mean talents who sings these songs from a vast experience, having always been a bachelor and intending to remain one – until he is captured by some enchanting and deceiving member of the opposite sex."

That year Electra produced McCurdy's "When Dalliance Was in Flower" leading in 1958 to Clayton's batch of bawdy ballads, also on Electra, "Bobby Burns' Merry Muses of Calidonia."

By the late 1950s New York had become a hotbed of young folksingers. On Sunday afternoons Washington Square was a babel of songfests and jamming. Folk groups and individual musicians competed for exposure and a chance to rise above the crowd. Paul spent less time at his Brown's Cove cabin and more time in his Greenwich Village digs where he began to make his mark as a performer.
Singers would gather at various apartments for late night sessions. Banjoist and folk historian Dick Weissman recalls "an apartment downtown at 190 Spring Street, where first Paul Clayton and later Roger Abrahams lived. Both of them were folklorists and collectors as well as performers, and the Spring Street sessions tended to be more traditional than other gatherings … Other sessions occasionally took place, after 1958, at Alan Lomax's downtown loft when he returned from his voluntary exile in England. Still another scene developed around Theodore Bikel who sang songs in a number of foreign languages."
One of Paul's close friends was jazz-blues singer David Van Ronk, who came to the Village in 1951. They were very different personalities; Paul, a scholarly folksinger, while David, a city kid, was developing his own personal singing style. Paul became a mentor to David, giving him his first entry into recording by recommending him to the Elektra label. Another close friend was the young Bob Dylan who was trying to find his place in the Greenwich Village scene. Dylan was interested in traditional songs and melodies to appropriate into his songwriting, and Paul was a great source of that material.
With the surge of new folksingers coming into the city in the late 1950s and early 1960s Paul had the advantage of being there early. He was active near the top of the local scene and was doing radio and TV work not only in the United States, but also in England and Canada. As folksingers were searching for new material to bring into their performances, Paul had the advantage of his wide knowledge of the tradition.
Many of the traditional songs that were collected were only fragments of forgotten songs. There was the temptation to add new verses to existing songs and slight changes to the words. This seemed to go against the ideal of "pure, unaltered" folk music, but singers were starting to veer away from this – after all wasn't this the longstanding "folk process?" Paul reluctantly began making changes to his traditional songs by adding a new verse or changing words. One tantalizing fragment of a song he had found was "Done laid around, done stayed around this old town too long, And I feel like I gotta travel on." Where this came from is unclear, but it seemed to fit the old gospel song "Do Lord, Remember Me." This and a song with chain gang roots – "Yonder comes the High Sheriff…"  began to merge into a hybrid song.  Paul never did reveal the roots of this song, but he came up with the following chorus and a bit of a verse:
I've laid around and played around this old town too long
Summer's almost gone, yes, winter's comin' on
I've laid around and played around this old town too long
And I feel like I've gotta travel on
High sheriff and police, ridin' after me…
This was picked up by Pete Seeger, new verses were added and recorded by the Weavers – it was later credited as Clayton-Lazer-Erlich-Six. Other singers added verses, performed and recorded the song. It soon became a popular hit recorded on Monument Records in 1960 by country music singer Billy Grammer in an upbeat version totally different from that sung by Paul.
In 1960 Paul was persuaded by Monument Records to record a couple of albums of songs in a more commercial style with vocal backings by the Jordaniares. On Paul Clayton Sings Home Made Songs And Ballads  (Monument 1961) there were a couple of Paul's songs: "Last Cigarette," based on a nineteenth-century poem by English poet Frank Desprez who spent three years as a cowboy on a Texas ranch, and another song, "Who'll Buy You Ribbons When I'm Gone," adapted from the lyrics of a traditional song "Who's Gonna Buy You Chickens When I'm Gone," which Paul had collected,

Paul's second Monument album, Paul Clayton Folk Singer (Monument  1965), was a mixture of folk, folk-pop standards, and a few obscure songs – light and cheerful, not the stuff he really aspired to record. He did include "Gotta Travel On" – with some hesitation due to Billy Grammer's popular hit recording – in his own slow, dreamy rendition, and a great version of "San Francisco Bay Blues."

In early 1961 young Bobby Zimmerman appeared on the New York scene as Bob Dylan. Stephen Wilson recalls Dylan's meeting with Paul: "When Dylan was getting his first record out, Clayton ran into him in New York. Dylan was staying at Van Ronk's, I think. Paul used to stay there too. So they got to know [each other] through Van Ronk. Dylan was so early he did not have a manager. Paul took him to a manager who took a listen to him and declared he was not quite up to snuff. Dylan went off and got Albert [Grossman] by himself." They soon became good friends. Dylan was soaking up traditional music and Paul was one of his early influences. In 1964 Dylan said, "Because folksongs are a beautiful, beautiful, beautiful thing, really like the god-almighty arts … [Y]ou have to use it to learn about you, and whatever you want to do…English ballads, Scottish ballads…  The only guy I know that can really do it is a guy I know named Paul Clayton, he's a medium, he's not trying to personalize it, he's bringing it to you… [Joan Baez] can do anything beautiful, she has that kind of thing. But Paul, he's a trance."
For his take on Dylan, Paul wrote "He gave the appearance of expecting success, but he found himself before a public he wasn't ready to face.  Once he had the public, he was frightened to death, mostly of all the questions people asked him…. He uses all the hip slang, the grunts and the 'hey man's' as a shield when he's unsure of himself. He can always edit his writing, but not his speech, and so he doesn't completely trust himself verbally. He always gets reticent in front of a lot of people."
In 1962, Dylan's new hit "Don't Think Twice It's Alright" sounded reminiscent of Paul's "Who'll Buy You Ribbons."  Here's a line-by-line comparison:
It ain't no use to sit and sigh now, darlin,
And it ain't no use to sit and cry now,
T'ain't no use to sit and wonder why, darlin,
Just wonder who's gonna buy you ribbons when I'm gone.
Well it ain't no use to sit and wonder why, babe
Ifin' you don't know by now
An' it ain't no use to sit and wonder why, babe
It'll never do some how
So I'm walkin' down that long, lonesome road,
You're the one that made me travel on,
But still I can't help wonderin' on my way,
Who's gonna buy you ribbons when I'm gone?
I'm walk'n down that long lonesome road babe,
Where I'm bound, I can't tell,
But good-bye's too good a word, gal,
So I'll just say fare thee well,
Barry Kornfeld recalled how one song became the other: "I was with Paul one day, and Dylan wanders by and says, 'hey man, that's a great song. I'm going to use that song.' And he wrote a far better song, a much more interesting song – 'Don't Think Twice.'" Paul's is still a good song with a catchy melody.
At first Paul was enthusiastic about Dylan's song, but then Peter, Paul and Mary turned it into a huge hit. For Paul it was like a big missed opportunity. Even a share of the royalties would have been a large sum, and Paul was desperately in need of money – he was dirt poor most of his life. A dispute arose. Dylan admitted the debt to Paul's song, but claimed full songwriter credits. Dylan "borrowed" or ripped off others' songs and melodies, but in the end cast off his friends when they were no longer useful. Paul brought suit against Dylan, but finally stopped short with just a cash settlement. Paul and Dylan later reconciled, but it still weighed heavily on Paul. This was the end of an era when folk music "was not owned by anybody, but was owned by everybody."
By the end of 1964 Paul was increasingly drawn into the vortex of the stormy world of Bob Dylan. Paul's career was at a standstill – he was still getting club gigs but was not on the upturn of the career that he wished for. As a sort of compensation for the disagreement over his song, Dylan invited Paul to accompany him on a cross-country road tour in 1964 to Los Angeles via Chicago. Paul had no particular role except as a "mind-guard" – someone to keep Dylan's confidence up. There were several others also along as mindguards. It was a wild trip and made Paul feel like he had "stepped onto the wrong planet somewhere along the way." There were wild parties, crazy happenings, and drugs. Someone said that "Paul got stoned more often than anyone on the trip." For whatever reasons, Paul was exiled from Dylan's circle afterwards. This seemed to be the beginning of a slow downfall for Paul – more drugs, much later an arrest for marijuana use for which he managed to beat the charges, and deteriorating health.
Paul was despondent that his career was not going anywhere. His friends noticed these changes, but were not able to convince him to seek help as he sunk into a psychotic state. At the end, in 1967, he was found dead in his bathtub with some sort of electrical appliance. His suicide at age 36 was a shock to everyone, particularly his mother, Adah Worthington, who was very close to him and would never recover from her loss – she survived him by ten years.
Paul was indeed very talented as a folklorist and folksinger, but he was more interested in the song than the singer. He flourished in coffeehouses and small clubs where he could relate on a personal level with his audience, rather than on a stage where he failed to come across as an "entertainer." He was a private person and a gentle soul, not suited for the rough competitive life of a folk star. He could have become a highly-respected academic scholar of folklore and traditional folk music if that was the path he wished to take. His life was cut short by his own despair.
***
The source for most of this article is the 2008 biography "Paul Clayton and the Folksong Revival" by Bob Coltman, a traditional folksinger who briefly shared a stage with Paul in Washington, D. C. in 1963. This is an extremely well-written book on the life of Clayton and the early folksong revival – well worth a read.  Stewart Hendrickson