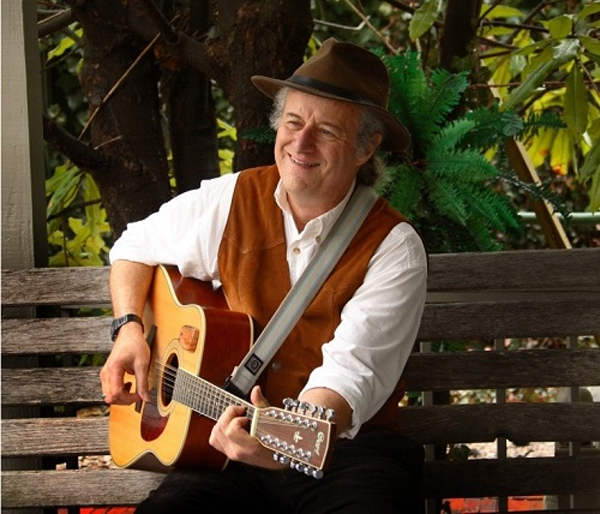 It is with sadness that I share with you the passing of another member of our great musical family. I first met Andy Blyth at Rainy Camp (Seattle Song Circle) when I moved to Seattle about twenty years ago. I recorded two songs he sang for our CD, "Songs of the Pacific Northwest"- Frozen Logger, and Apple Pickers Reel.  He also participated in Victory Music open mics in the Seattle area, and with his wife, Sue Peterson Blyth, formed the Raging Zephyr band of musicians. And he was a founding member of Tickle Tune Typhoon, "a playful troupe of magical musicians, colorful dancers, and creative arts educators." But Andy was much more than that – he was the most positive, upbeat, friendly person I've known, in spite of  health problems endured throughout his life. In 2008 Andy and his wife retired to Berea, KY, where he continued to play music and spread joy in his community. Andy Blyth's Memorial video is here. And here is his obituary. – Stewart Hendrickson.
Andrew Blyth (June 7, 1945 – July 27, 2017)
Madison County [Kentucky] has lost its "Old Crusty Minstrel," Musician, Andrew Blyth, 72, July 27th after a brief bout with congestive heart failure. Born in 1945, in Pasadena, CA to parents, Herbert Leroy Lott and Rose Modisette Lott, he was blind and hydrocephalic at birth and spent his first six months in the hospital. While there, UCLA invented a special hand-made stent and Andy became the 6th encephalic baby in the world to survive the surgery. A second surgery, allowed him to regain the use of one eye. On his X-rays, doctors discovered a rare congenital curse – osteopetrosis – literally "stone bones" and projected a short life expectancy. Despite the fact that Andy suffered over 40 broken bones and numerous surgeries, and infections, he NEVER allowed himself to be defined by his health challenges and he certainly proved the doctors wrong!
Andy's family connections in Hollywood helped open the door to sound engineering work. (His mother, Rose, was national president of the prestigious political organization, American Women in Radio and Television. His sister and stepfather were also involved in post-production studio work). He also picked up technical skills while attending Columbia School of Broadcasting. As live TV progressed onto video, Andy moved quickly up the ladder from mic boom operator to a full post – production sound mixer at TAV – Trans America Video by age 27. His credits include at least one technical Emmy, plus shows like Steve Allen, Hee Haw, Candid Camera, and many other popular game and variety shows of the 70's. His favorite commercials were the Pillsbury Doughboy "tee he" and the Tidy Bowl man. Many have enjoyed the spicy and engaging stories of his escapades in Hollywood, including run in's with John Wayne, where he was shown the "Duke's" Green Beret ring up front and personal when Andy spoke up against Wayne's stand for the Vietnam War, to being called by name while mic-ing up Ronald Reagan.
Andy's life passion was folk music, and he was heavily influenced by Pete Seeger, Woody Guthrie, Malvena Reynolds and his music frequently got around to his politics. (One of his favorite songs at Berea's local Thursday jam sessions was Yambo, a parody about a sweet potato against war.) He turned down the job to be chief sound guy for Richard Nixon's 1972 campaign because he was already working on the McGovern campaign. Andy's comment on the subject, in an interview done by the Berea Citizen in 2016, "It was an awkward time for me, balancing between my jobs in sound and wearing my bell bottoms and keeping my hair long for war protests. Once, I had to help televise a protest – when I really wanted to be a part of it."
Andy wanted to get away from the Hollywood scene and follow his passion of music….so he moved his family to Seattle and took a staff position at the local ABC affiliate. He and several other musicians soon created a "playful troupe of magical musicians, colorful dancers, and creative arts educators" – Tickle Tune Typhoon. Their albums, Circle Around and Hug the Earth feature Blyth, were winners of the Parents' Choice Gold Awards and the American Library Association's – Notable Children's Recording Awards. Tickle Tune Typhoon also represented the United States at the International Celebration of the Child in 1979 in Washington, DC. While in Seattle, he and his wife Sue, also started the Raging Zephyr band, an Artist Way inspired group, dedicated to help musicians breakthrough performance barriers.
Opportunities opened up for him in free-lance audio engineer sporting events (nationally and internationally) for all the major TV networks – including 10 Olympics and Goodwill Games, and Seattle Mariners baseball. But after years of being on the road, he and a few co-workers, decided to open two entrepreneurial businesses – Reztech (to create smart homes) and Mediatel, Inc. in Seattle. Well-known projects by Mediatel, included building Microsoft Studios and also system integration for the Experience Music Project (EMP) in Seattle and Vulcan Industries. Shortly before Andy moved to Berea, Mediatel was sold to a division of National Mobile TV.
Love Is Something If You Give It Away (Magic Penny lyrics – Malvena Reynolds)
In 2008, Andy and his wife, Sue Peterson Blyth retired to Berea, KY to do music full-time as well as create an intentional sustainable community, known as Zephyr Creek Crossing plus be a little closer to their grandchildren. Despite Andy's health challenges, the Blyths – as Banjo Andy and His Tickled Toons or with his Old Dogs ~ New Tricks band – have entertained audiences with toe tapping, bouncy, sing a long heritage Americana musical fair and storytelling of his personal adventures at numerous local events, retirement villages, street fairs, churches, fundraisers and political marches. About a year ago, Andy took on the role of mentor of the Madison County Song Farmers Association – a part of the Wood Songs Front Porch Association – working toward the advancement of local live music opportunities and retaining music in the schools.
We're All in This Together – and It's About Time.  Andy's personal motto and songs reflect their conviction put forward by John Denver in his song.
Andy is survived by his wife, Sue Peterson Blyth, his daughter Stacey Blyth (Brian Lampkin, grandchildren – Hayley, Clara and Natalie Lampkin) of Greensboro, NC; his son Joshua Blyth (Susan Bennett) of Seattle, WA; his stepchildren – Rhonda and Eric Peterson (Terrie); Erin Wallace (grandchild – Peter); and Sabra Anne Weintraub. Sisters: Sheriden Blyth Bentley (of Berea, KY) and Mikie Ruggles (Greg) of Temple City, CA. Brother: Duncan Blyth, (Faline) of Bend, OR and stepsiblings – Joshua Kemp and Suzi DeAnfrasio. He was preceeded in death by his parents, his stepfathers, Scottie Blyth and Brad Kemp and two siblings – Ian Blyth and Donna Williams-Crane.
"I hate a song that makes you think that you are not any good. I hate a song that makes you think that you are just born to lose. Bound to lose. No good to nobody. No good for nothing. Because you are too old or too young or too fat or too slim or too ugly or too this or too that. Songs that run you down or poke fun at you on account of your bad luck or hard travelling. I am out to fight those songs to my very last breath of air and my last drop of blood. I am out to sing songs that will prove to you that this is your world and that if it has hit you pretty hard and knocked you for a dozen loops, no matter what color, what size you are, how you are built, I am out to sing the songs that make you take pride in yourself and in your work." – Woody Guthrie.