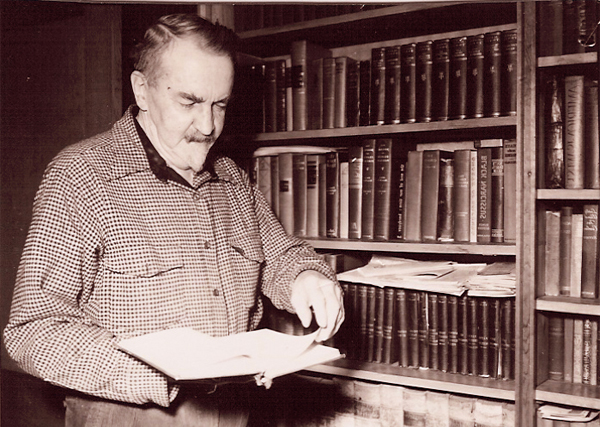 Roundup Lullaby, Badger Clark, Clifton Barnes,
and the Pomona College Men's Glee Club
I first learned the song, Roundup Lullaby (Desert Silvery Blue), as a freshman student in the Pomona College Men's Glee Club in 1955; it was sung as an encore at most of our concerts. It was based on a poem by Badger Clark, set to music by Clifton Barnes, and arranged by Prof. Ralph Lyman for the Pomona College Men's Glee Club in 1938. This song has stuck with me for some sixty years and is still a favorite.
Roundup Lullaby, sung by the Glee Club on "Pomona College Songs" in 1967.
This story begins when Charles Badger Clark, Jr. (1883-1957), the son of a Methodist minister, was born in Albia, Iowa, on January 1, 1883. That same year his family moved to the Dakota Territory where his father preached in Huron, Mitchell, Deadwood and Hot Springs, A restless youth, he eventually left the Dakotas for better health in Arizona where he fell in love with ranching, cow-punching and the lure of the open range. Refusing to "become a slave to whistle, clock or bell," he craved the freedom of the open skies. To support this life style he began to write verse and later accepted speaking engagements after he moved back to South Dakota due to his father's ill health. After several books of poetry, a novel, and numerous articles and pamphlets, he became the first Poet Laureate (some say lariat ) of South Dakota.
Clark's book, Sun and Saddle Leather  (first edition, 1917) contains most of his poems – a selection of his poems are here. Three of his well-known poems are A Cowboy's Prayer, written for his mother; A Border Affair (Spanish is the lovin' tongue); and Roundup Lullaby. The original words to the Lullaby used in the song (more verses here) are:
Desert blue and silver in the still moonshine,
Coyote yappin' lazy on the hill,
Sleepy winks of lightnin' down the far sky line,
Time for millin' cattle to be still.
 So—o now, the lightnin's far away,
The coyote's nothiny skeery;
He's singin' to his dearie—
Hee—ya, tammalalleday!
Settle down, you cattle, till the mornin'.
Nothin' out the hazy range that you folks need,
Nothin' we kin see to take your eye.
Yet we got to watch you or you'd all stampede,
Plungin' down some 'royo bank to die.
So—o, now, for still the shadows stay;
The moon is slow and steady;
The sun comes when he's ready.
Hee—ya, tammalalleday!
No use runnin' out to meet the mornin'.
Always seein' 'wayoff dreams of silver-blue,
Always feelin' thorns that slab and sting.
Yet stampedin' never made a dream come true,
So I ride around myself and sing.
So—o, now, a man has got to stay,
A-likin' or a-hatin',
But workin' on and waitin'.
Hee—ya, tammalalleday!
All of us are waitin' for the mornin'.
Since its original publication the song lyrics have been shortened, revised, re-named and otherwise messed with by many who couldn't recall the lyrics, miss-heard them, or just wanted to change them. Some six musical settings by different composers had appeared by 1952.  The one by Clifton Barnes (1938)  and arranged for the Pomona College Men's Glee Club by Ralph Lyman (see the recording at the top) is the most widely-sung version. This song  has been sung by folks including Katie Lee, Don Edwards, Bing Crosby, Sue Harris, and others – it has also been called "Cowboy Lullaby" and "Desert Silvery Blue." An extensive discussion of the song is on the Mudcat Forum.
In the early 1960s, a little boy growing up in Brooklyn, New York, used to fall asleep listening to his mother sing this song. Much later he researched and produced a beautiful video Song Odyssey (38 min) about his search to find out about the song he so loved as a kid. That kid is now called "Chef Juke" and lives in Eugene, Oregon.