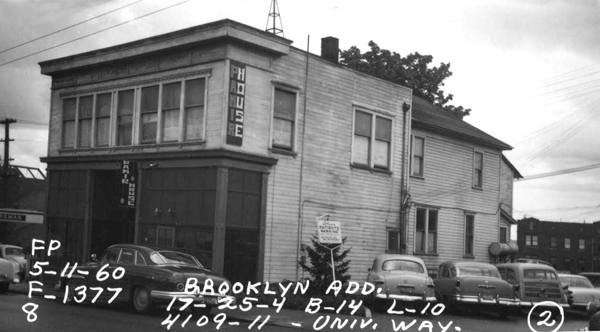 According to legend, coffee was discovered in Ethiopia in the ninth century, first roasted, ground, and brewed by the Turks, then brought to Europe by Venetian traders. Coffee quickly spread throughout Europe and the first coffeehouse in England opened around 1650. Coffeehouses became known as "penny universities" because one could get a fairly good education sitting with a cup of coffee (a penny a cup) and listening to learned men as they discussed matters of great import. Not many years later, coffeehouses opened in Boston and Philadelphia, and were frequented by artists, poets, philosophers, and revolutionaries—like Benjamin Franklin and Thomas Paine.
I'm not sure when coffeehouses and folk music became associated. But by the mid-1950s at the latest, many coffeehouses in Greenwich Village, Boston, and Berkeley offered entertainment, often in the form of a resident folk singer.
The first coffeehouse in Seattle opened in summer of 1958. Rusty Thomas, a New Yorker, had come to Seattle to open an antique shop and discovered that, although there were plenty of coffee shops (not the same thing), Seattle was bereft of coffeehouses. Seeing an opportunity, he opened the Café Encore on upper University Way. Within a few weeks, local folk singers began dropping in. Rusty didn't pay, but he let the singers sing for tips.
Seattle's second coffeehouse was opened by Bob Clark in spring of 1959 next door to the Guild 45th theater. He also owned the theater, hence the name, The Place Next Door. He quickly realized that having a folk singer-in-residence on Thursday, Friday, and Saturday evenings would greatly enhance his business. The Place Next Door was, perhaps, the nicest coffeehouse in Seattle, a bit on the "artsy" side, with paintings by local artists on display. The singers sang in sets, with breaks between, much like a night club. Clark paid the singers, and some of Seattle's best folk singers performed there regularly.
In 1960, Walt Wilcox, a retired policeman, opened a coffeehouse on Westlake Avenue, on the end of a dock among the yacht brokers on Lake Union. He decorated the walls with bullfight posters and dubbed the place The El Matador (redundant?). He intended to hire a flamenco guitarist to entertain. A flaw in the plan was that, at the time, there were no flamenco guitarists in Seattle. So he had to modify his plans and hire folk singers.
Next came Pamir House, named to evoke images of wayside inns along the Silk Road where it winds through the Pamir Mountains in eastern Tajikistan and Afghanistan—the "Hindu Kush." Located on lower University Way, John Timmons intended it to be an Indian restaurant. But a distressing lack of clientele prompted him to convert it to a coffeehouse.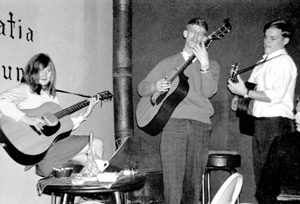 It was small; nevertheless, Timmons often had two, three, or more singers on Friday and Saturday evenings, swapping songs and doing impromptu duets and ensembles. It was like a private song fest and the audiences liked the informality. Many of Seattle's better singers sang there at one time or another also. John Timmons paid the singers regularly and promptly.
Lee Capilli and local artist Val Laigo opened The Door in downtown Seattle, around the corner from the Music Hall Theater. Occasionally they hired a folk singer for a weekday evening, and on one weekend, Friday and Saturday, in 1961 they hosted a pair of concerts featuring a mix of folk singers from Seattle and Vancouver, B. C. But the main entertainment at The Door on Friday and Saturday evenings was jazz.
Toward the end of the Seattle World's Fair in 1962, Bob Clark turned his efforts to opening another art and foreign film theater in downtown Seattle and sold The Place Next Door to folk singer Stan James. Stan, interested in Australian songs and folklore, redecorated and changed the name to The Corroboree, which is a ceremony in which Australian Aborigines interact with the "Dreamtime" through singing and dancing. Stan had regular singers on Friday and Saturday evenings, and he instituted an open mike on Sunday evenings.
Avid mountain climber Eric Bjornstad opened a small coffeehouse a block north of Pamir House to provide a hang-out for other mountain climbing enthusiasts. He named it The Eigerwand, after a mountain in the Swiss Alps that he had ambitions of climbing. Soon, of course, someone came in carrying a guitar case and asked if he was planning on having entertainment. His answer was an emphatic "No!" Wise move, because the Eiger was little more than a hole-in-the-wall, and with a dozen or so customers in place, there was little room to swing a guitar. Most coffeehouses were open only in the evenings, but the Eiger was open during afternoons as well. This tended to draw hordes of chess players, which is not quite what Eric had in mind either.
Shortly thereafter, he opened another coffeehouse, The Queequeg, named after the tattooed harpooner in Herman Melville's Moby Dick. It was on the Ave across from, and a bit north of, Pamir House. Whereas entertainment seemed to have been an afterthought in the Café Encore, the Place Next Door, and Pamir House, the Queequeg was set up from the start with entertainment in mind. Large, at least as large as the Place Next Door, it had a sizeable stage, not just a riser. All of the seats along the rows of marble-top tables faced the stage. The Queequeg also featured some of the best folk singers in the area, plus occasional visitors from out of town, such as Rolf Cahn.
In the mid-1960s, things began to change. Since folk music had been caught up in the fickle ebb and flow of popular music tastes, it was replaced in the mid 1960s by the "The British Invasion" led by The Beatles. Audiences dwindled, and the coffeehouses as venues for folk singers began to close one by one.
Other coffeehouses did open in the area, such as The End on lower Brooklyn Ave, and The Llahngaelhyn on Eastlake just south of the University Bridge, but The End didn't have entertainment at all, and The Llahngaelhyn featured jazz.
It was great while it lasted!
This did not end folk music in Seattle by any means. Many people had become attracted to folk music and that interest didn't fade with changes in popular music tastes. It was at about this time that the Seattle Folklore Society came into existence and a few years later, in 1972, the Northwest Regional Folklife Festivals began.
Don Firth (1931-2015) was one of the founding members of the Pacific NW Folklore Society. His interest in folk music began with the folk music revival in Seattle in the early 1950s. This was taken from his "reminiscences":  "For some time I have been writing personal reminiscences of the folk music scene in Seattle and elsewhere during the Fifties and Sixties. Not a history. That, I'm afraid, would be a 'four blind men and an elephant' operation, so what I'm doing is more of a memoir—my own personal observations."