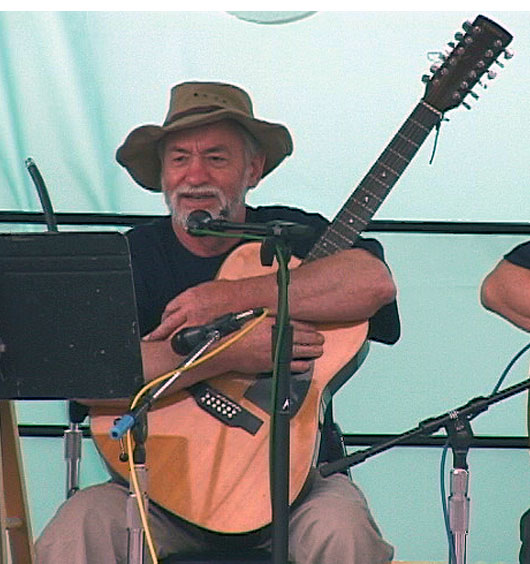 Note: A continuing look at Seattle folksingers of the past. Reprinted with permission from the Victory Review, August, 2006, p. 18.
When we think about influences in the area of folk singing, we most often think of celebrities who've enjoyed a long-standing national audience. We hear our peers refer to the first time they heard a Pete Seeger recording, the first time they saw Utah Phillips on stage or some political documentary or news story w/Joan Baez singing and they were off and running: Soaking up songs, attending open mics and eventually bestowing upon us their literary/musical creation. This is all well and good, but it only takes one so far. To make genuine progress on this path, we need local and personal influences who demonstrate the viability of folk music and culture as a functional part of life on the physical/visible plane in our community. This is where someone like Stan James comes in.
Chances are that most of you, despite your interest in folk music, have never heard of Stan James, even though he's still alive, healthy and singing. This is understandable because he has no recordings, has not toured nationally and it's been some years since he was a regular on the local folk scene. But it's also unfortunate because Stan is one of the elder statesmen who built and defined the folk song community that has remained robust and prolific in Seattle and surrounding areas over the past half century. Unlike most folk music lovers who didn't get the music directly from their parents/birth culture, Stan came upon the music as a youth through a combination of proximity and simple attraction. During the WWII he heard singers like Jimmie Rodgers on the radio and was moved by the songs of simple people who had experienced hard times and worked their way through them. In addition, his aunt had a basement full of old records that he listened to and learned the value of music that was historical but no longer popular. Then in 1947 (age 11-12) he was gifted with a 1927 Washburn guitar, which he began to learn on and still owns.
This prepared him for the period of the late'40s to mid-'50s when Pete Seeger and the Weavers (among others) were making folk music popular, singing about important social issues along with their songs and ballads, and sowing the seeds of what later became the folk boom of the 1960s. In approximately 1953 Stan, describing himself as young and naive enough to believe that music could change the world, began to sing to work his way through high school. This same period saw the birth of publications such as People's Songs and Broadside. These eventually became Sing Out! (which recently entered its second half century) which removed traditional folk songs from dusty library shelves and archives and placed them in the hands of eager young singers next to the original folk style songs of Woody Guthrie, Malvina Reynolds, Jean Ritchie and such.
With this foundation coffeehouses couldn't help but follow, and Pamir House became the place to go to try out your latest material for your friends and other interested parties. John Timmons would hire three or four performers a night and give them caviar and $10. Stan was among them and popular due to his wide repertoire and knowledge, quality voice and engaging stage presence. He would play maritime and other trad folk genres and accompany his voice on guitar, banjo and concertina, gaining admirers and establishing a lifestyle that has basically remained the same over the years in repertoire and aesthetic. This was a time when the singers and players became each other's family, and they would not only make music but live a lot of their lives together, and as I understand it, in all sorts of places and at all sorts of hours. From 1961-1963 Stan ran the Corroboree Coffeehouse where he hosted The Turkey Pluckers (an early Phil and Vivian Williams Band), Maggie Maloso (now Savage), John Dwyer, Bob Nelson, Nancy Quence, Don Firth and many others. The music was what mattered, and according to Firth, Stan ran a tight ship, being intolerant of intrusive noise. He'd warn talkers to keep it down, and if they persisted he'd give them the boot. Good for you Stan!
In 1963 Stan took his pregnant wife and son to Australia where he enjoyed viewing another culture, found ample singing opportunities in clubs and came back in 1967 with many Australian folk songs which were new to the region and sparked an interest in that repertoire. But the local (and national) scene was going through some changes having to do with the late '60s cultural revolution. Attitudes, behaviors and musical focus were changing and expanding greatly, and this affected all the prevailing manners of the time. As a result, the folk community, with its dedicated practitioners and shared aesthetic, was never quite the same. Fortunately, this didn't prevent Stan from continuing on his musical and cultural path.
Two of his important projects/ accomplishments were to become heavily involved in the Schooner Wawona; trying to save the ship from the junkyard, and beginning a tradition of shanty singing on board. A group effort succeeded in saving the vessel for the next 35+ years (but right now supporters of maritime culture and the ship are engaged in a desperate struggle to save it from being destroyed or relegated to obscurity) and many fine sings, classroom trips and workshops have taken place on this valuable historical entity. Meanwhile, shanty singing has become a staple of our local folk scene on a number of ships, at festivals, in taverns and at other locations. Singers who never heard of Stan are singing the sea songs and shanties he helped spread around, and introducing new generations to the joys of maritime music.
In the '70s Stan formed the short-lived Cap Gause Plante' Songers and established the presence of the still active Seattle Song Circle, a weekly sing which had been in demand for a while. Very few if any of the original singers still attend, but many others have dropped in over the years to keep the garden growing.
Two of the more noble efforts humans can partake in are the raising of healthy children and the performance of healthy labor (at least this is what I hear from history and from those I know who've been there). However, they can also help to separate you from your community and your singing (if you're a song lover rather than a pro like almost all of us) and in the past 30 years or so Stan has found himself affected by these circumstances. In 1971 he became the single parent of two kids and later added four more (perhaps he thought he'd get a bargain rate on a half dozen) and eventually found himself spending copious amounts of time building and repairing boats at a variety of shipyards, which kept him in the maritime atmosphere but not in the musical portion. There were occasional James sightings (Folklife, a Wawona concert, a shanty sing) but they were rare in the final years of the 20th century (we'll get to the 21st century later) and for newcomers to the scene, his role in shaping our history and their current enjoyment went largely unknown. This is to be expected since almost everyone who ever lived is later unknown, but in the cause of correct and traceable history I thought Stan's efforts were worth bringing to light here and that they now be accentuated by reflections from some singers who've shared his journey.
Don Firth, Bob Nelson and Mariide have all known Stan for between 40-50 years. They've witnessed his good and bad sides and his contributions to the folk and maritime communities going back to the beginning of the modern scene, and the bottom line is that they like and respect him and are pleased that I'm writing this. Don Firth, whose remembrances are interwoven in the above text recalls Stan's boundless enthusiasm for what he was doing, that he always sounded like he was smiling when he sang even if you were in another room at the time, and that he got things done while others were busy talking about them. Mariide, for whom the Corroboree was the first coffeehouse she ever saw and the first open mic she ever attended, playfully credits Stan with encouraging her to sing and drawing her into the community. "It' s all his fault that I'm a performer." She remembers him running the kitchen, booking the performers and keeping the ball rolling, and then after several years in Australia, returning to become Mr. Australian Song in these parts. Years later she was in tow when he organized the first Seattle Maritime Festival, and a short-lived coffeehouse called The Nightingale. Now they may be coming together again. Stay tuned.
Bob Nelson agrees with Don about the incredible energy Stan brought to the early hoots, the large repertoire he introduced locally and that everyone wanted to hear him sing. He also adds that Stan's guitar playing, while minimal, was very affective, suggesting that if the essence is in place it's not necessary to pile up layers of notes. Bob also adds the unique and interesting view that Stan is more than a carpenter who builds and repairs boats but is a "woodwright," a man with a feel for wood, who's sensitive to its varieties and textures and that his feelings and choices here are akin to those in his music which helps to explain why he's highly regarded in that community as well. Bob feels that at 71 Stan retains the same energy and affect as ever and that when he begins to tell a story or sing a song you know you're about to go for a ride.
And you may have a chance to go for one because Stan has begun to get out a little more in the new century (I told you we'd get here eventually). With Jon Pfaff and Alan Hirsh he formed the Halibuts, who were enjoyable and popular singing humorous songs of the sea (they started out to revive the Ivar Haglund repertoire and went on from there). Stan and Alan are now a duo called Halibut Stew and are considering a CD. There's also some tentative music with Mariide and even some talk of a coffeehouse adventure. This is good news for folk song lovers as well as an opportunity for many among us to finally experience this local treasure while he's still here to spread the good word. All aboard!
Percy Hilo
Note: More about Stan James here and here.