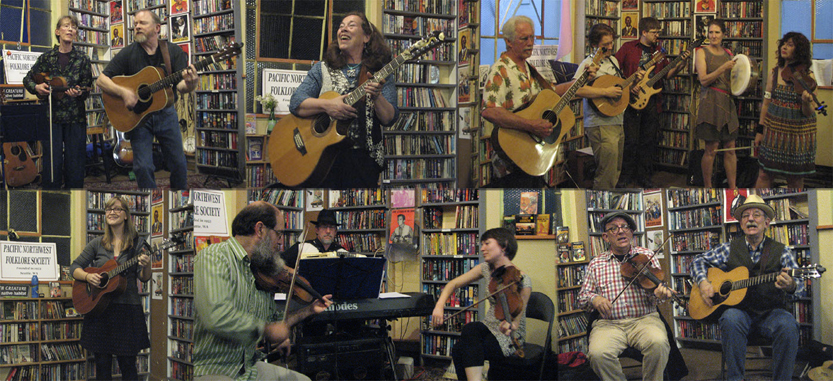 Over ten years ago Bob Nelson, Don Firth and I revived the old Pacific NW Folklore Society (founded in 1953) to preserve and present the more traditional folk music and folklore of this region. Since then Don Firth has passed away, and Bob Nelson has had to bow out for health reasons. For the past few years I have been running the Society single-handedly. Although I have managed so far, I'm not sure how much longer I can continue alone – I'm 80 years old.
I have concerts booked through next October. After that, I will not actively book any more concerts. If the concerts and other activities of the Society continue, it will only be with help of YOU and a NEW DIRECTOR.  I will be happy to work with a new director and others during a transition period. Otherwise, we will revert to occasional concerts that happen to come along, and a winding down of activities. In the meantime I need help, particularly with ongoing concerts and articles for the NW HOOT.
Help with concerts. We have some fine concerts booked through next October (no concert in August) – see the Events Page. I would like volunteers to share in at least one or more of these concerts. At the least, this would entail a standby position to host the concert if I'm not able, and also to help promote the concert and interact with the performers. I would like to line up one such person for each upcoming concert. Please respond with a list of concerts at which you could help.
Articles for the NW HOOT. I desperately need articles for the NW HOOT – I am running out of ideas of my own. These can be anything about folk music and folklore – in a very broad sense, both vocal and instrumental music, about musicians, about songs, history, etc. Now is a chance to hone and show your writing skills. If you're interested, let me know. I will continue with the NW HOOT, but it may operate as an occasional blog site depending on the availability of new articles.
Computer-savvy work. I currently maintain two web sites – pnwfolklore and the NW HOOT – easily managed through WordPress. In addition, I use Constant Contact to manage our email list. And a few of our web pages are in simple html code (managed with Adobe Dreamweaver). If you are interested in learning to use these, with the thought of eventually taking over, I would be happy to work with you.
Preserving  our archives. There is a lot of interesting historic information on our web pages and in our files; it would be a shame to have all this disappear sometime in the future. We were fortunate to have Don Firth and Bob Nelson, founding members of the Society, with their intimate knowledge of the early days (back to the 1950s and before) as a direct line to this information – they were the links. We need to preserve and archive this for future generations. Any ideas on how to do this would be appreciated.
The future of the Pacific NW Folklore Society. In the absence of a new director and other volunteers, the Society will wind down. Concerts may continue, but only on an occasional basis as new performers come forth. This has become more than a one-person operation. A new director and added volunteers will allow us to continue, with new ideas and directions to pursue, and a new vitality in the years to come. It's all up to YOU. Let me know what you think.
Stewart Hendrickson, Director
Pacific Northwest Folklore Society