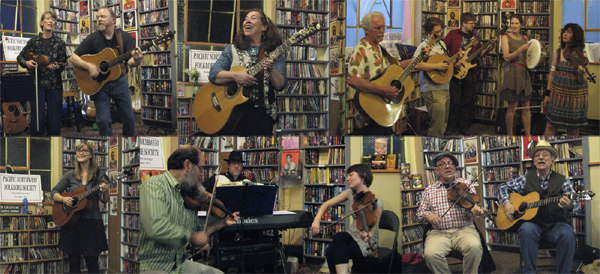 In the April/May issue I wrote that I was stepping down as Director of the PNW Folklore Society, and after next October I would no longer actively book new concerts. In the absence of a new director and other volunteers, the Society would wind down and concerts would continue only on an occasional basis as new performers and volunteers came forth. This prompted an encouraging reaction.
Cathy Britell jumped in, not only to produce a concert for Small Potatoes next February, but also to help reorganize the Society out of her long experience booking/hosting/producing house concerts and Seattle Folklore Society concerts, and organizing an autoharp festival for 20 years with its ongoing week-long music school. Along with a small team of interested individuals, we developed a new plan for the Society, with volunteer producer/hosts and a more flexible schedule of concerts. Here we announce our new plan to continue the Society in future years.
The backbone of this plan is to establish a team of volunteers to help in booking and act as producer/hosts for new concerts. This will relieve me of a lot of the work I have been doing single-handed, and give others an opportunity to be actively involved in the operation of the Society. Cathy and I will function as co-directors to coordinate this effort. We will consider new bookings and solicit volunteer producer/hosts for each concert. The job of producer/host will be to contact performers, request promotional material – photos, descriptive paragraphs for calendar postings, etc. – help in promoting the concerts, and acting as host and MC for the concert. I will continue to produce a poster and announce concerts on our websites and through our email lists.
The job of producer/host is really quite minimal. It involves contacting the performers and requesting more information – usually performers will have promotional material on their websites, if not, it is a simple matter to ask. The concert itself requires minimal effort. The Couth Buzzard crew sets up the seats and puts them away afterwards. The producer/host simply meets the performers, makes some introductory announcements, introduces the performer, passes the tip jar around during the concert, counts the money and gives it all to the performer. The producer/host can also help promote the concert in various ways through personal contacts and other creative means. It is a great opportunity to meet performers and learn the role of a MC/host – no reports or accounting, minimal setup, mainly just be present at the concert. We will provide a check-list of things to do. So how about it! We need volunteers, that means YOU – contact us now.
Scheduling concerts will be more flexible. Instead of every second Friday, we have worked out an arrangement with Theo, the owner of the Couth, to utilize other Fridays, except for "Jazz First Friday" for our concerts. This requires at least a two-month notice and gives performers more flexibility in scheduling. We might even use an occasional Sunday or week night if it doesn't conflict with regular-scheduled events at the Couth. This also avoids other conflicts such as NW Seaport Chantey Sings on second Fridays.
Booking concerts will be a team effort. Rather than relying on my limited acquaintance with local and outside performers, we will combine our efforts and contacts to bring a unique and eclectic variety of performers to our Couth Buzzard stage. Our emphasis will still be on the more traditional folk music, interpreted in a broad sense. Our effort is to include local musicians as much as possible, but still be open to outside performers who might not have a wide choice of venues in the Seattle area. We should be an alternative to concerts produced by the Seattle Folklore Society or other concerts produced at the Couth Buzzard and other local venues. Send your ideas and suggestions to us at pnwfolk@pnwfolklore.org, and Cathy and I, along with our team, will make the decisions.
Workshops with performers may be possible depending on the wishes of the performers and whether they are good teachers. These could be before concerts from 3-5 pm, with two hours off for supper and rest, followed by the concert at 7:30 pm, or on a Saturday afternoon. They might be at the Couth or the Home Street Bank at Greenwood and 73rd, which has a nice workshop space. We can explore this idea further.
A new Facebook page. Cathy just constructed a PNWFS Facebook page to add our presence to social media. Use it to be a part of this discussion. Link it to your own Facebook page and invite others to join. The Couth Buzzard Facebook page also posts the PNWFS events in addition to their other events.
Our main website and the NW HOOT. I will continue to maintain these sites, but I need your help in contributing new articles to the NW HOOT. Share your expertise and experience of folk music and related areas, or explore new topics to become a local expert. Writing can be a rewarding and fun experience.
Join our team effort. If you want to be part of this discussion to plan the future of the PNWFS, or become a volunteer and part of our team, or just enter the loop through an email chain to follow what we are doing, contact us at pnwfolk@pnwfolklore.org. I would also be happy to meet you at the Couth over a cup of coffee or tea to talk more about our Society and what we might do. This plan is going to work only if we have enough volunteers to be producer/hosts. As I step down from this part of my job after next October, continuation of our concerts and the future of the PNWFS will depend on an active group of volunteers. This means YOU!