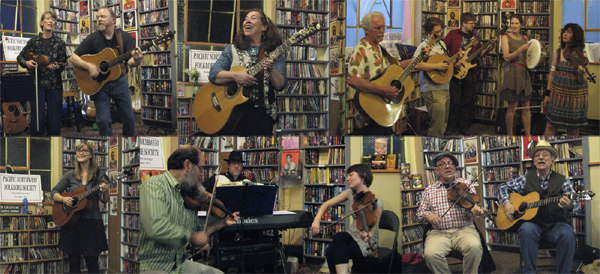 Update, 9/22/16: Since running this article I haven't seen a groundswell of volunteers. This time I'd like some advice and feedback: What are we doing well? What could we do better? What new directions could we pursue? How can we improve the way we promote concerts? Ideas for new exciting performers to book. New articles for the NW HOOT – any volunteers to write them? Please respond through comments or email, and meet me at the Couth to talk over a cup of coffee or tea (my treat). Thanks, Stewart
The Pacific Northwest Folklore Society was founded in 1953 by Walt Robertson and friends in the University District of Seattle to support the understanding and development of the folklore and folk music of this region. After a rough beginning during the turbulent years of the McCarthy "Red Scare," the Society became inactive by the early '60s. Fast forward to 2007. Don Firth and Bob Nelson, two founding members of the Society in 1953, and I decided to revive it. Our first event was a house concert with Jeff Warner, a world-class folklorist and folk singer from New Hampshire. He had trouble finding a venue in Seattle, and we thought it was time to revive the Society in order to present and preserve the more traditional folk music and provide a venue for traditional folk musicians, particularly those from our region. Don Firth has now passed on, and Bob Nelson is no longer active in the Society. I will turn 80 next year and am not sure how much longer I wish to continue. We need new people to help carry it on.
We began monthly Coffeehouse Concerts in 2008, first in a small coffeehouse near Green Lake, then at a café in Crown Hill, at the Wayward Coffeehouse (now gone) in Greenwood, and finally at the Couth Buzzard since May, 2010. We also began occasional Sunday afternoon concerts at the Everett Public Library in 2009.  Over those years we have presented local performers such as the Canote Brothers, Squirrel Butter, Pint & Dale, Tania Opland & Mike Freeman, Morgan & Graves, Reggie Miles, Carolyn Cruso, Sarah Comer, Alice Stuart, Kate MacLeod & Kat Eggleston, Dale Russ, and many others. We have also attracted some outstanding nationally-recognized performers such as Claudia Schmidt, Kate Power & Steve Einhorn, Debra Cowan, Curtis & Loretta, Small Potatoes, Eleanor Ellis, Cindy Mangsen & Steve Gillette, in addition to Jeff Warner. We even presented three international artists, Brian Peters from England, and a prize-winning country blues duo, Max DeBernardi & Veronica Sbergia, from Italy. The Couth  Buzzard is now a sought-after intimate venue for many outstanding musicians. As I look back, what we began in 2007 has far exceeded my modest expectations. We fill an important niche in the local live music scene, and we need to continue.
At this time, I am the Pacific NW Folklore Society. I produce all the concerts, which includes booking, publicity and promotion, as well as serving as the concert host. I maintain two websites, the main site, and the bimonthly e-magazine, NW HOOT. We have no formal membership, but send monthly concert announcements and the NW HOOT over the internet to more than 280 subscribers. Financially, we survive on individual donations, and the rest I subsidize from my own pocket. All the money from our concerts goes to the performers, they deserve it! Fortunately we get a free venue at the Couth, but I do send them money from time to time to support their ASCAP fee and to show our appreciation for what they generously provide. I do this as a labor of love, but I definitely need help and eventually more people to take over when I am no longer able to continue.
So what do we need?
Fortunately I have enough computer skills to set up and maintain the two websites. I recently built new websites for the NW HOOT and the main site. Constant Contact is a great help in maintaining our email lists and getting information out to subscribers. But I could use help with social media; I don't do Facebook, nor do I have the time for that. I need more help with concert promotion; I've learned what I do over the years, but I am open to new ideas.
The NW HOOT began in 2008 as a print newsletter with articles of interest to the folk music community in addition to our concert announcements. After about a year we switched to an online version. We have had a variety of writers over the years, but Bob Nelson and I have written most of the recent articles. We need more writers with articles about the local music scene, different genres of music, performing, interesting musicians, stories of local folklore and history, and more. Send me your ideas and contributions.
I try to book performers of more traditional music. My idea of traditional is very broad, and covers a wide range of musical genres: folk from many countries and  cultures, vintage blues and jazz, klezmer, swing, early country and tin pan alley to name a few, even contemporary music written in the traditional style – "in the tradition." But I try to avoid a lot of singer-songwriters with nothing interesting to say, bluegrass, and just plain pop, there's plenty of that in the local music scene. There's a lot of good music from the past in danger of being forgotten, it needs to be heard and rediscovered. We should "Honor the Tradition" and build upon it in our new music. I need help in finding and booking exciting new performers and bringing them into our local music scene. I also need help in hosting concerts; sometimes I need to be out of town or feel too tired to come and serve as host. If you can help, let me know, especially if you can bring new performers and a larger audience to our venue.
It would be sad to see this Society and the music it brings to the community fade away in another year or two. Maybe it would be revived in another 30 or 40 years like the original Society.  But let's try and keep it going, we've done well so far. We need new blood, younger faces (less grey hair), and new ideas and directions to pursue. If this has struck a note with you, please contact me and we can talk about it over a cup of coffee or tea at the Couth Buzzard. I am happy to work together with one or more people interested in taking over the Society. Over a period of time I could help in that transition.